Asturias beats pre-pandemic traffic in 2022; Ryanair returns with five routes, Lufthansa coming in S23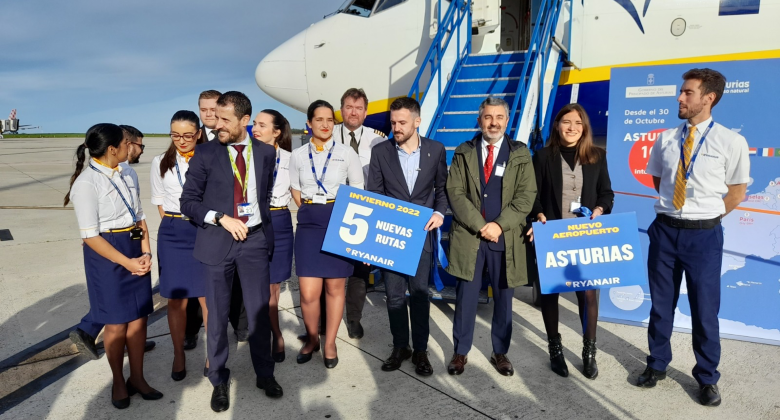 Situated in northern Spain, the Principality of Asturias is part of the so-called Green Spain, a far cry from the stereotypical dry and hot southern Spain. A mountainous area, the principality is served by Asturias Airport. It welcomed 1.45m passengers in 2022, according to Aena data. Asturias traffic rose by 2.6% versus 2019, helped by every month from May 2022 surpassing pre-pandemic figures. The return of Ryanair in November, after a near ten-year absence, assisted the development, likewise growth by incumbents Volotea and Vueling. In November traffic was 17% above 2019 levels and in December that increased to 35%.
Thanks to the imminent arrival of Lufthansa and multiple other new routes, 2023 is expected to be even stronger. Cirium schedules information data reveals that Q2 2023 has more one-way seats available than the same quarter in any other year.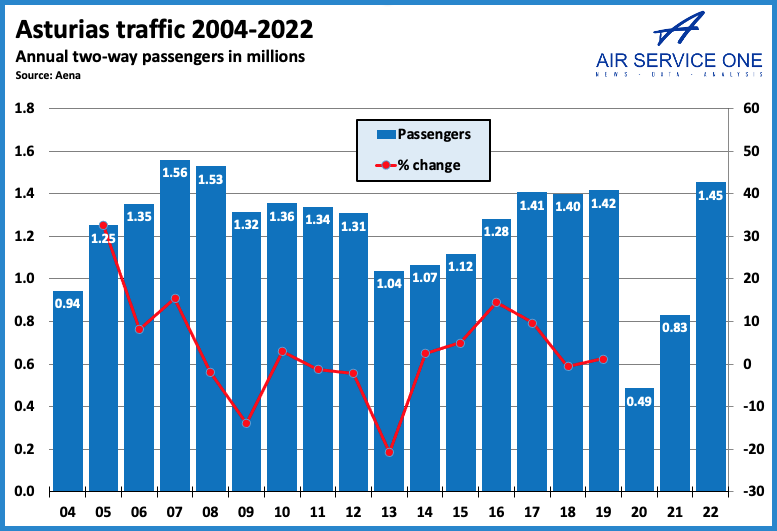 Asturias to welcome Lufthansa
Germany flights returned to Asturias in 2017, thanks to Volotea (until 2019) and then Ryanair (2022). Importantly, Lufthansa is anticipated to launch Asturias – one of 17 Spanish airports in its network – this summer from both its Frankfurt and Munich hubs. It will be Asturias' only foreign sixth-freedom operator.
Starting on 23 April, Lufthansa's Frankfurt service will be the first time the route has been served, according to Cirium schedules data information. In comparison, its Saturday-only Munich operation, beginning on 29 April, replaces Volotea, which operated from May 2017 to October 2019. Unlike Volotea, Lufthansa will target point-to-point and wider demand, further opening the world to Asturias.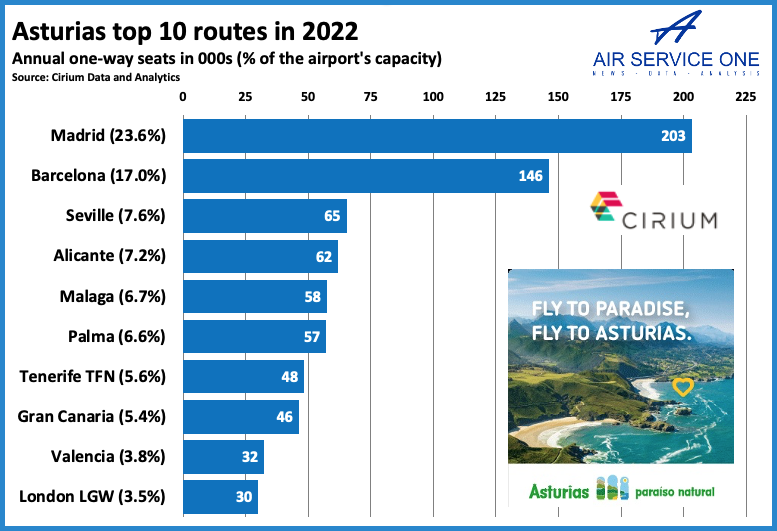 Asturias's main trunk routes to Madrid and Barcelona are operated by Iberia and Vueling respectively. Vueling will face competition on the Barcelona route from Volotea starting this summer. Seville, Alicante and Malaga are all currently served by both Volotea and Vueling. Cirium data for January 2023 shows that the leading airlines by flights at Asturias are Vueling (153 departures), Iberia (119), Volotea (91), Ryanair (52) and Binter Canarias (26).
Multiple new routes are coming
Analysis of Cirium schedules tells us that six routes launched in late 2022. They included Ryanair from London STN, served by easyJet from March 2005 to October 2018. They will be joined by five more in 2023. So many new international routes means that, in Q2 2023, Asturias' international seat capacity rises to 23%, its highest ever share and increased from just 4% in Q2 2019. The previous highest was 20% in Q3 2016.
30 October 2022: Vueling, Amsterdam (2-weekly)
1 November 2022: Ryanair, London STN (3)
2 November 2022: Ryanair, Dublin (2)
3 November 2022: Ryanair, Weeze (2)
4 November 2022: Ryanair, Brussels CRL (2)
4 November 2022: Ryanair, Rome FCO (2 to 3)
28 March 2023: Volotea, Milan BGY (3)
30 March 2023: Volotea, Barcelona (7)
31 March 2023: Volotea, Lisbon (3)
23 April 2023: Lufthansa, Frankfurt (3)
29 April 2023: Lufthansa, Munich (1)