Athens 365

During 2022 the overall aviation environment remained extremely volatile throughout the year, as it continued to be impacted by high-risk factors. Under the umbrella of a well-designed policy for safe travelling and Athens International Airport's strong efforts, total traffic reached 22.73 million passengers, which exceeded 2021 levels by 84.1% and showcasing the airport's best 3rd year ever. Domestic travel grew by +60.3%, with 7.39 million passengers, while international travel almost doubled at +98.3%, with 15.34 million passengers.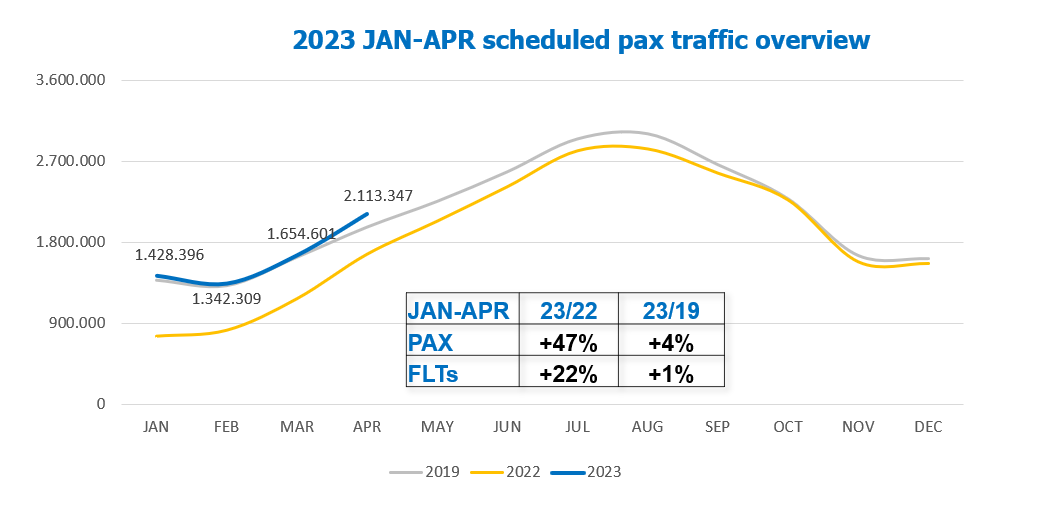 Tip: In 2022, Athens ranked amongst the top 3 capital European airports in terms of passengers growth 2nd in terms of flights growth according to the latest ACI data.
Seats increased by 50% vs 2021 at 29,1mio, the average load factor also increased, reaching a healthy level of 78%, which is 14 points higher than the previous year.
The positive momentum of the airport's traffic continues strongly through the first four months of 2023, as the airport's passenger traffic totaled 6.6 million, 47.5% above the 2022 levels and higher than the respective 2019 (record year) levels by 4%. Amongst the highlights, the demand for traveling to Athens boomed during April and reached a historic record figure for the month at 2.137mio passengers +7.6% vs. 2019.  All indications so far advocate 2023 to be the NEW record year for Athens International Airport.
Network Highlights
2022 characterized by Network's strong rebound with the addition of 7 New Destinations & 5 New Airlines. The same trend spilled over 2023.  So far we have welcomed 13 brand new routes, 3 new Airlines while we had 13 airlines introducing service on existing routes.
USA services further enhanced offering 67 weekly departures to 7 US airports. Overall traffic to US during the first four months of the year has been increased by 81% vs. '19. According to OAG Greece is #1 country in Europe in terms of capacity growth outside of US.
Play, a new airline for ATH this year, will connect for the first time in their history the cities of Athens & Keflavik while Kuwait Airways, also a new carrier, will jump into ATHKWI market. Finally, Marathon Airlines, a new scheduled carrier will connect Athens & Benghazi.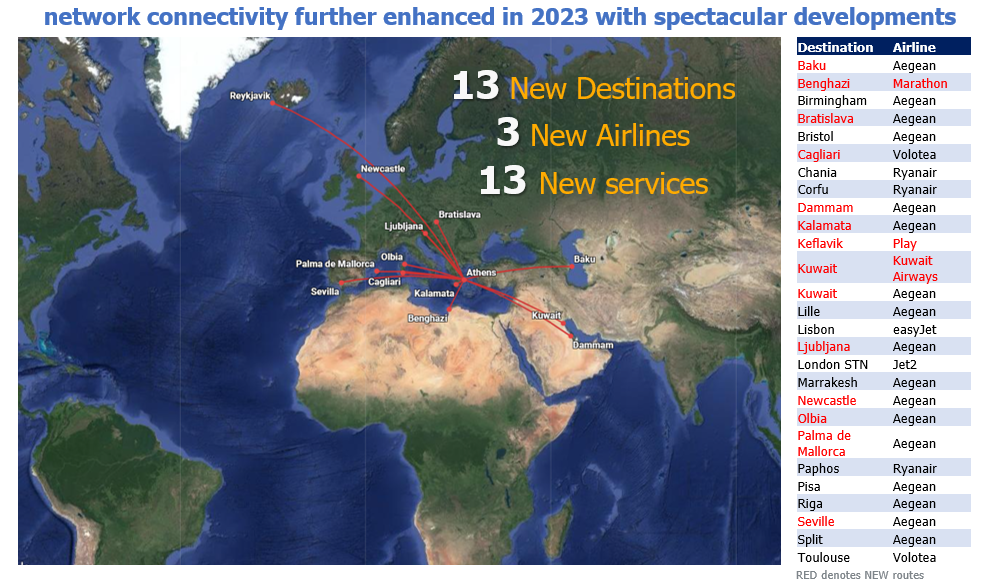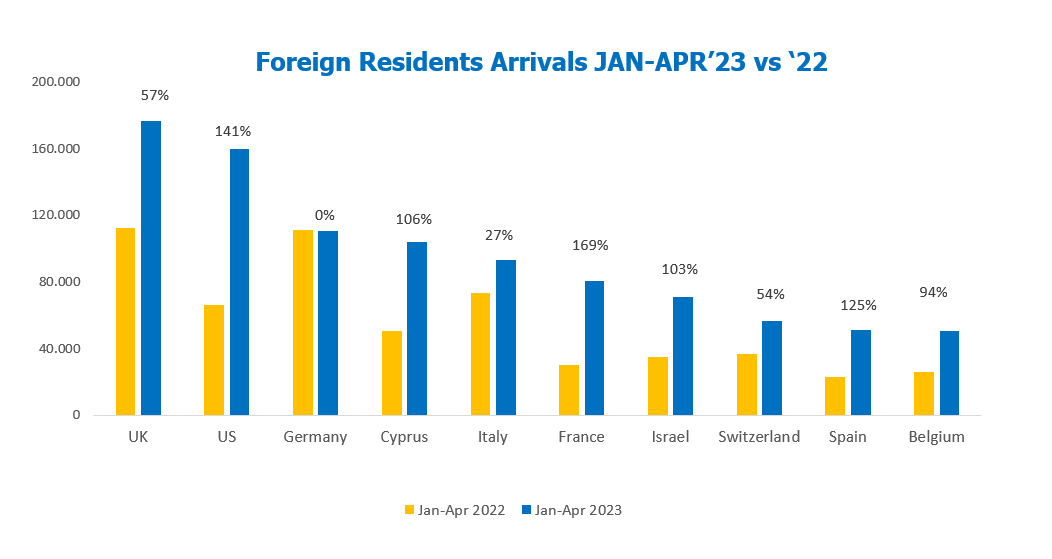 Airport Charges & Incentives
Athens is one of the very few major Capital European airports, that's not increasing its Aero charges for 2023, even in a period characterized by increased energy costs, high inflation and increase in interest rates, Athens International Airport will maintain Aero charges levels unchanged for 15th! consecutive year.
Even more, Athens International Airport offers the most comprehensive incentive schemes in the world, comprising 14 different elements, designed to cover all possible route developments and offering a multi-layer coverage.
Routes Awards 23
Once again at the largest European meeting of the aviation industry "ROUTES EUROPE 2023" which was held in Lodz between 9-11MAY 2023, Athens airport, with the votes of the airlines, won the first place in the highest competitive category of airports above 20mio passengers.  The Airport Awards highlight the organizations, which have excelled in route development marketing and are innovative in their approach & leading the way.