Athens International Airport, Greece's busiest, is back on track
The past three and a half years…
2019 was the sixth consecutive year of growth at Athens International Airport, which set a record for annual passenger numbers (25.57m). Following 2020 ('year zero' for aviation and tourism globally), 2021 was characterised by the gradual lifting of travel restrictions, and our team's unstoppable efforts resulted in a restart and recovery.
The positive trend continues in 2022, with passenger traffic totaling 14.6m by August, an impressive 121% increase on 2021 levels. According to ACI, Athens is among the top three capital city airports in Europe in terms of passenger growth – and second in terms of flight growth.
Highlights:
So far, 18 markets have demonstrated spectacular growth in foreign visitor arrivals; 11 markets have almost reached 2019 levels and a further seven have surpassed 2019 levels. During Q3 this year, traffic reached almost the same levels as Q3 2019.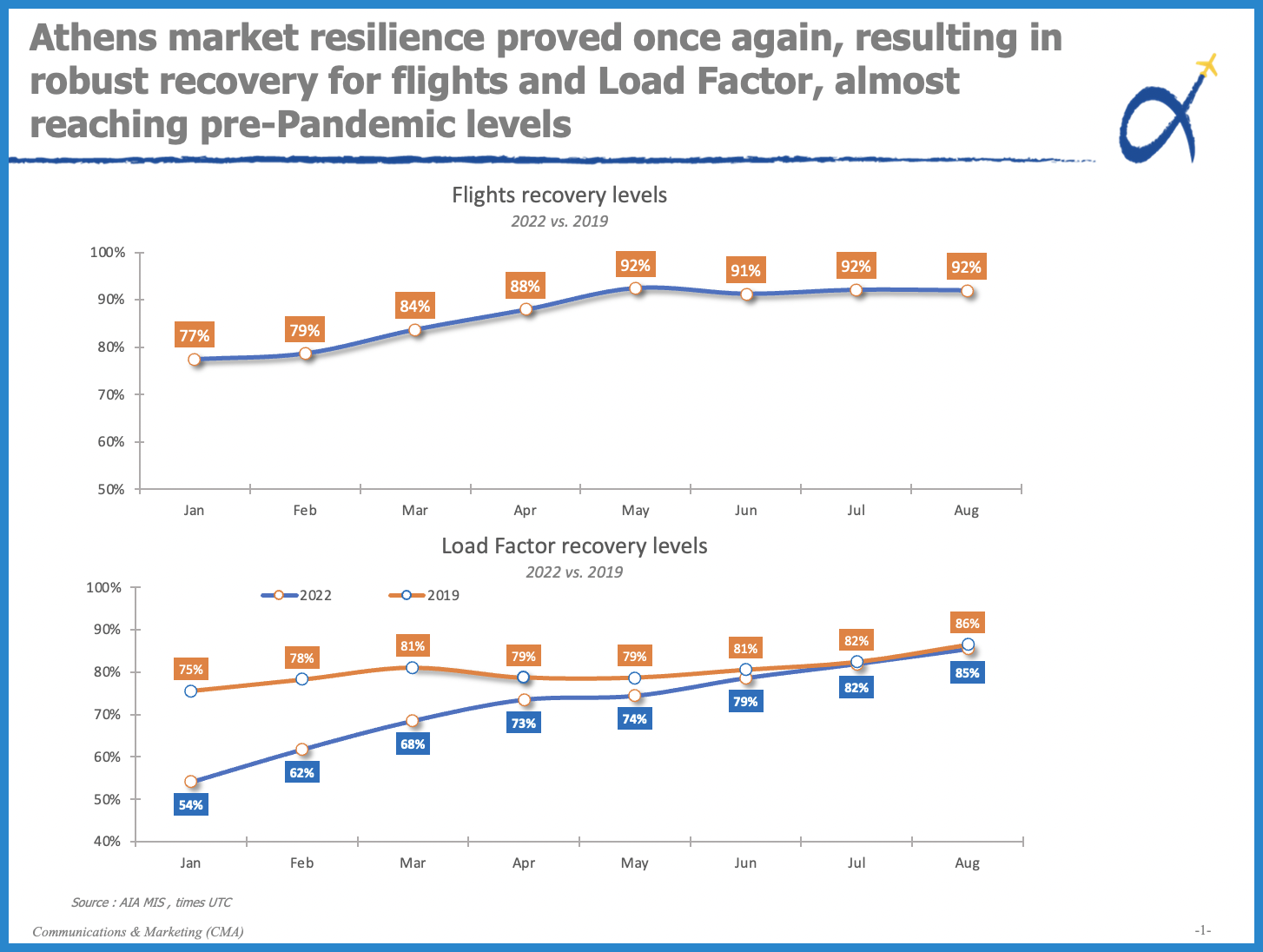 The USA has become Athens' top performing market, surpassing 2019 passenger traffic levels by 44% (Jan – Sep). Growth started in summer 2021 when Athens welcomed the launch of JFK daily flights with American Airlines, Atlanta with Delta, and Washington with United. With the addition of Boston in May 2022, Athens is now connected to 7 US airports offering 63 weekly departures (9 daily).
Sky Express, a home-based airline and the second largest in terms of passenger volume at Athens, was one of a few airlines globally that increased operations and acquired new aircraft during the pandemic, when almost all operators reduced capacity.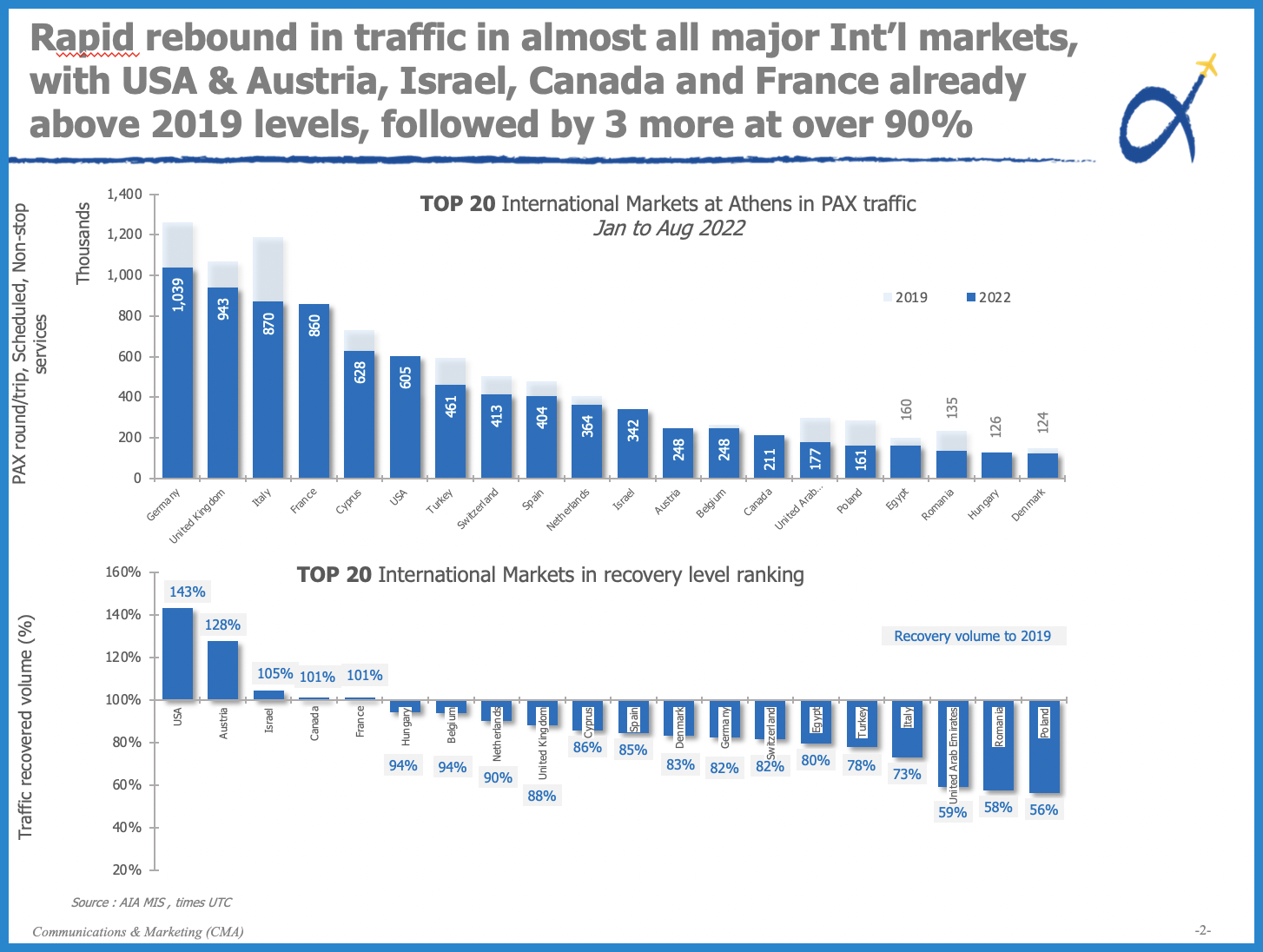 The airline, formerly a domestic operator, acknowledged the dynamics and high potential of the Athens market and developed international services. In February 2021, it launched services to Larnaca, followed by Brussels, Paris, Rome, and London. More recently, Sky Express announced the addition of Munich, Sofia, and Milan. So far this year, the airline has provided around half a million new round-trip seats to international destinations and increased available capacity by more than 1.1m round-trip seats in the domestic market. They are now demonstrating a 110% growth in passenger numbers compared to 2019.
The attractiveness of Athens and Greece as a whole, plus the proven resilience of the market, is further evident by the high number of new developments secured during the pandemic. Between 2020 and 2022, Athens welcomed 11 new destinations, 8 new airlines and 85 additional services on existing routes.
Incentives:
Athens offers one of the most comprehensive incentives scheme in the world, comprising 14 different elements and covering any possible type of route development, including home-based airlines, LCCs or visiting carriers. During the pandemic, the airport designed special incentives for a limited period to help airlines reinstate their services. Namely the 'restart' scheme, introduced in July 2021, offered substantial and immediate benefit to the airlines in the form of monthly discounts. The incentive has offered airlines more than €4,2m in discounts annually.
Routes Awards 2022:
Once again, at the largest meeting of the aviation industry "ROUTES WORLD 2022" which was held in Las Vegas between 16-18 October, Athen's airport, with the votes of the airlines, won the first place in the highly competitive category of 10-17.5 million this year. The Airport Awards highlight the organizations, which have excelled in route development marketing and are innovative in their approach and leading the way.