Athens International Airport leads European passenger and network growth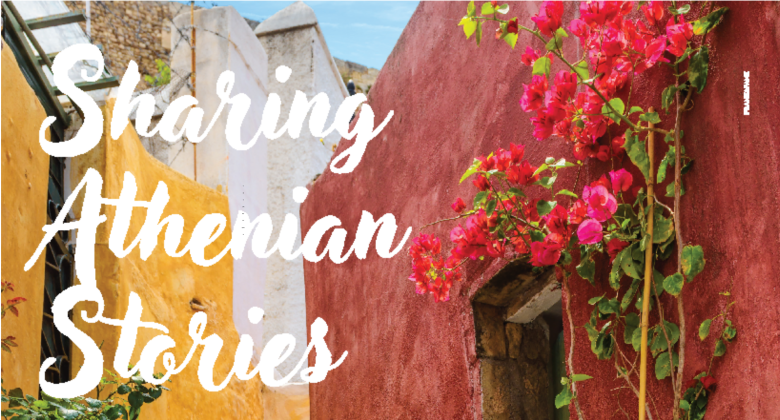 In the ever-evolving landscape of global aviation, Athens International Airport (AIA) has emerged as a prominent player, securing its position among Europe's top 10 Airport Megahubs. This recognition comes from the Megahubs Index 2023, a report recently unveiled by the influential data platform for the global travel industry, OAG. Despite the tumultuous nature of the aviation industry in recent years, AIA has demonstrated resilience and remarkable growth.
Record passenger levels
Throughout 2022 and the first nine months of 2023, the aviation industry has faced unprecedented challenges. Conflicts in Ukraine and Israel, soaring inflation, and staffing issues within airlines and airports have all contributed to the sector's volatility. Yet, despite these adversities, AIA has not only weathered the storm but managed to flourish.
Early discussions with airlines on recovery strategies allowed AIA to achieve impressive results. By the end of 2022, the airport had accommodated 22.73 million passengers, a notable 84.1% increase over 2021 levels. Domestic travel witnessed growth of 60.3%, with 7.39 million passengers, while international travel nearly doubled with a 98.3% increase, serving 15.34 million passengers.
The upward trajectory continued into the first nine months of 2023, with passenger traffic reaching 21.7 million. This achievement not only signifies a full recovery to pre-pandemic levels but also an expansion beyond 2019, with an impressive growth rate of 8.6%. International traffic increased by 7.3%, while domestic travel surged by 11.3%, both when compared to 2019.
Based on data from ACI Europe, Athens stands out as a leader in passenger flight growth, surpassing other European capitals and major airports. AIA is also the sole airport in the shortlisted group of the Routes World Marketing Awards 2023 (handling over 20 million passengers) that has managed to grow its traffic compared to 2019.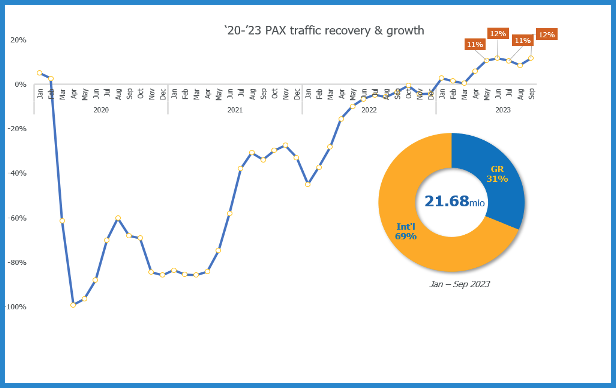 Growing network and improved connectivity
AIA's commitment to enhancing its network and connectivity is evident. In 2022, the airport witnessed a strong rebound with the addition of seven new destinations and five new airlines. This trend has only intensified in 2023, with 19 brand new services, four new airlines, and a whopping 20 new airlines launching already established routes.
Athens now boasts a more densified network to the US than ever before, offering 67 weekly departures to seven US airports. Overall traffic to the United States in the first nine months of the year saw an impressive 54% increase compared to 2019. Notably, PLAY, a new airline for AIA, made history by connecting Athens and Keflavik for the first time, with services extending through the winter period.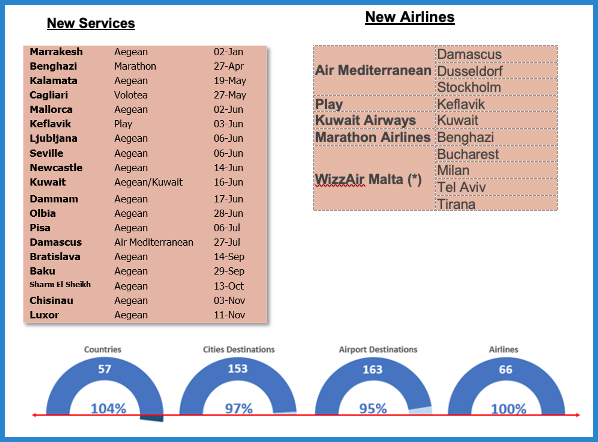 Keeping charges put and incentivising carriers
Amid a backdrop of rising energy costs, inflation, and increasing interest rates, AIA has made a remarkable commitment. It stands as one of the few major European capital city airports that has chosen not to increase its aero charges for 2023. This marks the 15th consecutive year that Athens International Airport has maintained its aero charge levels, offering rare stability in uncertain times.
Furthermore, AIA stands out for its comprehensive incentives scheme, comprising 14 different elements designed to support various route developments with multi-layered coverage. A newly designed scheme, known as "Customer Service Optimization," will be introduced for airlines starting in 2024. This initiative aims to address the surge in summer demand at Athens and alleviate congestion during peak hours by offering substantial discounts for landing and parking for arrivals and departures during off-peak periods of the day.
Recognised excellence
Athens International Airport's dedication and innovation have not gone unnoticed. At "Routes Europe 2023," the largest European aviation industry gathering held in Lodz between 9 and 11 May, 2023, AIA clinched the top spot in the highly competitive category of airports serving over 20 million passengers. These Airport Awards recognise organisations that excel in route development marketing and showcase innovative approaches that lead the way in the aviation industry.
Athens International Airport's journey from facing industry challenges to achieving significant growth in passenger traffic showcases its resilience and commitment to improve and excel. In a time of uncertainty, AIA has emerged as an example of growth and innovation in the European aviation landscape, setting the stage for continued success in the future.