Austin powers to top of US airport growth rankings in September; Midwest airports struggle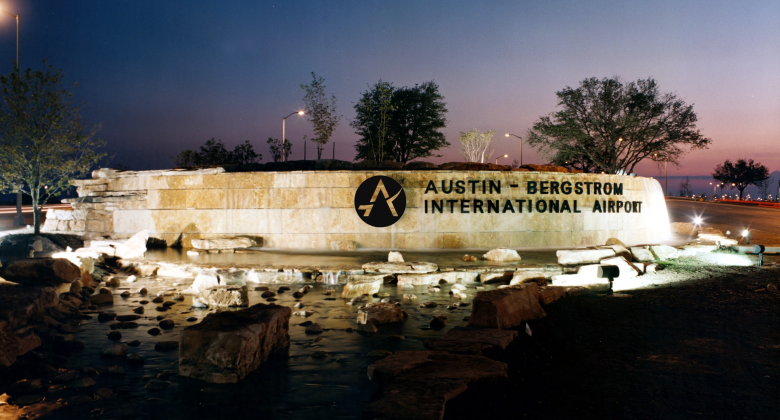 Analysis of Cirium schedule data across all US airports shows that seat capacity in September is down just over 5% compared with September 2019. The number of flights is down 13% during the same period, highlighting the move to bigger aircraft and the issues surrounding regional operations as a result of the pilot shortage.
If we focus on just the top 50 US airports (as measured by monthly seats in September 2022) the recovery rates vary considerably from 132.7% to just 75.4%. Among the top 50 airports, 16 have recorded capacity growth in September. Leading the way is Austin-Bergstrom International Airport in Texas. Capacity here is up almost one-third compared with three years earlier. None of the other top 50 airports comes close to such growth, with second-placed John Wayne Airport Orange County in California seeing a 21% increase in seats. Five other airports have also achieved double-digit growth.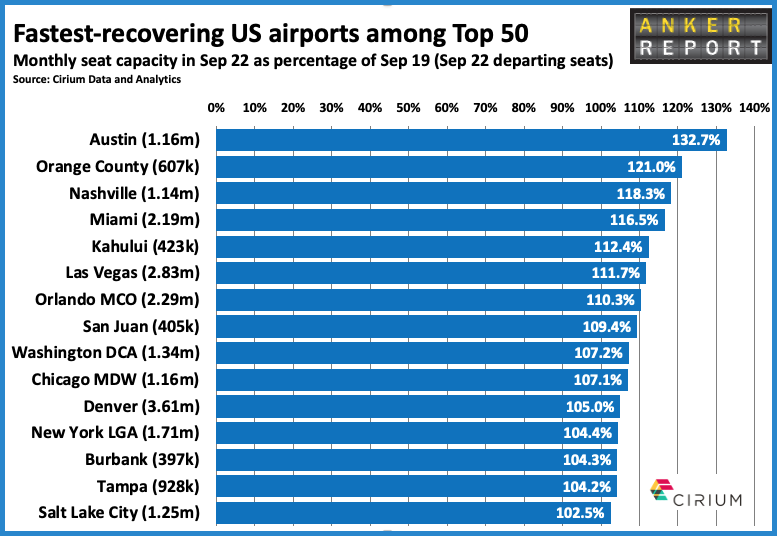 The other airport showing growth is Sacramento in California, where seat capacity is up just 0.2%. Of the 16 airports reporting capacity growth only seven are reporting an increase in the number of flights. If ranked on increase in the number of monthly seats then Miami (310k more) would lead the way ahead of Las Vegas (297k) and Austin (286k).
If we include airports ranked 51-100 then there are several more with impressive capacity growth in percentage terms. Leading the way is Palm Springs in California (+74%), ahead of Sarasota/Bradenton in Florida (+67%), Myrtle Beach in South Carolina (+64%) and Bozeman in Montana (+54%). Of the 50 airports in this category, 22 are registering capacity growth and 10 an increase in flights.
Detroit recovery at just 75%
Among the top 50 airports the two airports with the slowest recovery rates are both in the Midwest. Detroit's recovery rate is at 75.4% while Minneapolis/St. Paul is at 76.4%. While these recovery rates are disappointing by US standards, they are a few percentage points better than the whole of Germany in September. Three of the bottom seven airports are in California (Los Angeles, San Francisco and San Jose) while two of the country's biggest hub airports (Atlanta and Chicago ORD) also feature.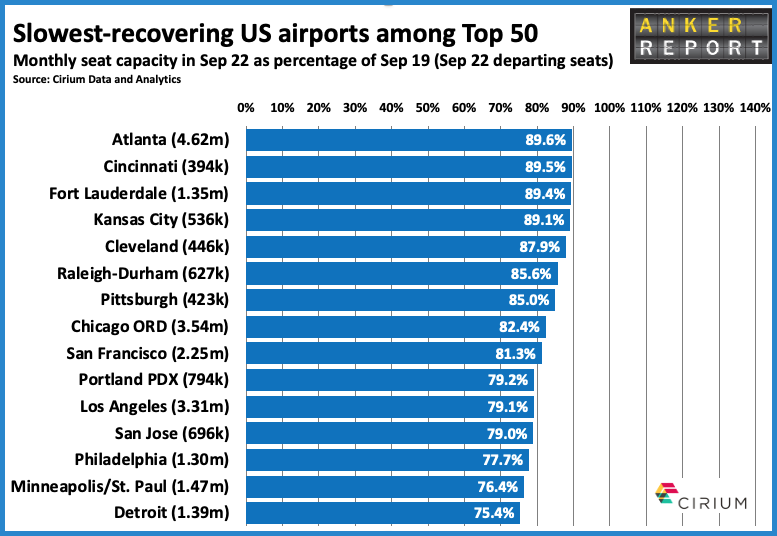 Among the airports ranked 51-100, Milwaukee (another Midwest airport) has the lowest recovery rate at 76.4%. In this category, the only other airport to not reach a recovery rate of 80% in September is Greenville-Spartanburg in South Carolina (77.4%).
If measured purely by reduction in seat capacity then Los Angeles (down 873k seats) has suffered the most, ahead of Chicago ORD (down 756k seats) and Atlanta (down 537k seats).