Australia has over 150 airports with scheduled air services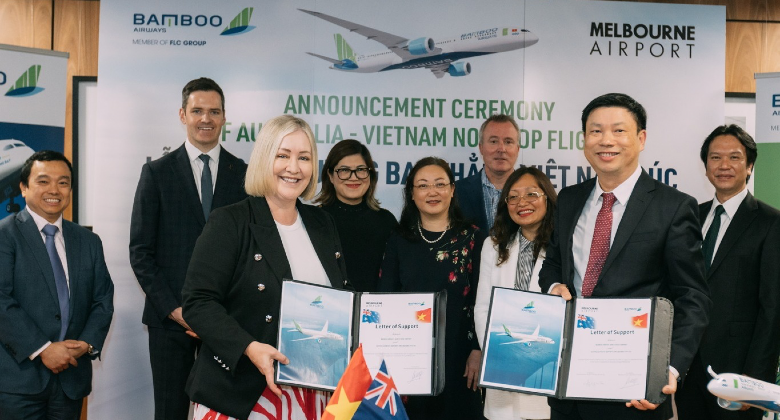 According to Cirium schedule data, Australia has a total of 155 airports with at least two weekly scheduled services in November 2022. This compares with 160 back in pre-pandemic November 2019. Across all Australian airports, the number of scheduled flights this month (compared with three years earlier) is down 7%, seat capacity is down 14%, while ASKs (Available Seat Kilometres) are still down 26%. Domestic flights are down just 3% and seat capacity is down just 7%. However, international flights are down 32% and seat capacity is down 34%.
Rex acquires jets, Tiger succumbs to COVID
In the domestic market, Qantas currently has 38% of seats (38% in November 2019) ahead of Virgin Australia with 31% (30%) and Jetstar Airways with 20% (19%). Back in November 2019, Tiger Airways Australia was the fourth biggest carrier with 6% of seats. A subsidiary of Virgin Australia, the airline became a casualty of the pandemic.  The fourth biggest carrier now is Rex Airlines (also known as Regional Express Airlines) which has seen its domestic capacity grow by almost 80% despite only operating 10% more flights. This is a result of the airline complementing its extensive Saab 340 fleet with much larger Boeing 737-800s, of which it now has seven.
Five of top 15 airports reporting capacity growth
Analysis of Australia's busiest airports reveals that all of the top 15 have seen scheduled seat capacity recover to at least 80% of the level achieved pre-pandemic. Understandably, the lowest recovery rates are seen at the country's busiest airports which had the highest levels of international traffic. Since international traffic is recovering more slowly than domestic traffic it is no surprise to see Sydney and Melbourne having the lowest recovery rates.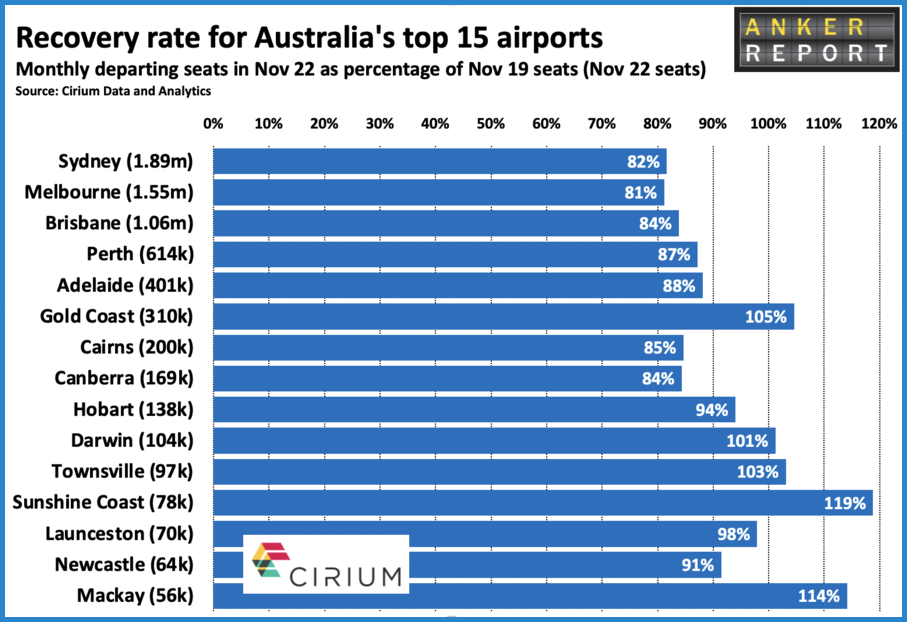 The good news is that five of the top 15 airports are already seeing capacity growth versus 2019. At Sunshine Coast Airport in Queensland capacity is up almost 20%, with the two dominant routes to Sydney and Melbourne both seeing available seats increase by 20%. Three other airports along Queensland's coast, at Mackay, Gold Coast and Townsville, have also welcomed capacity growth. Darwin Airport in Northern Territory is the final airport currently showing an increase in seats.
Almost 50 airlines operating international flights
There are currently almost 50 airlines offering international scheduled services to/from Australia according to Cirium data. This is down from over 60 airlines in 2019. Among the top 15 international airlines, four are registering an increase in seat capacity versus three years ago. They are Fiji Airways, Qatar Airways, Scoot from Singapore and United Airlines. One notable newcomer is Vietnam's Bamboo Airways, which offers 2-weekly flights to Melbourne and Sydney from Ho Chi Minh City, as well as Melbourne from Hanoi using its Boeing 787-9s.