Austrian Airlines plans to add seven new European routes next summer; Europe network reaches 100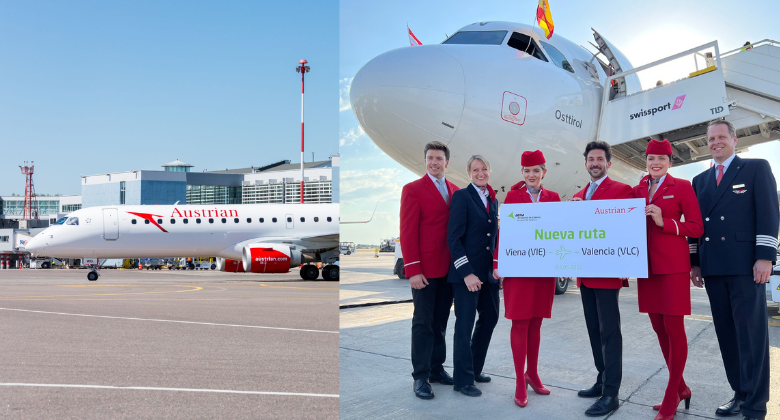 Austrian Airlines has added seven routes to next summer's schedule. Three are resumptions: Billund (last served in March 2017), Palermo (October 2019), Vilnius (March 2020), while four are genuinely new routes: Marseille, Porto, Tromsø (new for summer) and Tivat. When added to Austrian's existing network, it will serve 100 European destinations from its Vienna hub next year.
47% of routes compete with a ULCC
In recent years, Austrian has faced hefty competition from Ryanair/Lauda and Wizz Air. This followed their fast growth in Vienna. If duplicated routes are eliminated, the pair had 53 routes in direct competition with Austrian in S22, the highest number yet. 55% of Austrian's European routes faced them.
While it may change, almost half (47%) of Austrian's routes will face Ryanair/Lauda and Wizz Air next summer – the lowest level since the pandemic. It is because of a fall in routes on which it competes with Ryanair/Lauda. Despite this, Austrian will now face Ryanair to Billund and Marseille in summer 2023, and Wizz Air to Funchal.
Nine new Europe services in two years
Between S21 and S23, Austrian has (or will) add the following new routes from Vienna:
1 June 2021: Milan LIN
1 July 2021: Zaporizhzhia (see below)
22 July 2021: Malaga
4 July 2022: Valencia
17 December 2022: Tromsø
31 March 2023: Marseille
4 April 2023: Billund (last served six years ago; long enough to be 'new')
1 April 2023: Porto
13 May 2023: Tivat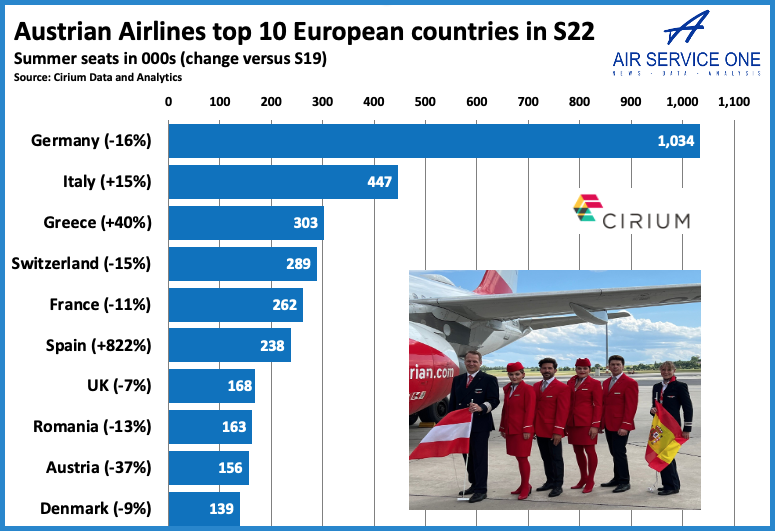 50 European airports cut in the past 18 years
Analysing Cirium schedules information shows that Austrian ended flying to 50 European airports between 2004 and 2022, excluding those where an airport was replaced by another, such as Tegel and Brandenburg. The biggest losses by seat capacity were:
Moscow DME: ended in March 2022
Salzburg: March 2020
Kiev KBP: February 2022
Minsk: March 2020
Linz: October 2018
Altenrhein: December 2022
Istanbul IST: October 2014
St. Petersburg: October 2019
Dnipropetrovsk: March 2020
Helsinki: November 2011
Half of the above are in Belarus, Russia and Ukraine, and some will inevitably return when the war and sanctions allow. In the few months leading up to the war, Austrian served Moscow DME, Kiev KBP, Lviv, Odesa and Zaporizhzhia in the three countries. And when extended to 2004, it has also served – other than those mentioned above – Donetsk, Kharkiv, Krasnodar, Moscow SVO, Nizhny Novgorod, Rostov on Don, Sochi and Yekaterinburg.