Avelo planning over 50 US routes in summer spread across almost 40 airports with five bases and 15 737s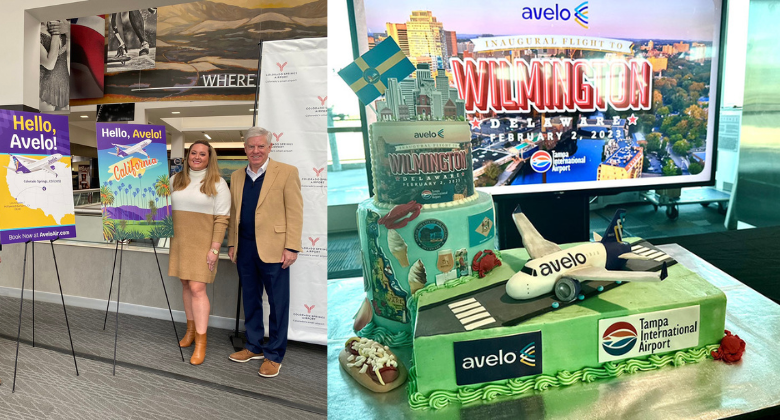 Nearly two years after Avelo's first revenue-generating flight (on 28 April 2021 from Burbank to Santa Rosa), the carrier (IATA code XP) is the USA's 13th largest domestic airline. With a fleet of 15 737-700s and -800s, all between 10 and 20 years old (according to planespotters.net), it has 620,000 one-way summer domestic seats planned as of early March, according to Cirium schedules information data. It has just 0.2% of the domestic market and about half the capacity of Breeze. Avelo expects 51 summer routes network-wide. However, since launching, seven airports have been removed from its route map: Bozeman, Fort Collins, Grand Junction, Lexington, Ogden, Phoenix AZA and Tucson. Newport News will also end in April.
Avelo now has five bases
Avelo's network is segregated into west coast and east coast. The only airport in the middle of the country is Colorado Springs, new to its network. All five of Avelo's bases are shown below. Tweed New Haven, at which it is the only airline, is its biggest base; it has five stationed aircraft and 45% of its S23 capacity. While Raleigh Durham has one aircraft, Avelo said in late 2022 that it would have a second in Q2 and five to seven aircraft within the next two years. Avelo had announced a Fort Myers base, but it was postponed, ostensibly because of Hurricane Ian.
Burbank: opened 28 April 2021; two based 737s; 10 routes in S23
Tweed New Haven: opened 3 November 2021; five 737s; 14 routes
Orlando MCO: opened 30 June 2022; three 737s; 12 routes
Wilmington (Delaware): opened 1 February 2023; one 737; five routes
Raleigh Durham: opened 15 February 2023; one 737; seven routes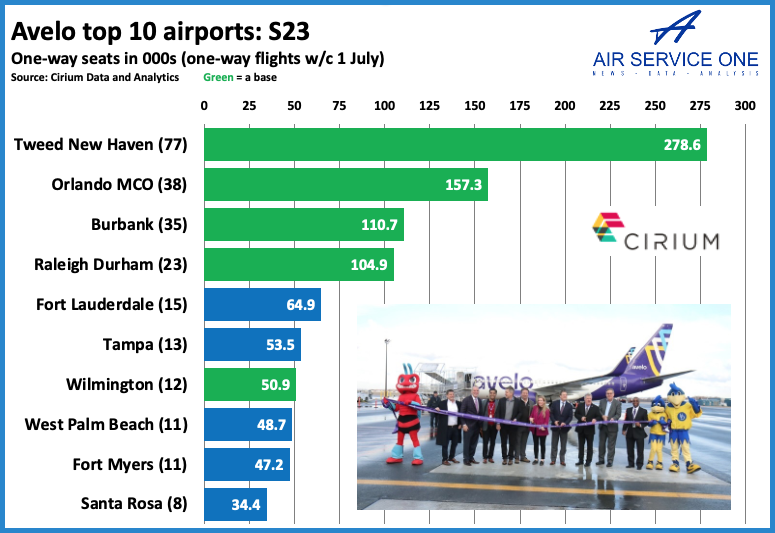 51 routes this summer, 12% with competition
As of early March, Avelo expects 51 routes in S23, of which it will compete with another airline on just six. The 51 routes involve 36 airports in 21 states. With nearly two-thirds of Avelo's seats and over half of its routes, the carrier revolves around Florida. In order of available seats, it serves Orlando MCO, Fort Lauderdale, Tampa, West Palm Beach, Fort Myers and Sarasota. It has applied to add St Augustine, located in-between Jacksonville and Daytona Beach, an airport previously served by SkyBus, Frontier, Elite Airways and others.
As shown in the figure below, Tweed New Haven to Orlando MCO (1,620 kilometres apart), is by far Avelo's busiest route. It has almost twice the capacity of number two, Tweed New Haven to West Palm Beach. Its top five routes are from the Connecticut airport, while seven of its top 10 are to/from Florida.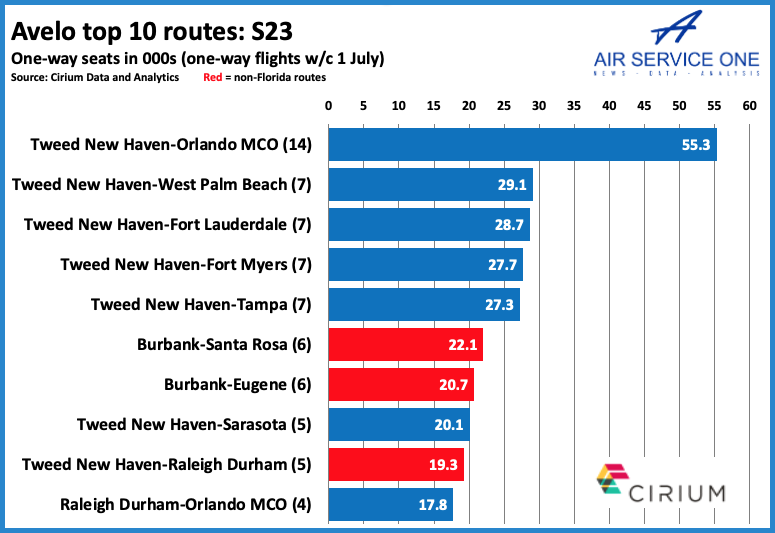 17 routes so far this year – including to Brownsville
Avelo introduced 13 new routes in January-March 2023, most connected to the two base openings. They will be joined by four others from April onwards, including Brownsville, Texas, to Burbank and Orlando. It will be the first time that Brownsville, on the Mexico border and about 47 kilometres from Harlingen, has had flights to Florida and California. They will be its only non-Texas routes.
13 January: Orlando MCO-Dayton (2-weekly)
18 January: Orlando MCO-Cedar Rapids (2) [Service was supposed to be to Dubuque (around 100 kilometres away) but TSA issues at the airport meant flights had to be transferred to Cedar Rapids. Airline booking tool indicates that Dubuque flights are set to start on 22 March 2023.]
1 February: Wilmington-Orlando MCO (3)
2 February: Raleigh Durham-Orlando MCO (4)
2 February: Wilmington-Fort Lauderdale (2)
2 February: Wilmington-Tampa (2)
3 February: Raleigh Durham-Tampa (4)
3 February: Wilmington-Fort Myers (2)
4 February: Wilmington-West Palm Beach (2)
16 February: Raleigh Durham-Fort Lauderdale (4)
16 February: Raleigh Durham-Fort Myers (3)
17 February: Raleigh Durham-Sarasota (3)
17 February: Raleigh Durham-West Palm Beach (3)
3 May: Burbank-Colorado Springs (3)
3 May: Orlando MCO-Charlottesville (2)
17 May: Burbank-Brownsville (2)
17 May: Orlando MCO-Brownsville (2)
Breaking news! On 7 March Avelo announced Mobile International Airport (IATA code BFM) in Alabama as a new airport. From 31 May it will operate a 2-weekly service (Thursdays and Sundays) to Orlando MCO. This will become the airport's only route this summer. Note, the inaugural flight is actually on a Wednesday.