Bari breaks 6m passenger mark in record 2022; Ryanair is #1 as Wizz Air reduces presence by closing base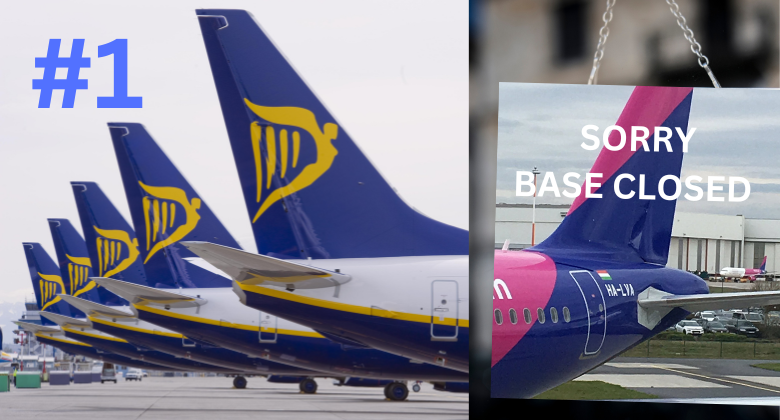 According to our analysis of Cirium schedule data, the European airports* that saw the biggest increase in scheduled departures between all of 2019 and all of 2022 were Bergen in Norway (4,200 additional departures representing growth of 12%), Bari in Italy (3,013, growth of 16%) and Funchal in Portugal (2,527, growth of 23%). While Bergen's extra flights actually resulted in a 1% reduction in capacity, Bari's extra flights generated 23% more seats. Bari's growth was driven by the aggressive growth of Ryanair and Wizz Air, who both have bases at the airport. However, it was recently announced that Wizz Air would be closing its base in Bari in mid-February, although it seems that nine routes will remain, operated by aircraft based elsewhere.
Record passenger numbers in 2022
With over a month to spare, Bari set a new annual passenger record in 2022, beating the previous high of 5.5 million. By the end of 2022 the airport had welcomed over six million passengers, though official figures for December have yet to be reported.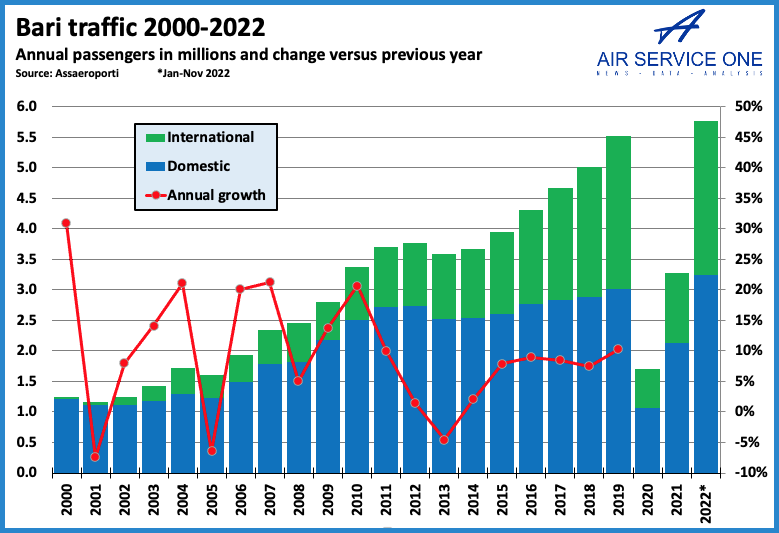 Since March the airport has been setting monthly passenger records, beating the previous highs set in 2019. In August Bari reported over 700,000 passengers, its busiest ever month. Domestic passengers accounted for 318,000 passengers with almost 400,000 travelling on international services.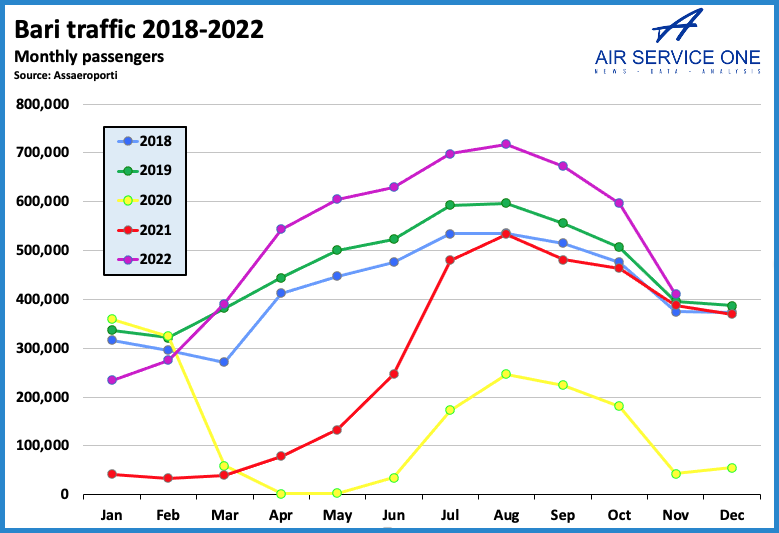 Ryanair versus Wizz Air
Ryanair's first service to Bari was from London STN in January 2004, followed by Frankfurt HHN (February 2006), Milan BGY (December 2007), Pisa (March 2008) and Malta (October 2008). The airport became a Ryanair base in 2010. In total, Ryanair has offered service to almost 60 destinations, of which 50 were operating in the summer of 2022.
Wizz Air's first service to Bari was from Prague (March 2010), followed by Budapest (July 2010), Bucharest (March 2011) and Cluj-Napoca (May 2013). In October 2020 the carrier announced that Bari would become a base in December 2020. In total, Wizz Air has offered service to 37 destinations, of which 24 were operating in the summer of 2022 according to Cirium schedules data.
The following table shows which routes were being flown by the two ULCCs in August 2022 and with what weekly frequency (WF)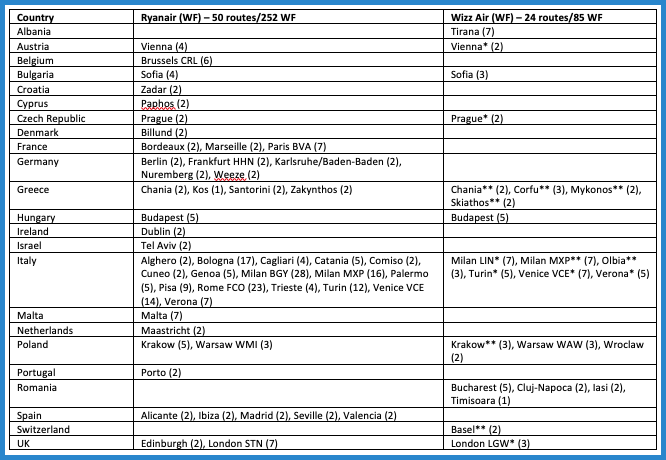 Service to Abu Dhabi in the UAE, which existed between March and May 2022 and then resumed in October, is also set to end in mid-February. Flights to Tel Aviv in Israel which launched on 15 December 2022 will terminate on 9 February. Wizz Air has also previously dropped routes from Bari to destinations in Georgia (Kutaisi), Latvia (Riga) and Lithuania (Vilnius).
Other airlines account for almost 30% of seats
While Ryanair (53%) and Wizz Air (18%) accounted for over 70% of capacity at Bari last year, the airport also welcomes many other airlines. Significantly, Italian flag-carrier ITA Airways (the airport's third busiest carrier) serves Bari from Milan LIN and Rome FCO with multiple-daily flights. Other national carriers at the airport include Air France, British Airways, Lufthansa, Luxair, SWISS and Turkish Airlines.
Among Europe's other LCCs Bari welcomes service from easyJet, Eurowings, Transavia, Volotea and Vueling. Norwegian is set to join them this summer with a new non-stop service from Oslo.
*Excludes Russian airports