Belfast City competition hots up as Aer Lingus and Flybe launch four new routes on same day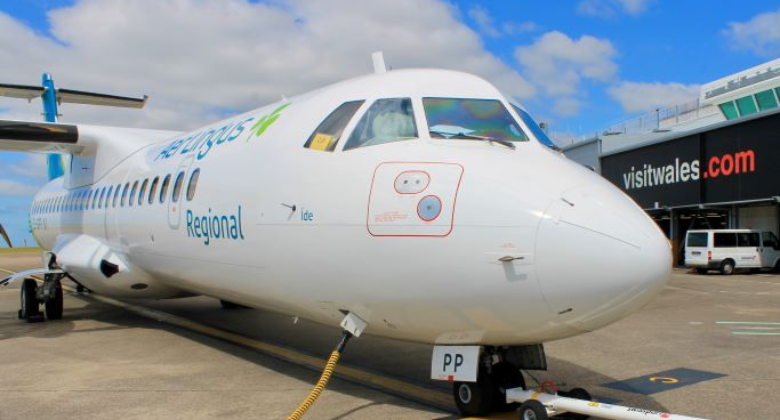 Aer Lingus Regional on Thursday 7 July added two new routes from Belfast BHD. Using ATR 72s operated by Emerald Airlines, there will be daily flights on the 510-kilometre route to Southampton, competing with Eastern Airways, which already offers 13-weekly flights. In addition, Aer Lingus Regional is now offering 5-weekly flights on the 400-kilometre route to Cardiff, a route not served by any other carrier.
This brings to nine, the number of UK routes served by Aer Lingus from Belfast BHD, with eight flown by Emerald Airways. The reborn Flybe has also been developing its operations from Belfast BHD with the addition of service on 7 July to East Midlands (daily) and Manchester (2-daily). As a result, according to Cirium schedule data, the following UK routes are now served from Belfast BHD by the following carriers (weekly frequency in July in brackets):
Aberdeen: Loganair (7)
Birmingham: Aer Lingus Regional (25), Flybe (18)
Cardiff: Aer Lingus Regional (5)
Dundee: Loganair (3)
East Midlands: Flybe (7)
Edinburgh: Aer Lingus Regional (19), Flybe (7)
Exeter: Aer Lingus Regional (5)
Glasgow GLA: Aer Lingus Regional (13), Flybe (14)
Inverness: Loganair (6)
Leeds Bradford: Aer Lingus Regional (19), Flybe (19)
Liverpool: easyJet (6)
London LCY: British Airways (13)
London LGW: easyJet (10)
London LHR: Aer Lingus (21), British Airways (13), Flybe (14)
Manchester: Aer Lingus Regional (26), Flybe (14)
Southampton: Aer Lingus Regional (7), Eastern Airways (13), Flybe (starts daily service on 28 July)
Teesside: Loganair (4)
According to planespotters.net, Emerald Airlines currently has a fleet of 12 ATR 72s. Flybe has an active fleet of just five Q400s, with the fifth aircraft (registration G-FLBA) apparently having started revenue flights today (13 July) according to flightradar24.com. Due to the delay in deliveries, the airline has been wetleasing other aircraft, including an Embraer E175 from Marathon Airlines and an ATR 72 from Swiftair. As a result of these aircraft issues the airline recently announced cuts to its flying programme which will see the launch of new Belfast BHD service to Aberdeen, Inverness and Newcastle, which had been scheduled to start in late August, pushed back to the start of the winter season at the end of October. Plans to ramp up frequency on the remaining Belfast routes to the UK mainland have also been impacted.
According to UK CAA statistics for May 2022, Flybe operated 654 scheduled flights and carried 10,024 passengers at a load factor of 19.7%.