Belfast City welcomes two more easyJet routes in June; Lufthansa to start Frankfurt service in April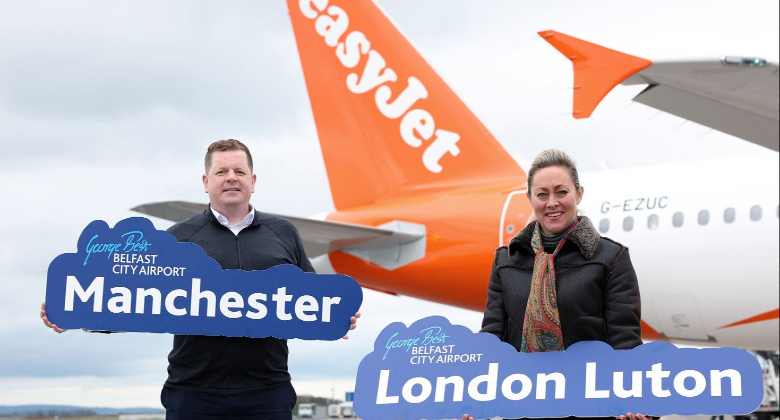 Belfast BHD (known locally as George Best Belfast City Airport) ended 2022 with 1.66 million passengers and was the UK's 17th busiest airport, according to the UK Civil Aviation Authority. It accounted for a quarter of all Northern Ireland air passengers. Traffic was down by 32.4% over 2019, less recovered than UK airports generally (-25.2%). However, Belfast BHD improved better than other airports at which defunct Flybe was previously very strong: Southampton (-64.6%), Exeter (-62.6%), Newquay (-47.0%) and Cardiff (-48.2%). It benefited from backfilling by Aer Lingus Regional, the brief operation of Flybe MK II and the return of easyJet. In S23, growth by easyJet will play a key role in the airport exceeding S19 capacity for the first time.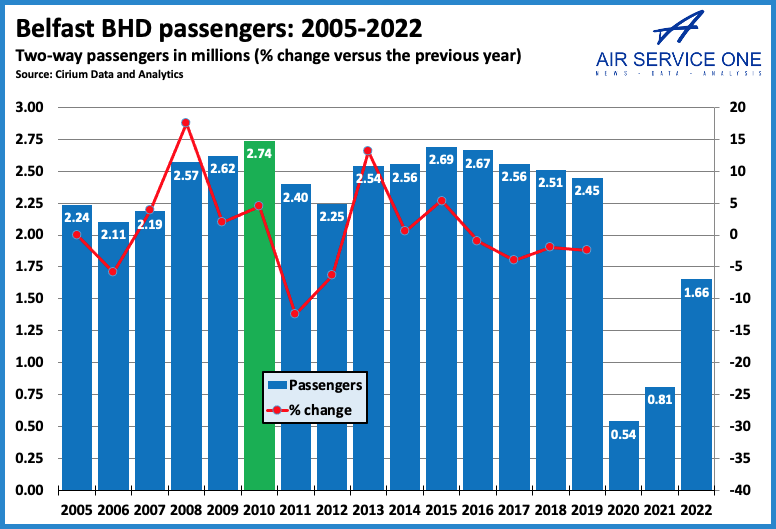 easyJet adds two Belfast BHD routes
The LCC, which is the largest airline serving Northern Ireland, has had two distinct stints at Belfast's downtown airport. The first attempt was in 2010/2011, followed by a return in 2021. Despite nearby Belfast BFS being easyJet's fifth most-served airport in 2021 (eighth in S23), the gap provided by the exit of Flybe MK I motivated it to return to Belfast BHD.
easyJet has six Belfast BHD routes in S23, as summarised below. They include the recently added Manchester and Luton services, which will use Luton-based aircraft and crew; Manchester will operate on a W basis. While it has never served Manchester from the airport, Luton was linked in 2010/2011 with a 2-daily operation. It is the sole airline to Gatwick, Liverpool, Luton and Bristol.
London LGW: launched 9 July 2021. 2-daily, but 3-daily from 26 June 2023; one aircraft will night stop at Belfast BHD
Liverpool: 1 July 2022; up to 13-weekly
Bristol: 7 September 2022; 4-weekly
Glasgow: 31 October 2022; rises to 4-weekly from September 2023
London LTN: begins 26 June 2023; 4-weekly
Manchester: starts 26 June 2023; 4-weekly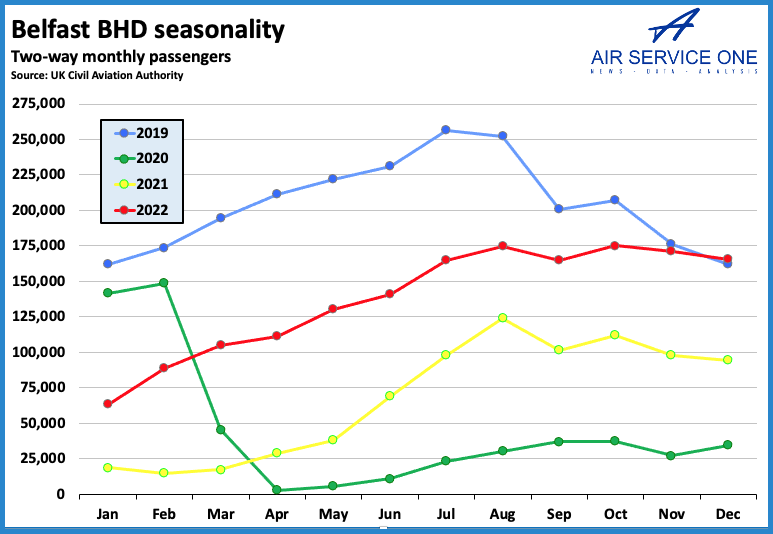 Six airlines and 26 routes
easyJet's growth means that Belfast BHD expects almost 1.01 million one-way seats in S23, +1% versus S19, according to Cirium schedules information data. With about 224,000 seats, easyJet is the third-largest airline by capacity, as shown below. It is also third by flights (and ASKs). Aer Lingus Regional is number one; its ATR-72s mean that it is especially dominant by departures.
Aer Lingus: 446,900 one-way seats (44.3% of seat capacity; 59.0% of one-way flights)
British Airways: 275,900 (27.4%; 19.4%)
easyJet: 224,000 (22.2%; 13.3%)
Loganair: 26,400 (2.6%; 4.8%)
KLM: 24,100 (2.4%; 2.4%)
Lufthansa: 10,700 (1.1%; 1.1%)
Belfast BHD has 26 routes in S23, of which 23 are scheduled. Of the scheduled, just two – Amsterdam and Frankfurt – are international. As shown below, London LHR – one of four London airports served – has more capacity than anywhere else. Now fully in the hands of British Airways, it has 42 departures in the week starting 1 July. easyJet's London LGW growth means that it is Belfast BHD's number two – surpassing Manchester. Notice that Manchester is one of six of the top 10 to still have fewer available seats than in S19. The recovery continues.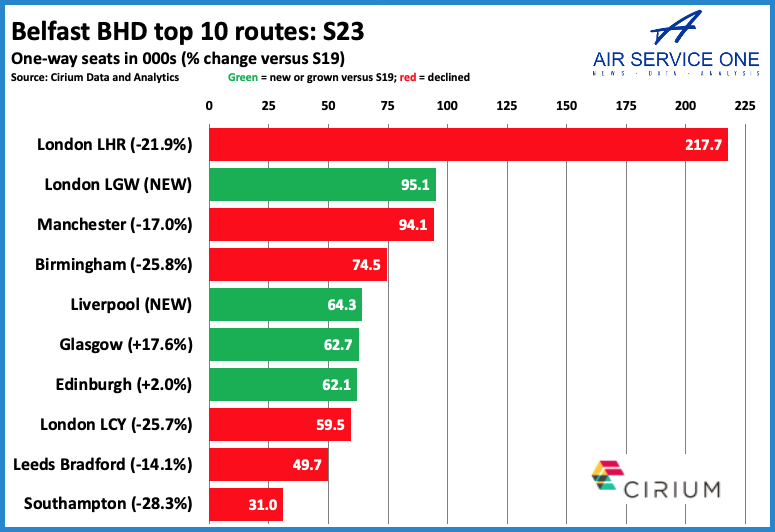 Eight scheduled routes to begin this summer
The eight are detailed below. Lufthansa is a brand-new airline to Northern Ireland, with Frankfurt never served before. It provides those travelling to/from the country with more options than connecting in Amsterdam or London LHR or driving to Dublin.
26 March 2023: East Midlands, Aer Lingus Regional (up to 13-weekly)
3 April 2023: Newquay, Aer Lingus Regional (up to 5-weekly)
23 April 2023: Frankfurt, Lufthansa (4-weekly)
24 April 2023: Isle of Man, Aer Lingus Regional (6-weekly)
28 April 2023: Newcastle, Aer Lingus Regional (daily)
6 May 2023: Jersey, Aer Lingus Regional (2-weekly)
26 June 2023: London LTN; easyJet (4-weekly)
26 June 2023: Manchester, easyJet (4-weekly)