Belgrade Airport has welcomed six new airlines in last 15 months; Air Serbia and Wizz Air expanding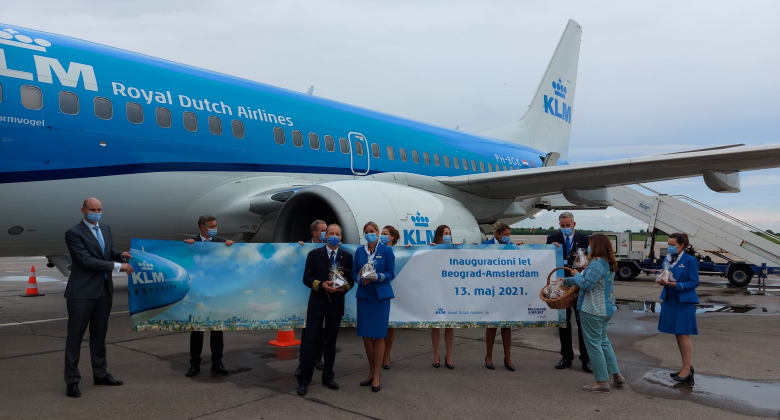 The eyes of the world were (briefly) on Belgrade Nikola Tesla Airport this week, as world number one tennis player Novak Djokovic returned home to Serbia after being deported from Australia, where he had been hoping to win the Australian Open for a tenth time. The airport serving the Serbian capital, which is operated by the VINCI group, had seen traffic treble between 2005 and 2019 from just over two million passengers to almost 6.2 million. In 2020, demand fell by almost 70%, before growing again last year by 73%. The 3.29 million passengers welcomed last year represents 53% of the total achieved in 2019.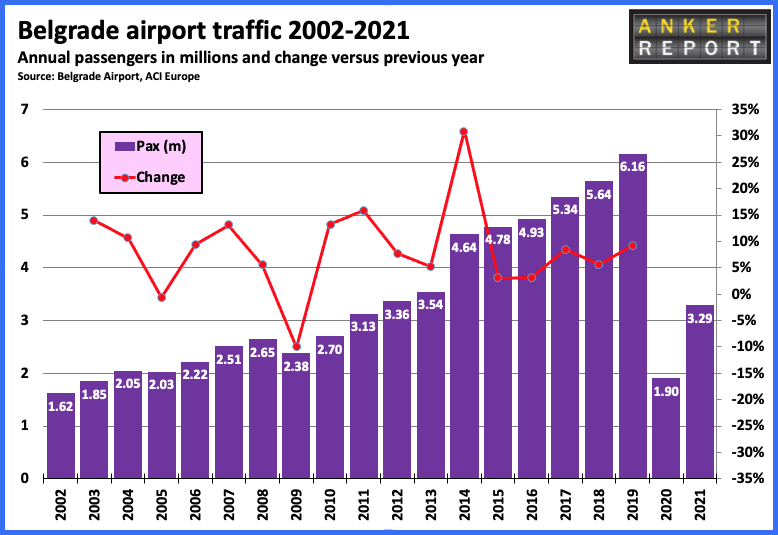 The airport's seasonality is similar to the majority of airports in Europe, with demand peaking in July and August. During those months in 2021, demand was down around 25% compared with 2019. However, in the last four months of the year traffic was between 35% and 45% lower when compared with two years earlier.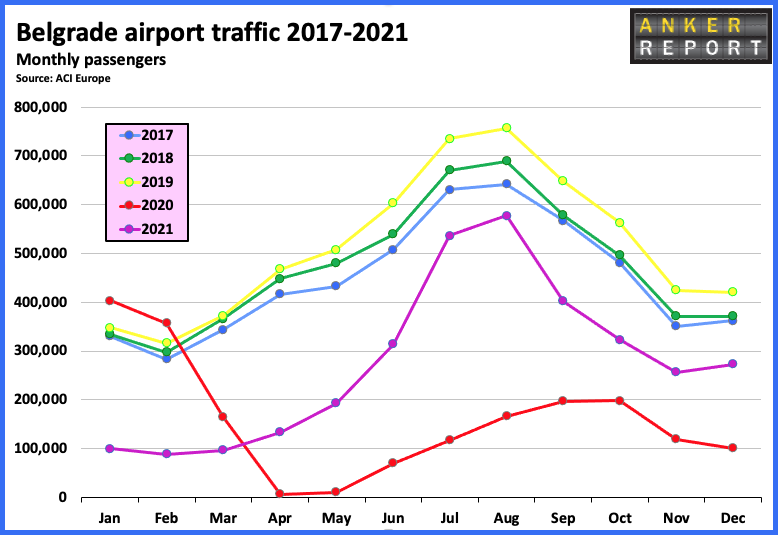 Air Serbia accounts for almost half of all flights
Looking at the leading airlines for seat capacity last summer (April to October) shows that Air Serbia is the leading carrier in Belgrade, accounting for around 42% of seat capacity and 48% of flights. It recent years it has typically served between 40 and 50 destinations. Wizz Air, which opened a base at the airport in April 2011, is planning to serve over 20 destinations this summer from the airport. Last summer its flights generated 13% of the airport's seat capacity. Apart from Wizz Air, the top eight airlines are all European flag-carriers. Then comes flydubai and easyJet. The latter serves Belgrade from its bases in Basel, Berlin and Geneva.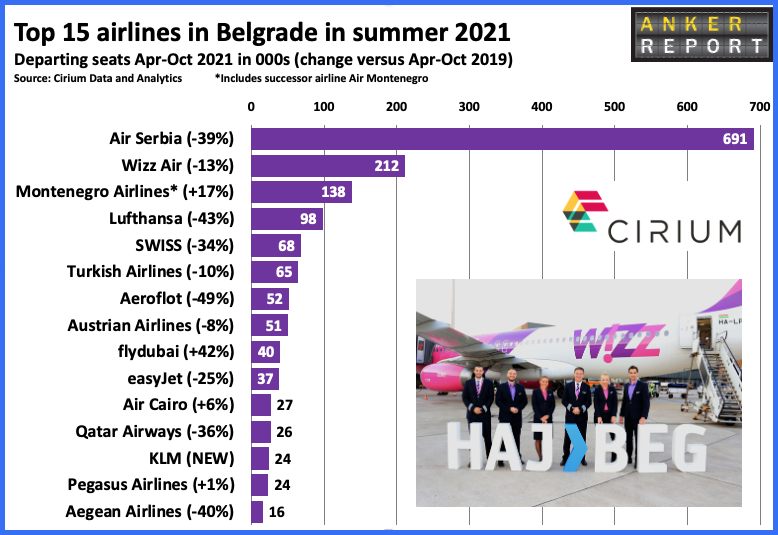 Six new airlines welcomed since December 2020
Since the start of the pandemic, Belgrade has welcomed several new carriers including Eurowings (from Stuttgart), KLM (from Amsterdam), Luxair (from Luxembourg), Nordwind Airlines (from Moscow and St. Petersburg), SkyUp Airlines and Windrose Airlines (both from Kiev). You could argue that Wizz Air's Abu Dhabi service, launched in May 2021 using the airline's UAE-based subsidiary makes it seven new airlines. Airlines have launched over 20 new routes from Belgrade in the last 18 months. These are summarised below:
Aeroflot: St. Petersburg (23 June 2021)
Air Serbia: Oslo (16 July 2020), Geneva (1 March 2021), Rostov-on-Don (4 June 2021), Nis (6 January 2022)
El Al: Tel Aviv (1 November 2020)
Eurowings: Stuttgart (2 July 2021)
KLM: Amsterdam (13 May 2021)
Luxair: Luxembourg (3 June 2021)
Nordwind Airlines: Moscow SVO (20 December 2020), St. Petersburg (23 May 2021)
SkyUp Airlines: Kiev KBP (30 March 2021)
Turkish Airlines: Ankara (23 December 2021)
Windrose Airlines: Kiev KBP (7 December 2020)
Wizz Air: Salzburg (2 July 2020), Hamburg (28 March 2021), Abu Dhabi (23 May 2021), Heraklion (12 June 2021), Santorini (13 June 2021), Oslo TRF (25 July 2021), Frankfurt HHN (16 December 2021)
However, a number of airlines and services have also been suspended, at least for now. That includes Alitalia services from Rome FCO which have not been taken over by ITA Airways, Etihad Airways from Abu Dhabi, and Transavia from Amsterdam. Cirium data also suggests that Air Serbia has yet to resume flights to Beirut, Cairo, Hamburg, Helsinki, Kiev KBP, Malta, Tel Aviv and Zadar.
2022 developments
Although no new airlines are currently set to make their debut in Belgrade this year, the airport is still set to welcome a number of new routes from existing carriers. These are summarised below:
Aegean Airlines: Heraklion (2 June), Rhodes (3 June)
Air Serbia: Bari (5 June), Palma de Mallorca (11 June), Valencia (21 April)
Eurowings: Düsseldorf (15 May)
Wizz Air: Barcelona (10 February), Vaxjö (27 March), Billund (28 March), Nice (29 March), Rome FCO (29 March, resumption)
A couple of the new Wizz Air routes (Billund and Vaxjö) already made a brief appearance over Christmas and New Year before launching on a regular basis at the end of March. It is also worth noting, that prior to the start of the pandemic, Wizz Air had been planning to start new routes from Belgrade to Cologne Bonn, Lisbon, Milan MXP and Turku, as well as resuming flights to Brussels CRL and Friedrichshafen. So far, none of this has been converted to reality.
Germany is #1 travel market
Analysis of Cirium data for the second quarter of 2022 shows that Germany looks set to be by far Belgrade's leading country market with almost twice as many seats on offer compared with its closest competitor, Switzerland. Overall seat capacity is currently set to be down around 10% versus the same period in 2019, though this may be optimistic as airlines continue to fine-tune their summer capacity on a weekly basis, as travel restrictions are ramped up or eased.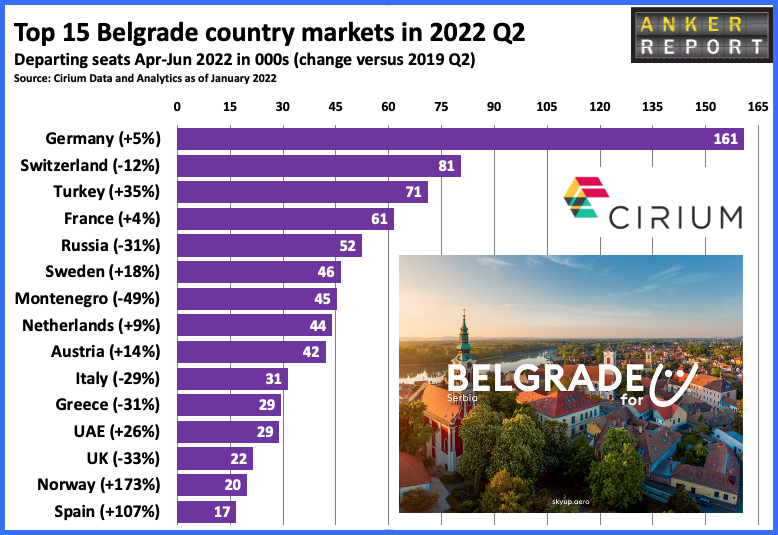 Outside of Europe, Belgrade has non-stop service to New York JFK with Air Serbia, Air Cairo serves Hurghada in Egypt, while all three major Middle Eastern hubs are served; Abu Dhabi by Wizz Air Abu Dhabi, Dubai by flydubai and Doha by Qatar Airways. While it was widely reported that Mr Djokovic arrived (and departed) Australia on Emirates flights, his return to Belgrade from Dubai was on a flydubai service. Although flydubai is considered a low-cost carrier, it does have 10 Business Class seats on its 737 MAX 8s, which it seems Mr Djokovic took advantage of.
Avgeek heaven at local air museum
For aviation enthusiasts, the
Aeronautical Museum Belgrade
, located on the site of the airport, appears to be well worth a visit. Housed in a futuristic-looking, flying saucer inspired building, the museum contains a wealth of mostly military aircraft.