Berlin blazes a trail with digital innovation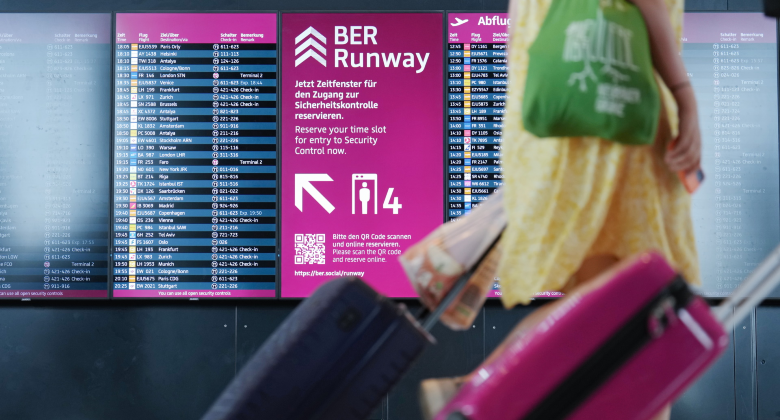 Things must move fast at an airport. Whether on holiday or a business trip, nobody wants to wait.
But with more passengers to serve every year, speed is a challenge – a challenge Berlin Brandenburg Airport (BER) is meeting with ingenuity and innovation, without compromising on the passenger experience.
One of the airport's new innovations is unique in Europe. The 'BER Runway' service allows passengers to reserve a timeslot for going through security online, helping reduce waiting times. Expect it to catch on elsewhere.
Another digital innovation that is helping keep things moving are the self-service check-ins, of which there are now more than 100 at BER, as well as bag-drop machines.
With measures like these, the airport can handle the growing number of passengers travelling through its terminals. In September, for the first time since opening, BER welcomed more than two million passengers in a single month. They were flying to familiar destinations with well-known airlines like easyJet, Qatar and Lufthansa, but also newer carriers like Play and Flyr.
Another newcomer is Norse Atlantic Airways. The airline recently connected the German capital with New York, and has been flying seasonally to Los Angeles, with Fort Lauderdale set to be added in winter.
Next year is all about US expansion. Delta and United are set to launch direct services to New York and Washington in May.
This increased connectivity is supporting the local economy. Indeed, Berlin and Brandenburg have recorded GDP growth above the German average, with the hospitality and manufacturing industries proving particularly strong.
Helping drive that is Tesla's new Gigafactory near Berlin, and Amazon's new site that is under construction in the centre of the city.
"The outlook is rosy, the opportunities good," said the BER team. "Now is the time to seize the opportunity and get involved in the newest of Germany's airports."