Bern Airport now has a based Helvetic Embraer E195-E2 operating six scheduled leisure routes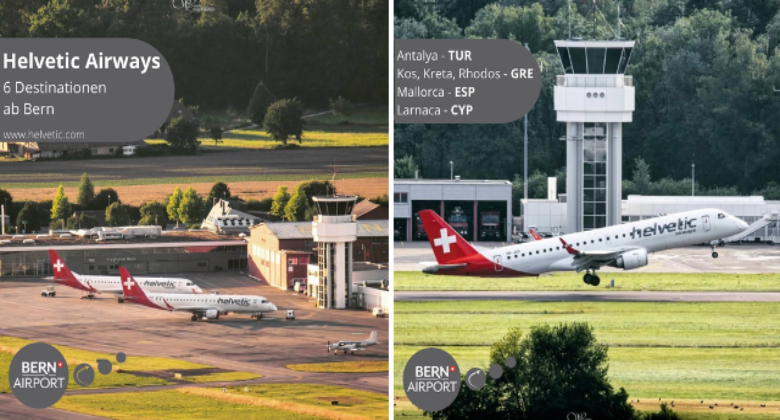 Among all European countries, the one with the smallest airport serving its capital is probably Switzerland. While Zurich (31.5 million passengers in 2019) is the main hub for SWISS and Geneva (17.9 million passengers in 2019) is a major base for easyJet, the airport serving Bern (the Swiss capital) has struggled in recent years to attract regular, reliable, year-round scheduled services. Its busiest year was 2012 when almost 260,000 passengers were welcomed. Back then, according to Cirium data, SkyWork Airlines offered a fairly varied network using primarily Dornier 328s.
SkyWork ceased operating in 2018
However, SkyWork sadly ceased operations in August 2018. At the time it was offering at least 4-weekly service to Amsterdam, Berlin TXL, Hamburg, London LCY, Munich, Palma de Mallorca and Vienna. By then it had replaced the Dornier fleet with larger, 50-seat Saab 2000s. There were no scheduled services at Bern in W18/19, with Helvetic operating weekly flights to Jerez, Olbia and Palma de Mallorca in the summer of 2019, according to Cirium data. Again, there were no scheduled flights in W19/20 and then came the pandemic. In the summer of 2020, Helvetic again operated scheduled weekly flights but only to Palma de Mallorca.
Helvetic operating six scheduled routes this summer
This summer has seen Helvetic return with more ambitious plans. In addition to its usual Palma de Mallorca route, it has now added Antalya in Turkey, Larnaca in Cyprus, as well as Heraklion, Kos and Rhodes in Greece. Heraklion and Palma are served 2-weekly, the rest weekly, using one of the Swiss carrier's Embraer E190-E2s (registration HB-AZE). Since 9 July, when the aircraft was moved to Bern to operate these routes it has operated the following flights according to flightradar24.com:
9 July: Larnaca, Heraklion
10 July: Antalya, Palma de Mallorca
11 July: Kos, Rhodes
12 July: –
13 July: Heraklion
14 July: Palma de Mallorca (plus new route Sion-Palma as a "W" service)
15 July: operated Bern-Dortmund-St. Gallen-Bern-Ohrid-Bern
16 July: Larnaca, Heraklion
17 July: Antalya, Palma de Mallorca
18 July: Kos, Rhodes
The other scheduled carrier present at the airport this summer is German regional Lübeck Air. It began flights from Lübeck last July using an ATR 72. According to Bern Airport's website it is also offering weekly flights this summer to Olbia between mid-May and mid-October (but not for most of August) using aircraft operated by Air Alsie. There are also weekly (Saturday) flights to Heringsdorf from 28 May to 22 October. At the end of September, Jerez will be served weekly with six return flights. These flights with Lübeck Air can be booked on the flyBAIR website.