BHX: We're on our way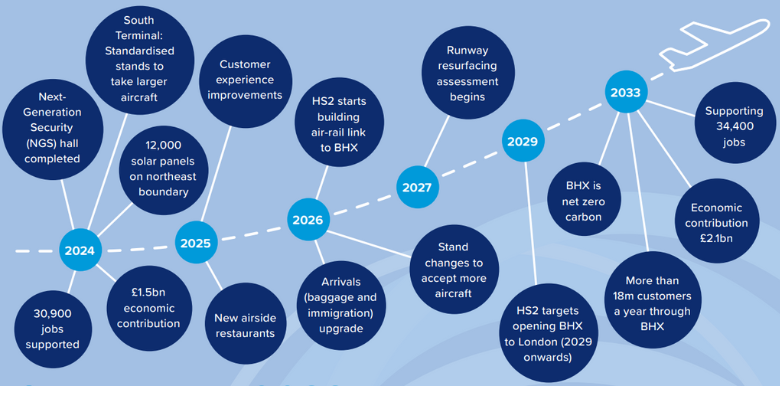 Birmingham Airport (BHX) has a runway which is currently only a third utilised. Right now, BHX serves 12 million customers a year. It expects to be serving 18 million by 2033, when it also aims to have become a carbon net zero airport.
While the consented number being worked towards is 18m, BHX has runway capacity for up to 35m customers a year in future.
Sitting at the heart of the country's road and rail networks, BHX is the UK's best-connected airport. This title will be cemented by the arrival of the new HS2 railway, currently 40% built, between Birmingham and London. HS2 will connect BHX to West London in just 32 minutes, making BHX the journey-time equivalent of Zone 5 on the London Underground.
HS2 makes BHX part of the London airport ecosystem. As is well known, London airports, notably Heathrow, are full. Multiple planning applications are under consideration by local authorities for various runway expansions. Whether they get the green light is uncertain.
So, here's a question to consider: Why, if it is just over a half an hour away on a fast train, would one not utilise the spare runway capacity at BHX before building more runways elsewhere?
Over the coming decade, BHX is spending £300m on upgrades to its terminal and other facilities to enable it to cater for greater volumes of customers expected in future. This includes £50m of current work, set to be completed in June 2024, on a new security hall.
Tom Screen, aviation director for BHX, said: "Our investment programme will facilitate the twin focus of our airline growth strategy: low-cost and long-haul.
"With the likes of Ryanair adding more BHX-based aircraft year by year, and easyJet set to base three aircraft here from March 2024, our low-cost growth plan is on track.
"Over the summer Qatar Airways returned (Doha), Emirates' A380 returned (Dubai) and Saudia began operating (Jeddah) from BHX, so the long-haul element is moving well too. Hong Kong, Toronto and New York are next in our sights."