Bilbao has more passengers in June than any other month to date; gained nine airlines since 2020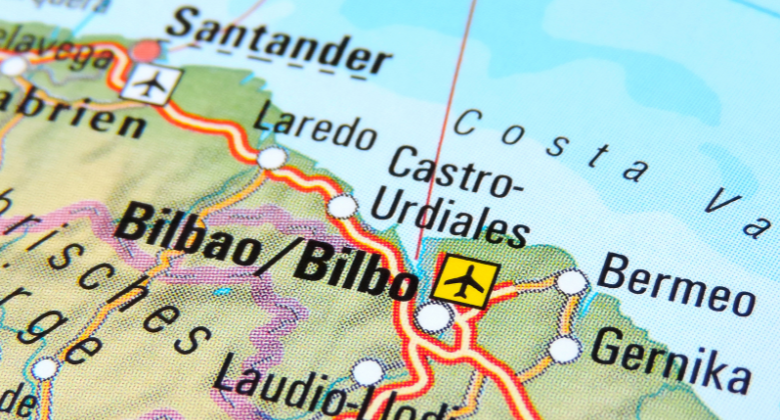 Spain's 14th most-served airport, Bilbao welcomed 5.13 million passengers in 2022, making it the largest airport on the country's north coast. Aena statistics indicates that around 65% of passengers were domestic and 35% international. Like so many airports globally, its recovery continues. However, it has gained various new airlines since the pandemic, while key players have grown. These have contributed to achieving 604,247 passengers in June 2023 – the highest in any month to date.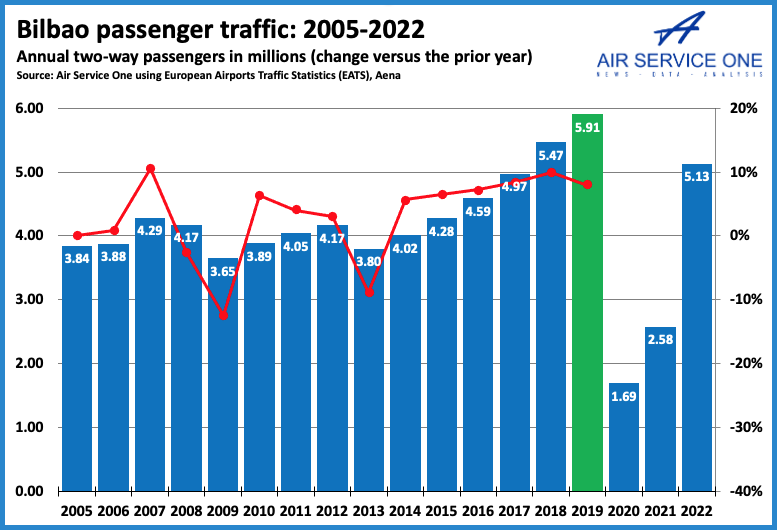 Vueling has cemented its lead
According to Cirium schedules information, Bilbao is served by 23 airlines in S23, with the top 10 shown below. Vueling is by far the leading operator, just as it was in S19.  However, capacity has risen by more than a quarter since then, with Vueling now accounting for 46% of the airport's summer seats and is its fourth most-served airport network-wide.  It now serves 33 routes, including six that launched in 2023, all but one (Prague) with direct competition:
3 July 2023: Hamburg (2-weekly)
3 July 2023: Brussels (3-weekly); last served in 2016
2 July 2023: Prague (2-weekly); served briefly in December 2022
2 July 2023: Marrakech (2-weekly); last served in 2016
2 July 2023: Faro (2-weekly)
1 July 2023: Zurich (2-weekly)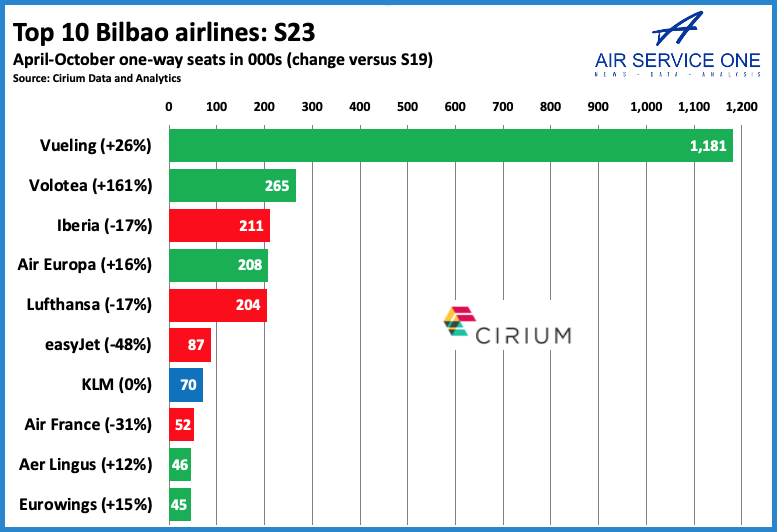 Volotea has jumped to second place
LCC Volotea has served Bilbao since June 2012, with the airport becoming a base in 2018 (see photo). While the carrier was Bilbao's sixth-largest operator in S19, fast growth since then – and cuts by others – has propelled it to second place. It has 22 summer routes, of which a surprisingly high 14 has direct competition, 13 with Vueling.
Volotea has added 10 routes in 2023, not all of which have launched yet. These include Tenerife TFS – curiously not TFN, to which most domestic Spanish flights go.
10 November 2023: Paris ORY (2-weekly)
11 October 2023: Tenerife TFS (2-weekly)
10 October 2023: Gran Canaria (2-weekly)
7 September 2023: Lyon (2-weekly)
1 July 2023: Rome FCO (2-weekly)
28 May 2023: Faro (2-weekly)
27 May 2023: Olbia (2-weekly)
27 May 2023: Marrakech (weekly)
26 May 2023: Santorini (weekly)
8 April 2023: Florence (2-weekly)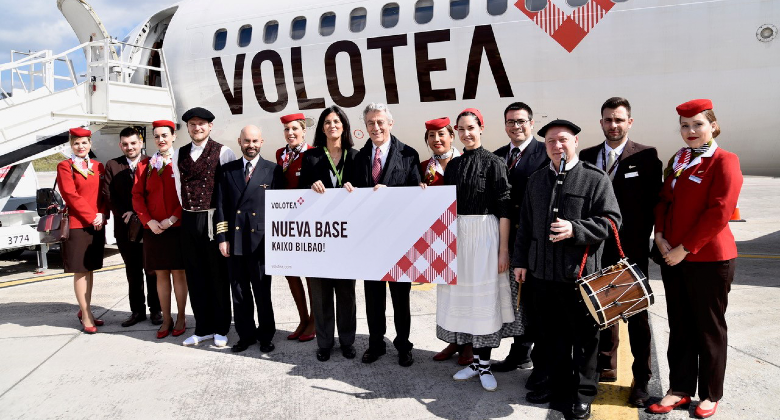 Bilbao has gained nine airlines since 2020
The Basque Country airport has been successful in attracting multiple new airlines, particularly since S22. The following still operate, and most involved destinations not previously served from Bilbao:
1 July 2023: Azores Airlines from Ponta Delgada (weekly)
25 June 2023: Smartwings from Tirana (weekly)
4 May 2023: airBaltic from Riga (2-weekly)
27 March 2023: Wizz Air from Warsaw WAW (2-weekly), then Vienna (13 June; 2-weekly)
31 October 2022: Air Cairo from Luxor (weekly)
1 July 2022: Aegean from Athens (2-weekly)
27 March 2022: Edelweiss from Zurich (3-weekly)
30 March 2021: Air Arabia Maroc from Tangier (2-weekly)
2 March 2020: Transavia from Rotterdam (ended in 2022), then Eindhoven from 1 April 2022 (2-weekly)
They have been offset by the loss various operators. These include Level in June 2020 (from Vienna), Ryanair in August 2020 (from London SEN), British Airways in March 2022 (from London LHR, before that LGW) and SWISS in January 2022 (from Zurich, replaced by leisure unit Edelweiss). Ryanair first served Bilbao in 2012-2013, when it had five routes, only to return in 2019 with SEN.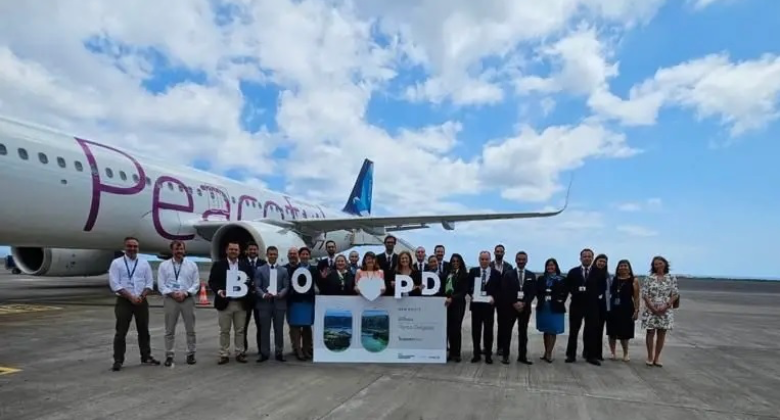 50+ destinations in S23
Analysis of Cirium data shows that Bilbao has more than 50 non-stop destinations this summer. The 315-kilometre link to the Spanish capital remains the leading destination. It is served by Iberia (36-weekly July flights) and Air Europa (2-daily). Notice Seville, which has jumped from sixth place in S19 to third, and London LGW, from eighth to fourth. LGW is now Bilbao's top international destination. It is served by Vueling (3-daily in July) and easyJet (3-weekly).