Billund back to best – and recruiting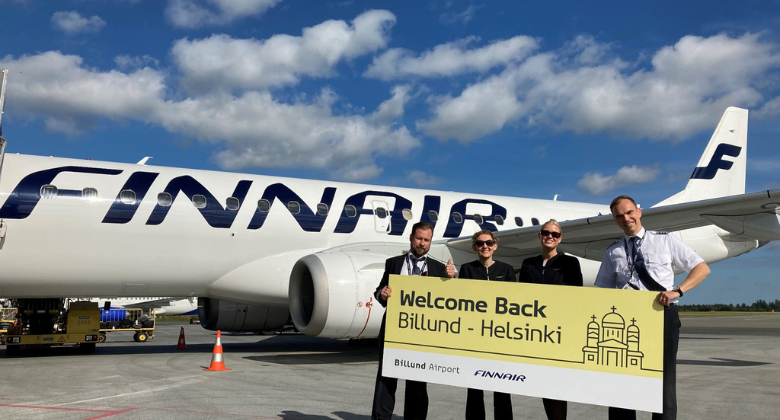 Busy terminals, new airline partners and dozens more destinations to choose from – Billund Airport is flying high as it enters 2023.
Last year marked a welcome return to form for the Danish airport following the Covid slump, with passenger numbers bouncing back to pre-pandemic levels.
Returning passengers have even more destinations to choose from now, too, after the airport secured more than 40 new routes when travel restrictions were eased.
This year looks set to continue in that vein, with eight new routes and four new airline partners already announced. Route openings confirmed so far include Bolzano with SkyAlps; Berlin, Valencia and Algero with Ryanair; Keflavik with PLAY; Vienna with Austrian Airlines; and Kangerlussuaq (Greenland) with Air Greenland.
According to the airport, Billund's passengers are a diverse bunch. "It is not based on one segment only, but a healthy mix of leisure, VFR, and blue- and white-collar business travellers," said the airport.
That is perhaps no surprise given what's on the doorstep. The largest airport in West Denmark, Billund is a stone's throw from LEGOLAND, which pulls in visitors from all over the world. The region is also a booming manufacturing hub, bringing in a steady stream of business travellers.
While 2023 is shaping up to be stellar year, Billund's route development team has bigger ambitions – and is hiring to help achieve them. The airport is on the lookout for a new team member to serve existing airline partners and develop new ones.
The successful candidate will work to get West Denmark connected to a Middle Eastern hub to accommodate high demand from local travel agents. The maps of Europe and North Africa also have plenty of potential, and Billund is keen to connect with destinations including TRD, SVG, BIO, ATH, NCE, FLR, CAG and RAK.
Meanwhile, the airport's cargo sector is booming. Billund was recently chosen as the first base for the reestablished Maersk Air Cargo group – a vote of confidence in the airport and the region it supports.