Billund passengers rise to record high this January-July, helped by new airlines and routes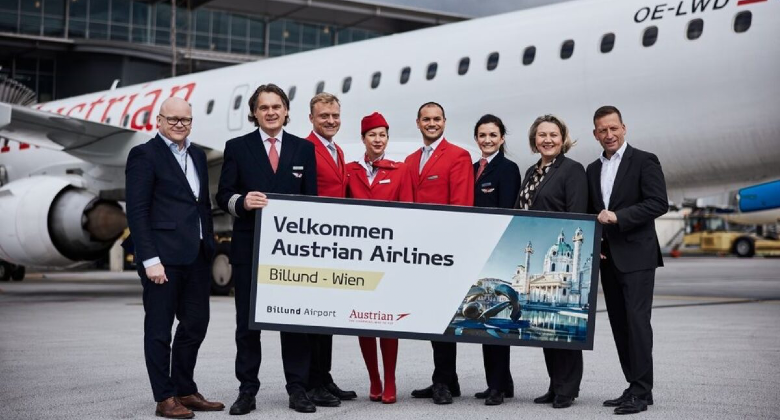 Billund welcomed a record 2.30 million passengers in the first seventh months of 2023, up by a strong 7.47% versus the same period in 2019. It has cemented its position as Denmark's second-busiest airport. It means that Billund is on course not just for its best summer to date, but also for full-year traffic to easily exceed that seen in 2019. The largest airport in the West Denmark region, Billund is most famous for LEGOLAND, bringing passengers from across the world, although the region is a thriving manufacturing hub, resulting in a steady stream of business travellers.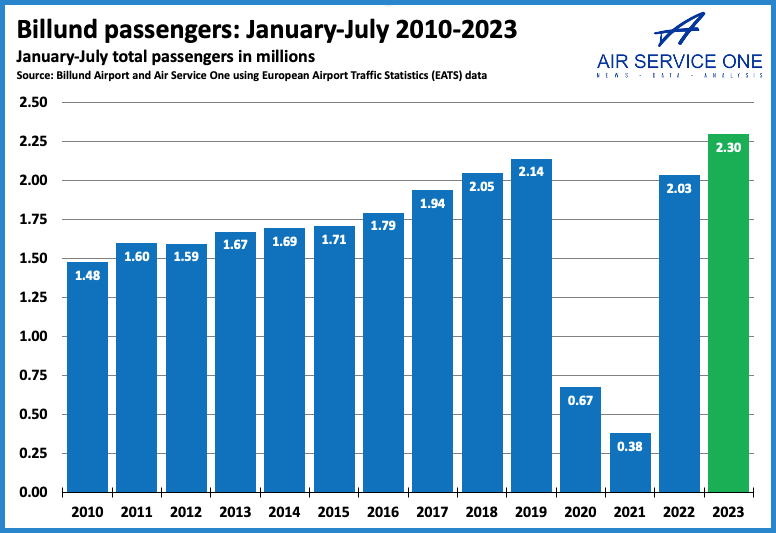 Gained three airlines since March
Billund has welcomed the following airlines in S23, which built on various other additions. For example, Greece's Sky Express launched flights last year, while Vueling and SWISS joined the portfolio in 2021.
29 March 2023: Air Greenland (using a wet-leased 737)
4 April 2023: Austrian
15 June 2023: PLAY
According to Cirium schedules information, Austrian returned after last serving Innsbruck until 2017. Unlike before, it links Billund with its Vienna hub and is one of more than 10 hub-and-spoke carriers at Billund. Meanwhile, Air Greenland provides the Danish airport's first regular non-stop link to that country.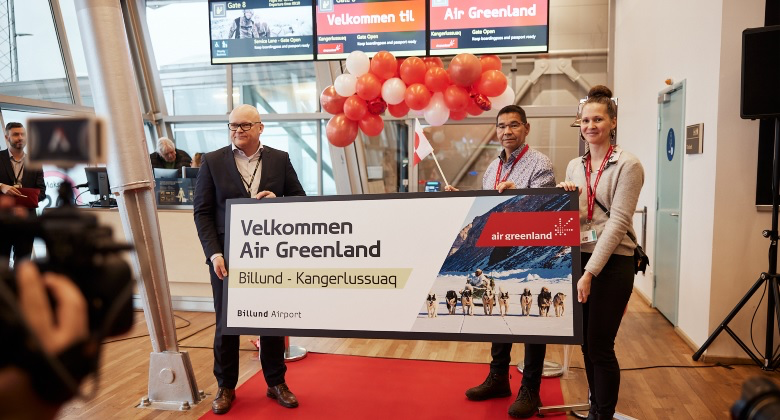 10+ new routes this year
Analysis of Cirium data and reference to Air Service One's New European Routes Database (NERD), shows that they include the following, the majority of which have not been served by the stated carrier before. Some have, but not for years, and this is stated. Routes where airlines have switched between units of the same group, as with some Corendon and Wizz Air services, have not been included.
27 March 2023: Alghero, Ryanair (last served in 2014)
27 March 2023: Berin BER, Ryanair (served SXF until 2020)
29 March 2023: Kangerlussuaq, Air Greenland
4 April 2023: Vienna, Austrian
3 May 2023: Valencia, Ryanair (last served in 2008)
4 May 2023: Ponta Delgada, Novair
13 May 2023: Chania, SKY Express
31 May 2023: Gothenburg, BA Sun-Air (last served by Ryanair in 2022)
15 June 2023: Keflavik, PLAY
27 June 2023: Kos, SKY Express
2 July 2023: Heraklion, Corendon
1 December 2023: Gran Canaria, airBaltic
The list would be even longer if it featured recent resumptions. For example, Brussels Airlines relaunched Brussels-Billund on 26 March 2023, having last served it in 2020.