Billund traffic doubled between 2006 and 2019 with Ryanair and Wizz Air adding most new routes; KLM, Lufthansa & SAS feed hubs
Located in central Denmark, Billund has a modest population of just under 7,000 people. It is best known as the home of Lego, the toy company famous for its plastic building bricks. The company built its own airfield in the early 1960s, which has evolved into Billund Airport. The world famous visitor attraction Legoland, which opened in 1968, is within walking distance of the airport's terminal, which is to the north of the town. Pre-pandemic it attracted over two million visitors each year.
Over 3.7 million passengers in 2019
Passenger numbers at the airport doubled between 1992 and 1997 from one million to two million. Over the next six years passenger numbers fell steadily to 1.6 million in 2003. Since then, the airport has grown steadily with only 2006 and 2009 seeing a downturn in demand, prior to the pandemic of 2020. Passenger numbers peaked at 3.72 million in 2019, making it easily Denmark's second busiest airport after Copenhagen (with 30.3 million).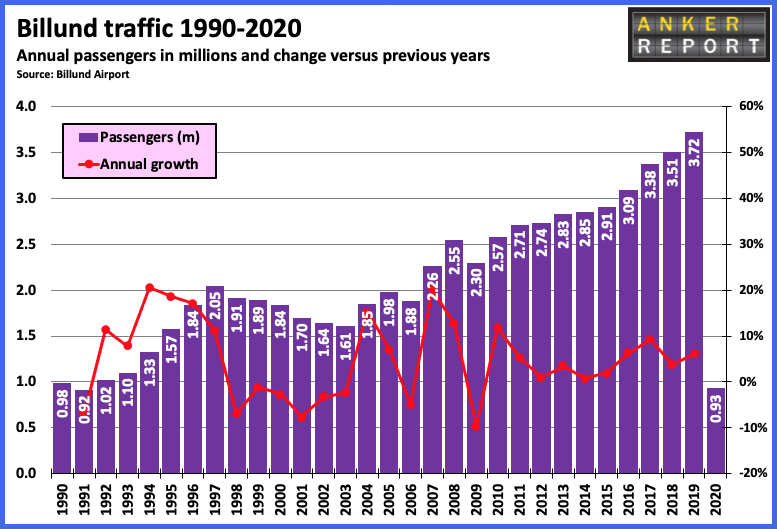 July is busiest month
The airport's seasonality profile has been extremely stable, with passenger numbers climbing steadily from January until peaking in July, after which demand trails off again until the end of the year. In 2019 the July peak of 425,000 passengers was double the number welcomed in January and February.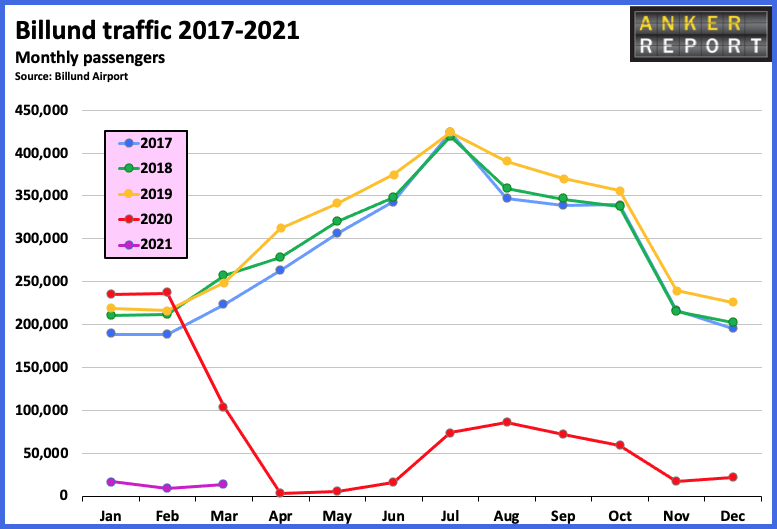 Ryanair is leading airline
The Irish ULCC began serving Billund in November 2006 from Pisa, followed in October 2007 by London STN and Girona service, and then Alicante in December 2007. Milan BGY and Edinburgh followed in 2008. By 2013, a total of 21 destinations were being offered by Ryanair, which had made the airport a designated base the previous year. A total of 32 routes have been offered by the carrier from Billund including three new routes set to start later this year; Bologna, Gdansk and Chania. Other new routes added in recent years include Athens (2018), Dublin (2019), Manchester (2019), Prague (2019) and Vienna (2020). Other leading (U)LCCs present in Billund in 2019 were Wizz Air and Norwegian. Wizz Air was operating from 11 airports in S19 having added Kiev IEV, Krakow, Timisoara and Vienna since the summer of 2018. Its first services to Billund had been from Gdansk and Vilnius in 2015. Norwegian served Oslo and Copenhagen, as well as several holiday destinations in Portugal and Spain in 2019. However, this year, the new slimmed down Norwegian is only offering year-round flights to Oslo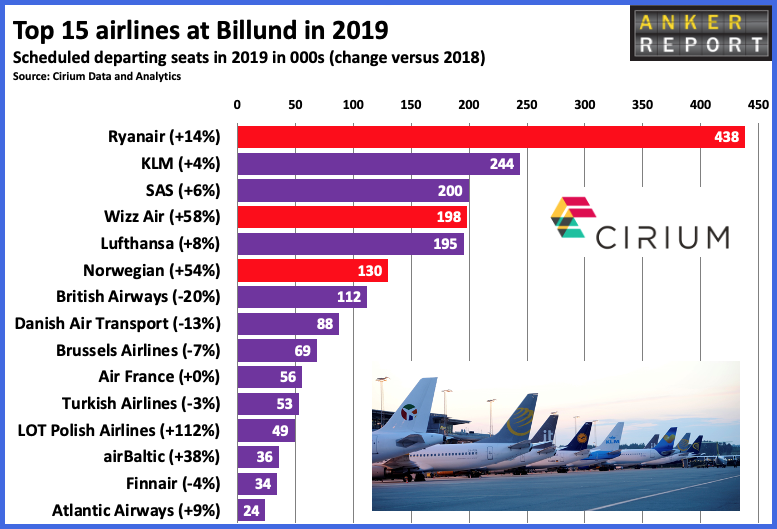 KLM busier than SAS in 2019
Among flag-carriers, KLM led the way in 2019, with its multiple-daily service to Amsterdam, followed by SAS which offered daily flights to all of three of its Scandinavian hubs. Fellow Star Alliance carrier Lufthansa also operated multiple-daily service to its Frankfurt hub. Other flag-carriers present in 2019 were Air France, airBaltic, British Airways, Brussels Airlines, Finnair, Icelandair, LOT Polish Airlines and Turkish Airlines. Not all of these carriers have yet resumed service in 2021, though most appear to plan to by August.
Leading country markets
The UK, Netherlands and Germany were the leading country markets for scheduled seats in 2019, while Poland and Romania were the fastest-growing country markets that year, thanks to Wizz Air's new routes previously mentioned. The domestic market ranked sixth just after Norway in fifth place.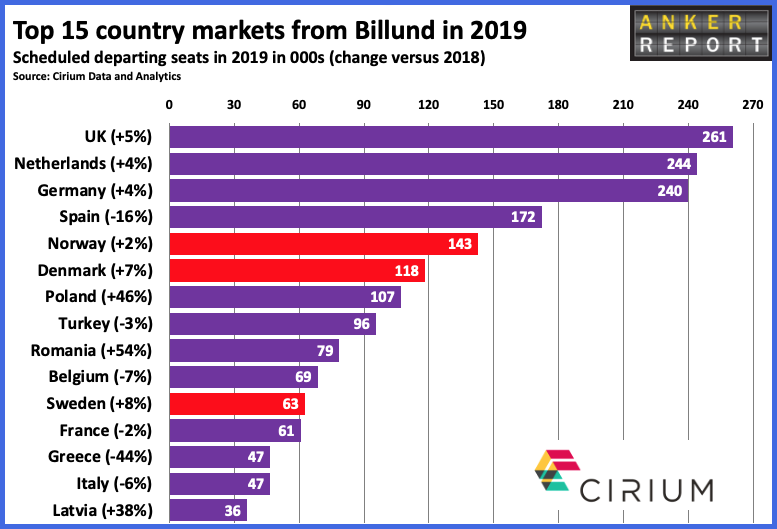 SWISS and Vueling new for 2021
Billund hopes to welcome three new airlines in 2021; Animawings (2-weekly from Bucharest in June), SWISS (2-weekly from Zurich in July) and Vueling (from Barcelona, Malaga and Palma de Mallorca starting in June). The latter is, in effect, replacing Norwegian on these Spanish routes, two of which are also still served by Ryanair. According to Jesper Klausholm, Chief Marketing Officer at Billund Airport the most wanted European routes (prior to the pandemic) were Lisbon, Madrid, Munich, Nice and Trondheim, while the leading unserved long-haul routes were Bangkok, New York, Dubai and Doha. In terms of passenger split, around 65% of passengers at the airport originate in Denmark, while roughly 40% of the inbound visitors visit Legoland, LEGO House or Lalandia in Billund on their journey around West Denmark. However, tourists have all sorts of reasons for flying into Billund Airport including doing oyster safaris in the Wadden Sea, experiencing Viking heritage in Ribe or Jelling, or doing city breaks in Aarhus or Odense.