Binter Canarias uses next generation Embraer jets to enter French and Italian markets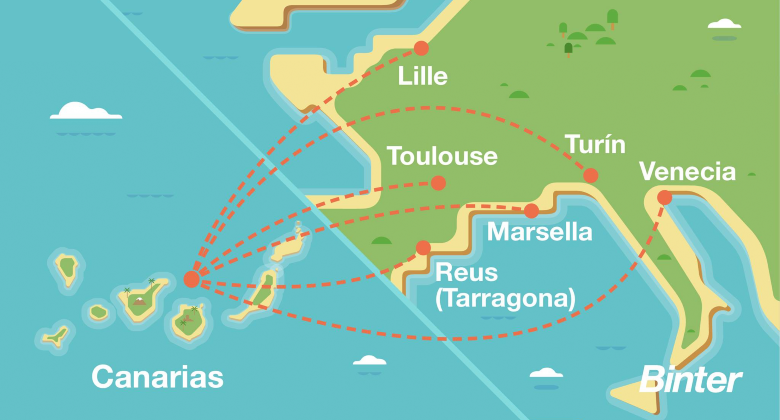 The Spanish carrier Binter Canarias (IATA code NT) is, as the name suggests, focussed on serving the Spanish Canary Islands. In July 2019, the vast majority of its flights connected five airports in the Canary Islands; Fuerteventura, Gran Canaria, Lanzarote and Tenerife TFN. It also offered service from three other Canary Islands airports; El Hierro, La Gomera and Tenerife TFS. ATR 72s were the main aircraft used on these routes but also some Bombardier CRJ-1000s. However, the latter left the fleet during 2020.
New jets enable routes to France and Italy
Starting in late 2019, Binter Canarias started receiving brand new 132-seat Embraer E195-E2s. Three were delivered in December while two more joined the fleet in March 2021 and June 2021. These join the 20-plus ATR 72s still operated by the carrier according to planespotters.net.
These new aircraft have encouraged the airline to launch a number of longer routes to mainland Europe starting in July, all from Gran Canaria. These new routes are:
1 July: Lille in France, Reus in Spain
2 July: Marseille in France
3 July: Toulouse in France, Turin in Italy
5 July: Venice VCE in Italy
The longest of these routes is the last one to Venice, which is 3,125 kilometres. All six new routes will be operated 2-weekly (apart from Marseille, weekly), and, when launched, none faced direct competition. For all six airports, Binter Canarias was a new airline and therefore worthy of celebration.
E-Jets used on all routes of over 1,000 kilometres
According to Cirium Data and Analytics schedule information, Binter Canarias is using its E-Jets on 27 routes in July. All of these routes are over 1,000 kilometres apart from one daily service on the 110-kilometre route between Gran Canaria and Tenerife TFN. Most of the other routes are operated just 2-weekly. As a result, the Embraer fleet is operating 16 flights per day each day, except on Tuesdays and Wednesdays when that number falls to 14 on both days.
The longest sector currently operated by the airline's ATR fleet is from Gran Canaria to Agadir in Morocco. This 630-kilometre sector is flown weekly, on Mondays. The airline's two busiest routes, both operated over 100 times weekly, are between Gran Canaria and Lanzarote (a sector length of 210 kilometres) and between Tenerife TFN and La Palma (a sector length of just 140 kilometres).