Birmingham is UK's seventh busiest airport; easyJet to open base in S24; Jet2.com and Ryanair lead way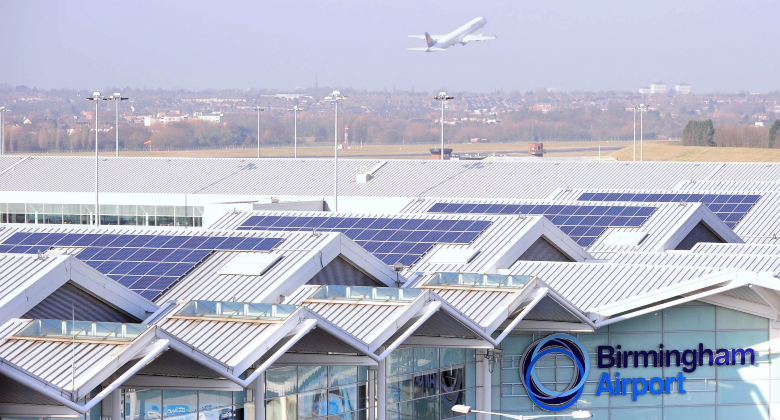 It was recently announced that easyJet would finally make Birmingham a base, with three aircraft to be stationed at the UK airport from the start of next summer (S24). The LCC was already planning to operate 11 routes from the airport this summer, including domestic routes to Belfast BFS, Edinburgh and Glasgow. Compared with last summer three routes have been added by easyJet (to Lisbon, Milan MXP and Naples) while Malaga service has been suspended. A further two new routes to Lyon and Paris CDG have been announced as starting this winter.
UK's seventh busiest airport
Birmingham was the UK's seventh busiest airport in 2019 with 12.65m passengers. Some 25 years earlier it had welcomed fewer than five million passengers. After virtually doubling traffic between 1994 and 2003, the following decade saw very little overall growth, before further rapid growth between 2013 and 2017. Passenger numbers reached almost 13 million that year. The impressive 43% growth in demand during those four years was driven by the expansion of services from Flybe, Ryanair and TUI Airways and the arrival of Eurowings, Vueling, Wizz Air and, in particular, the opening of Jet2.com's base in S17.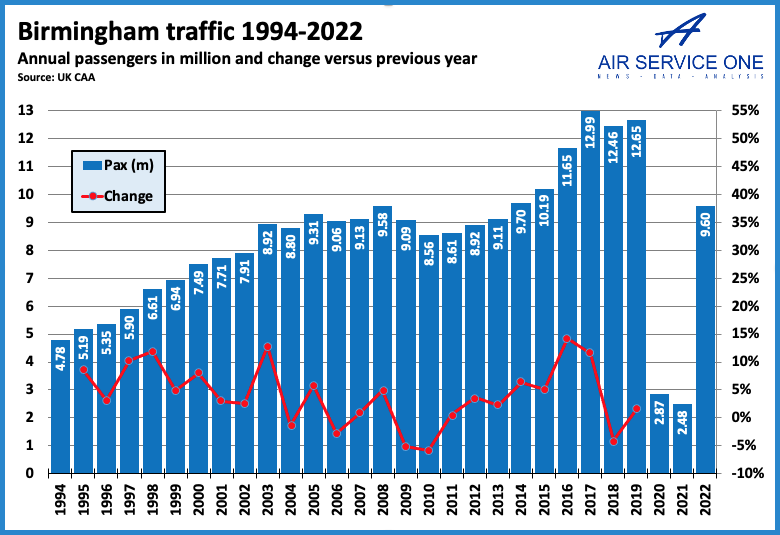 Traffic in 2022 recovered to 9.6m passengers, down 24% versus 2019. Across all UK airports traffic was down 25% versus 2019. In the first quarter of 2023 Birmingham has handled just over two million passengers, still around 16% down on four years ago. The airport's busiest month is August when terminal throughput is around 80% higher than in January. Flights at Birmingham this summer are set to be around 7% higher than last summer with seat capacity increased by approximately 10%.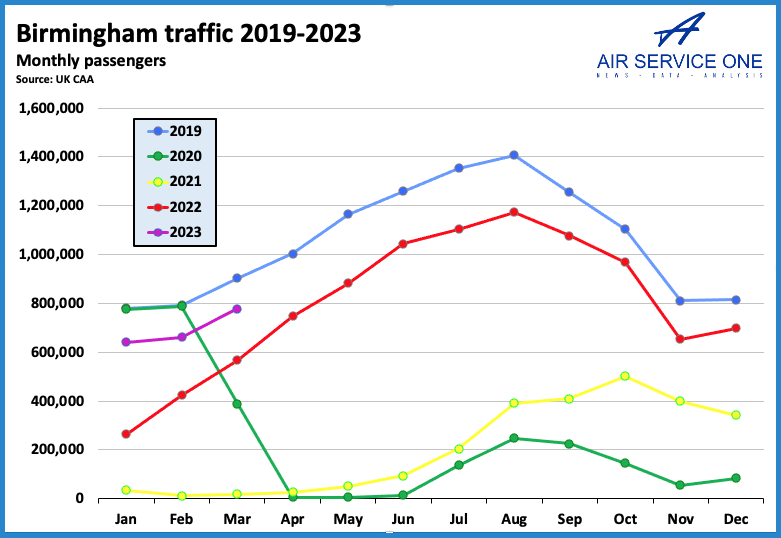 Jet2.com and Ryanair are leading carriers
Analysis of Cirium schedules data for this summer reveals that Jet2.com and Ryanair are Birmingham's biggest carriers in terms of seat capacity. The former is offering non-stop service to almost 50 international destinations, mostly in Croatia, Cyprus, Greece, Italy, Portugal, Spain and Türkiye. New destinations for this summer are Catania, Olbia and Nice.
Ryanair is offering flights to 40 destinations in mainland Europe and Ireland. New routes for this summer are Santander, Stockholm ARN, Toulouse and Venice VCE. All four actually started during the recent winter season. Over the years, Ryanair has offered service to almost 70 destinations from Birmingham.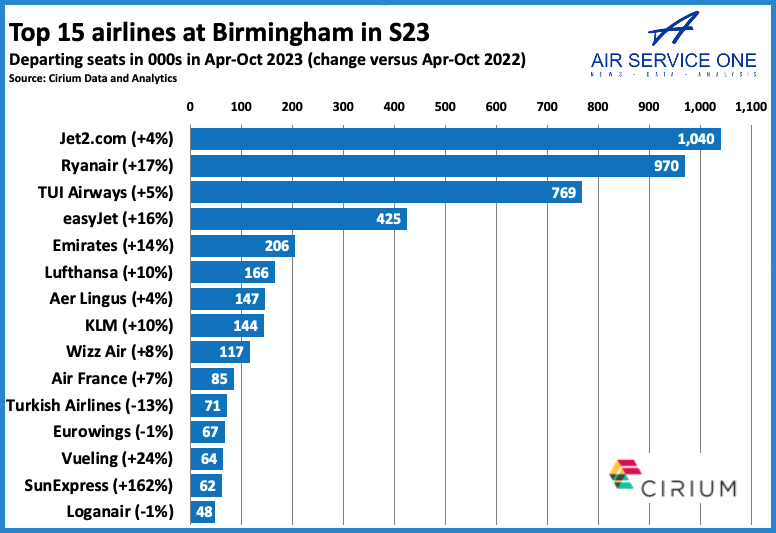 Among the airport's top 15 airlines are several flag-carriers; Aer Lingus, Air France, Emirates, KLM, Lufthansa and Turkish Airlines. Other flag-carriers serving Birmingham are Aegean Airlines, Air India, Brussels Airlines, Qatar Airways (resuming service from 6 July), Saudia, SAS and SWISS. Saudia is set to begin service from Jeddah on 2 July.
Since last summer Birmingham has seen the failure of Flybe 2.0. The rebooted carrier had offered domestic flights to Belfast BHD, Edinburgh and Glasgow with its Q400s, as well as daily service to Amsterdam and weekly connections to Avignon and Brest in France.
Dublin and Dubai are leading routes
At a route level Dublin remains the leading destination, ahead of Dubai which has overtaken Palma de Mallorca and Amsterdam since last summer. The top domestic route is Belfast BFS in fifth place. The fastest-growing routes in the top 15 (compared with last summer) are Belfast BFS and Dalaman.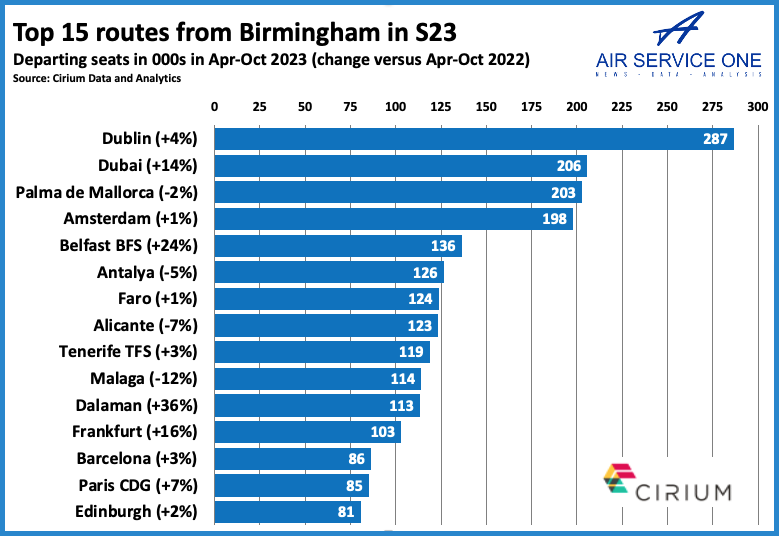 Compared with last summer the following routes have been added/lost from Birmingham:
Added: Billund, Catania, Doha, Jeddah, Lisbon, Milan MXP, Nice, Olbia, Santander and Toulouse
Lost: Avignon, Brest, Gdansk, Islamabad and Vilnius
In addition to the already mentioned new services for S23 the following have been launched this summer (weekly frequency in brackets):
31 March 2023: Aegean Airlines to Athens (2)
31 March 2023: SunExpress to Dalaman (3)
1 April 2023: easyJet to Naples (2)
26 May 2023: SunExpress to Izmir (2)
Ryanair will also resume service to Girona and Pisa.
No major US carriers present
The only US route from Birmingham is currently with TUI Airways to Melbourne in Florida. Primera Air briefly offered flights to Newark in the summer of 2018, while the last service from one of the major US carriers was with United to Newark in 2017 using 757s. Previously, both American (from JFK) and Continental (from Newark) had offered non-stop service to the US from Birmingham.