Blue Air grasps new opportunities this summer; starts new Heathrow routes and expands at Milan Linate
Romanian-based Blue Air started flying as long ago as 2004, the same year that Wizz Air began operations. However, while Wizz Air has a growing fleet of almost 150 aircraft (with orders placed for over 200 more), Blue Air's fleet currently stands at just 18 aircraft according to planespotters.net. That includes four 737 MAX 8s and two 737-800s which have joined the fleet during 2021.
Like Wizz Air, Blue Air has created bases outside of its home market of Romania. Over the years, this has included opening bases in Cyprus (Larnaca), Italy (Turin) and the UK (Liverpool). As a result, a significant share of the airline's flights in recent years have not involved Romanian airports, as shown in the graph.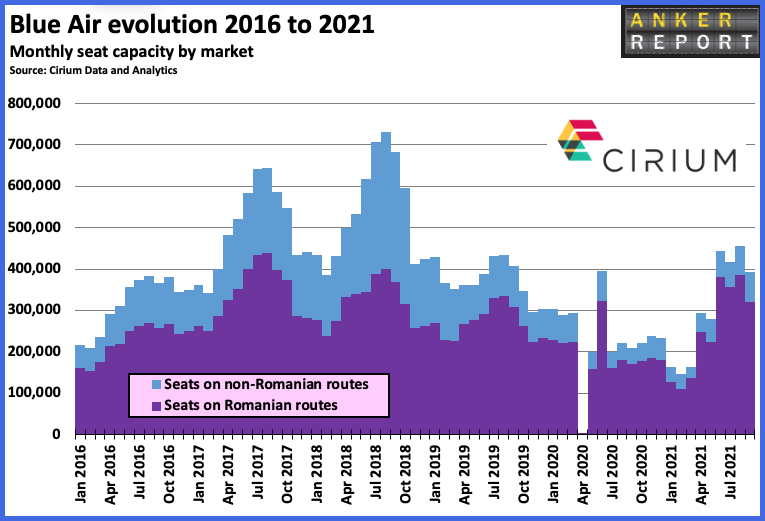 Competing with Wizz Air in Romania
In the airline's early days it operated from Bucharest's second airport, Baneasa (IATA code BBU). However, when the airport closed for scheduled service it joined the country's flag-carrier in operating from Bucharest OTP. Schedule data for September 2021 shows that TAROM is only Bucharest's fourth biggest airline by seat capacity, behind Wizz Air, Blue Air and Ryanair.
Looking at Blue Air's busiest airports for flights in October, reveals that three other Romanian airports feature in the top 15; Bacau, Cluj-Napoca and Iasi. In Bacau, Blue Air and Wizz Air are currently operating a similar amount of flights, while in Cluj-Napoca and Iasi Wizz Air is the dominant carrier. However, in early September Blue Air announced that Iasi would become a base with one of its 737 MAX 8s to be stationed there. The airline plans to offer eight direct and 15 one-stop services from the airport.
Because of its Bucharest hub, Blue Air offers a number of one-stop service from its other Romanian airports as well. This is not something that its rivals Ryanair and Wizz Air do.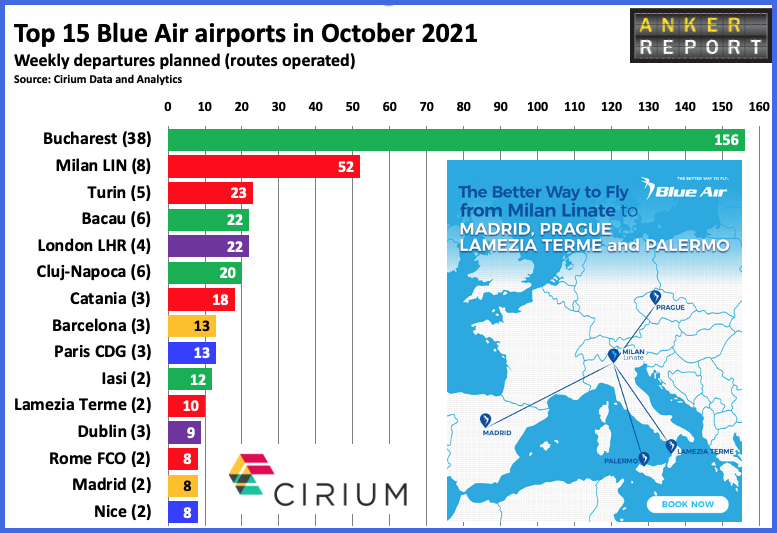 Italian jobs
Turin became a base for Blue Air some years ago and in the summer of 2018 it operated to 20 destinations non-stop from the northern Italian airport. In August of this year, Blue Air was still operating 11 routes from Turin. However, in October that number has dropped to five with the seasonal suspension of flights to six Italian airports, leaving service to Bacau and Bucharest in Romania, as well as Catania, Lamezia Terme and Naples in Italy.
A significant recent development has been the airline's decision to launch multiple new routes from Milan LIN. Served from Bucharest since December 2014, additional routes from Linate to Barcelona, Catania and Paris CDG were launched in August, while further new routes to Lamezia Terme, Madrid, Palermo and Prague are set to get under way before the end of September. As a result, Milan LIN will easily be Blue Air's second busiest airport in October after Bucharest.
Importance of the UK market
Last December, Blue Air began daily service from Bucharest to London LHR. Since then frequency has increased to 2-daily and, as measured by ASKs (Available Seat Kilometres), this is currently Blue Air's biggest route. Further services to Heathrow have since been launched; from Cluj-Napoca (in March 2021), Iasi (in May 2021) and shortly a 4-weekly service to Nice in the south of France.
Another UK route ranks second for ASKs in September. This is the daily service being offered from Bacau to London LTN. Wizz Air is also currently operating this route, with 5-weekly service, increasing to daily in November. Apart from Heathrow and Luton, Blue Air also serves Birmingham and Liverpool in the UK from Bucharest.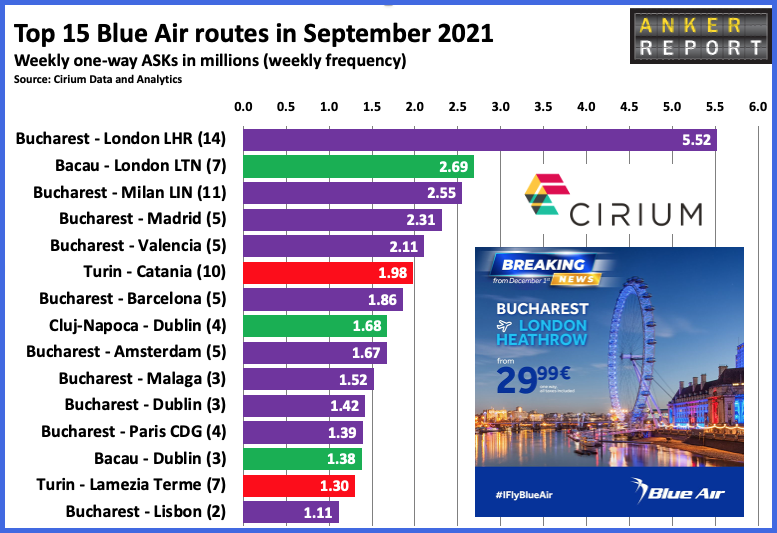 Four Spanish routes in top 10
Among the airline's top 15 routes in September by ASKs, 10 are international routes from Bucharest (shown in purple), three are international routes from other Romanian airports (shown in green) and two are Italian domestic routes (shown in red). Four of the top 10 routes are from Bucharest to destinations in Spain.