Blue Air suspends all flights until 12 September; was offering over 50 routes from Bucharest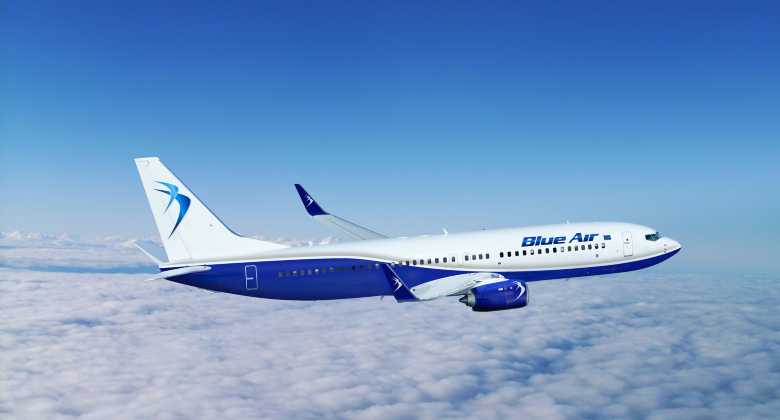 Romanian carrier Blue Air suspended operations starting on Wednesday 7 September after its bank accounts were frozen by the Romanian government. The airline says it will resume service on Monday 12 September and flights are still bookable on its website from that day forward. The airline launched scheduled services on 13 December 2004 with flights from Bucharest BBU to Lyon, Milan BGY, Reus and Timisoara.
According to planespotters.net, Blue Air has a fleet of 14 737s of various types; two -500s, one -700, six -800s and five MAX 8s. The MAX 8s were all acquired during 2021. Of the 14 aircraft, eight are now parked at Bucharest OTP, two at Bacau, and one each at Bucharest BBU, Cluj-Napoca, Iasi and Turin.
25 daily departures from Bucharest
According to analysis of Cirium schedule data, Bucharest is, not surprisingly, Blue Air's busiest airport with around 25 daily departures. In August it was offering flights to 51 destinations from the Romanian capital, of which just two are domestic (Cluj-Napoca and Iasi). Among the airline's top 15 airports for departing flights in August were three other airports in Romania (shown in purple), three in Italy (shown in red), two in Spain (orange) and two in the UK (green). The four remaining airports are in Cyprus, France, Germany and Ireland.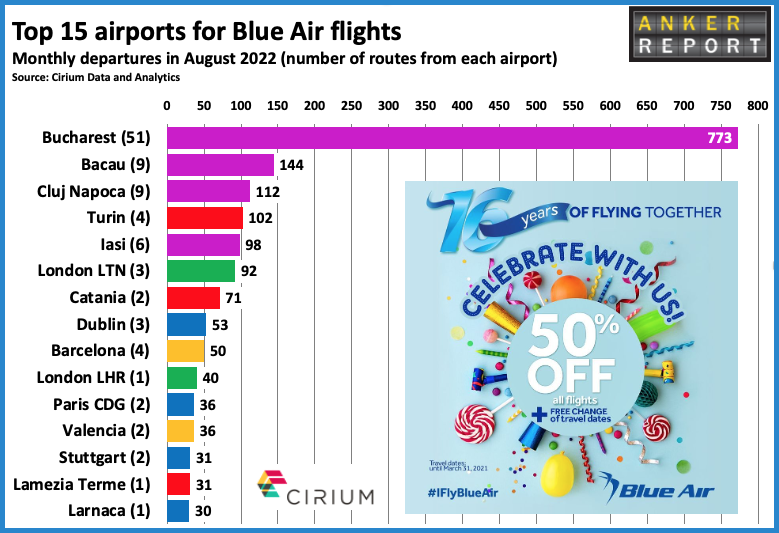 Here are some other facts and figures relating to Blue Air's scheduled services in August:
It was serving 62 airports across Europe.
In Bucharest OTP it accounted for 17% of flights and 18% of seats. For comparison, TAROM had 24% of flights and 15% of seats, and Wizz Air had 21% of flights and 29% of seats.
In Bacau, Blue Air is the leading carrier with 61% of flights and seats. The only other carrier currently serving the airport is Wizz Air.
In Cluj-Napoca, Blue Air is the second carrier (after Wizz Air) with around 12% of flights and seats.
In Iasi, Blue Air is also the second carrier (after Wizz Air) with 17% of flights and 19% of seats.
Blue Air's two biggest routes by ASKs (Available Seat Kilometres) are Bacau to London LTN (flown 12-weekly) and Bucharest to London LHR (flown 9-weekly).
The airline's two longest routes are from Bucharest to Tenerife TFS at 4,190 kilometres and Bucharest to Funchal (3,910 kilometres).
Outside of Romania, Blue Air flies three domestic routes in Italy; from Turin to Catania (13-weekly), Lamezia Terme (daily) and Reggio Calabria (weekly). Both Ryanair and Wizz Air also operate on the Catania and Lamezia Terme routes.