Bologna passes a million monthly passengers; is Italy's sixth busiest airport; (U)LCCs have 63% of flights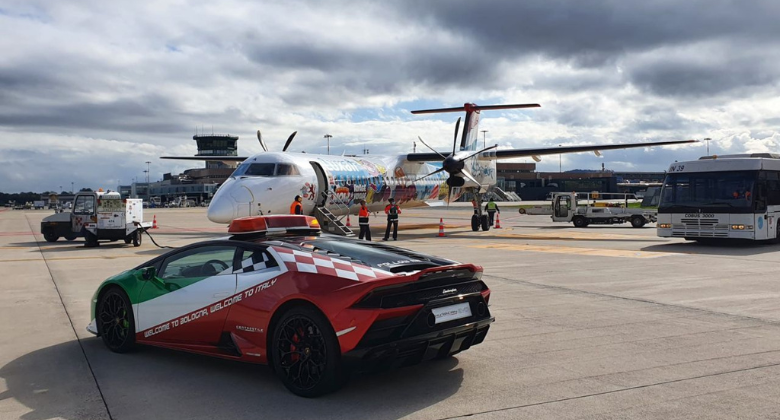 The capital of foodie Emilia-Romagna in northern Italy and one of Europe's wealthiest areas, Bologna is the country's sixth-busiest airport. Famous for manufacturing Lamborghinis, Bologna welcomed 1.07 million passengers in July, with traffic surpassing one million for the first time. Passenger numbers grew by 16.6% versus 2019, in contrast to the average +3.6% of the country as a whole. Fast growth by Ryanair and Wizz Air was particularly crucial.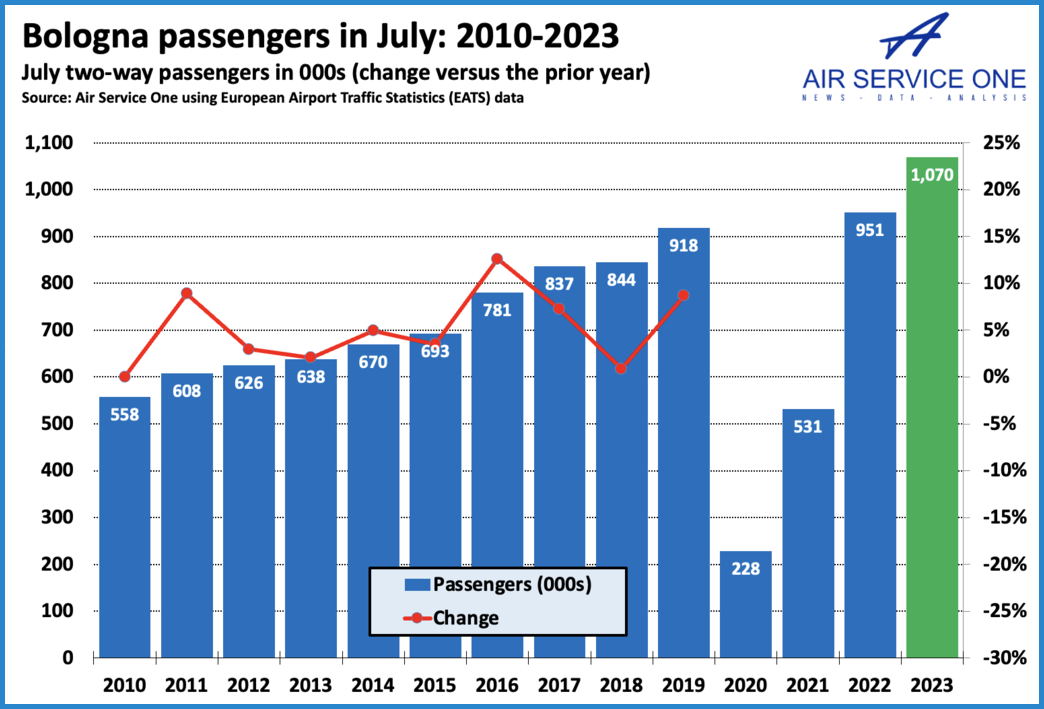 Ryanair and Wizz Air now have over half of flights
According to Cirium schedules information data, Bologna has 779 weekly departing flights in September. Ryanair alone has nearly half on a network of 66 routes, including Amman, Fez and Tel Aviv. The ULCC has served Bologna since 2008, with a base opening the following year. It is now its 12th most-served airport network-wide and has more flights than any other Italian airport except Milan BGY.
Coincidentally or not, Wizz Air also launched Bologna flights in 2008, but it is not a base. When added to Ryanair's departures, the pair have 54.2% of flights – up by 16 percentage points versus 2019. When all (U)LCCs are considered, it rises 62.6%. While Italy's short-haul market revolves around such operators, Bologna has a slightly higher dominance than the country generally.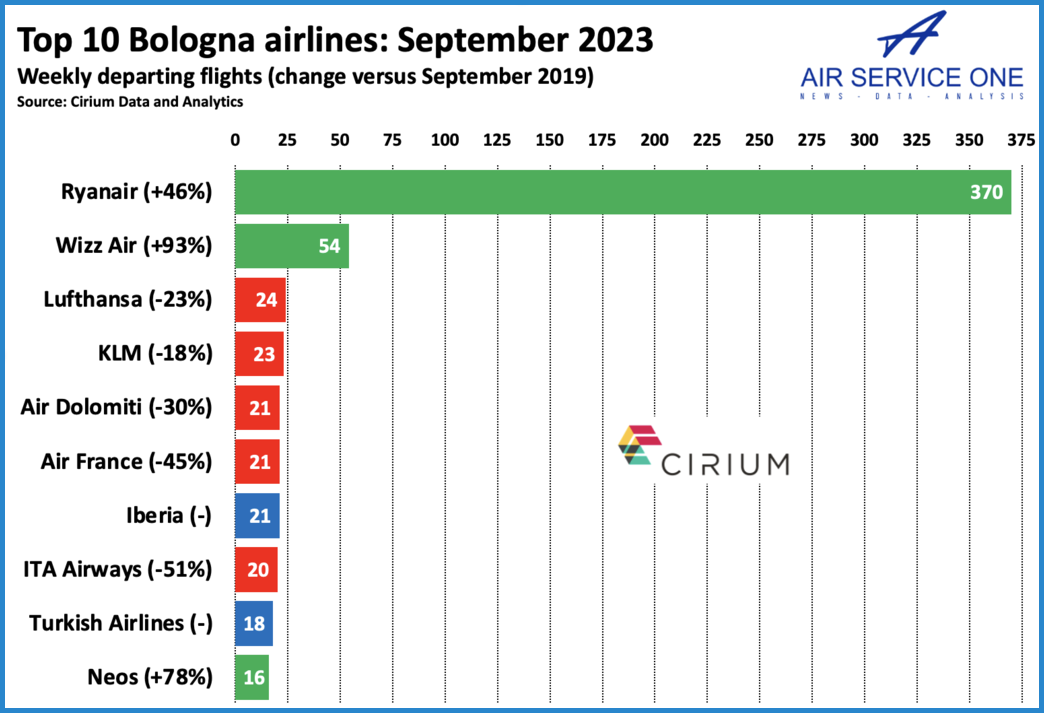 Served by many network carriers, including Emirates
Despite the presence of (U)LCCs, Bologna is served by many network/FSCs/flag carriers, however you wish to define them. Among others, there is Aegean, Air Albania, Air France, Air Serbia, Austrian Airlines, British Airways, Brussels Airlines, Emirates, Finnair, Iberia, ITA Airways (only to its Rome FCO hub), KLM, Lufthansa, Luxair, Royal Air Maroc, SAS, SWISS, TAP Portugal, Tunisair and Turkish Airlines.
Comparing September 2023 to the preceding four years shows that various carriers no longer serve Bologna, with American Airlines being the most significant. It ended Philadelphia, meaning Bologna no longer has any North America route. It leaves Dubai as the only long-haul service.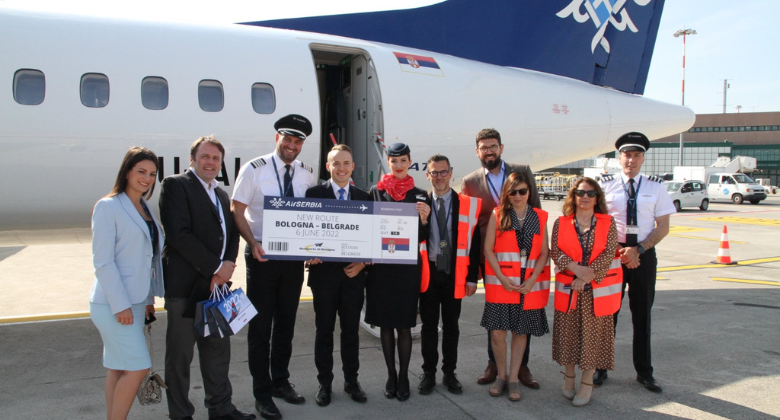 109 destinations in September
Cirium tells that Bologna has scheduled flights to 109 destinations in 37 countries this month. New destinations this year that were not previously served include Toulouse (Ryanair; 26 March; 3-weekly); Oslo (Norwegian; 22 June; 2-weekly); and Cairo (Air Cairo; 4 November; weekly). Additionally, new routes include:
16 May: Aeroitalia,

 

Comiso

 

(3-weekly)
19 June: Neos,

 

Monastir

 

(weekly)
20 June: FlyOne,

 

Chisinau (3-weekly)
22 June: Norwegian,

 

Copenhagen

 

(2-weekly)
17 September: Nouvelair,

 

Tunis

 

(2-weekly)
31 October: Ryanair,

 

Tirana

 

(daily)
4 November: Air Cairo,

 

Luxor

 

(weekly)
Yet with 180 weekly departures and almost one in four flights, intra-Italy remains the largest market. There are 42.9% more domestic flights than in pre-pandemic 2019 thanks to big growth by Ryanair and the entry of Aeroitalia, Volotea and Wizz Air. While 15 Italian destinations are served in September, only two – Catania and hub-driven Rome FCO – make it into the top 10 list.  Catania is Bologna's most-served destination, with flights by Ryanair (24-weekly) and Wizz Air (11).