Bordeaux Airport – 128 direct routes and counting!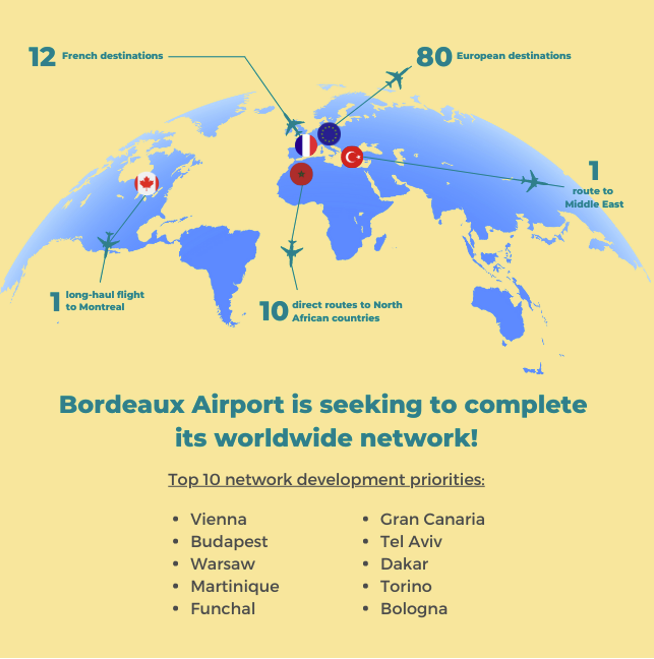 It looks set to be a stellar summer season for Bordeaux Airport, which has just released its flight schedule. The headline stats are: 128 direct routes (including 11 new routes), 93 destinations and 25 airline partners.
The airport's expanding route network is partly down to the densification programmes of major hub airlines, including IAG group (Aer Lingus, British Airways, Iberia and Vueling), AFKL group (Air France and KLM) and Lufthansa group (Brussels Airlines, Swiss Airlines, Lufthansa). Increased capacity from Volotea, the long-awaited return of Nouvelair, and the arrival of Transavia have also boosted Bordeaux's connectivity.
Among the novelties, passengers will have the pleasure of discovering Copenhagen, Djerba, Dusseldorf, Eindhoven, Hamburg, Munich, Paphos, Stuttgart and Toulon. But the airport is not resting on its laurels.
"We are always looking for more destinations," said Cyrielle Clément, the airport's Head of Route Development. "Top of our list is the great trio: Vienna, Budapest and Warsaw. They have recorded a huge number of searches for a few months now, so we are looking for the perfect carrier to operate them. For passengers wishing to escape the winter cold, we would love to have a direct connection to Funchal, Martinique, and Gran Canaria. After the tremendous popularity of Guadeloupe and the other Canaries, there is no doubt these islands will encounter great success."
"For our VFR segmentation, we want to see Tel Aviv and Dakar back on our map. To complete our offer in Italy, a Torino or Bologna route would be welcome."
She added: "If you would like to discuss more about our region, its hidden gems, its flourishing economy, our infrastructure, or the numerous network development opportunities from Bordeaux, Mélanie and I will be delighted to have a chat."