Bordeaux Airport: uncorking growth and innovation
Bordeaux has become the first major airport in France to permanently offer sustainable fuel to airlines, amid rising demand for greener travel.
The fuel – produced locally in Gironde – is made from cooking oil and is mixed with traditional jet fuel at a ratio of 30:70. It reportedly reduces CO2 emissions by up to 90% across the SAF's entire life cycle compared to the fossil fuel equivalent.
"We are proud to be able to permanently offer this service to airlines at Bordeaux Airport and therefore contribute to reducing their carbon footprint," said Simon Deschel, the airport's CEO. "By making these new biofuels available, we are contributing to creating a French industry located in our region."
He added: "As an airport operator, we are not only committed to decarbonising all airport activities, but also to supporting the objective to transform the entire aviation sector by 2050."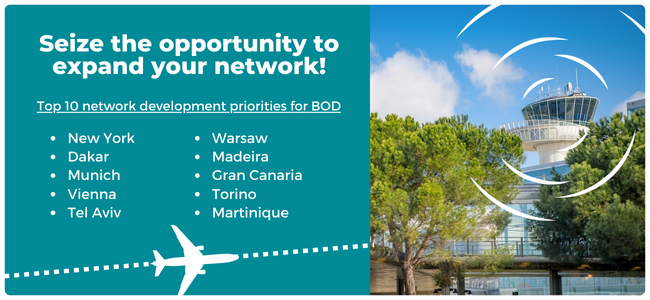 Meanwhile, the airport continues to claw back traffic lost during the pandemic. This summer saw 1.9 million passengers pass through its terminals, which is 68% higher than in 2021 and just 22% down compared to 2019.
Looking ahead, the airport's winter offering is set to be boosted by three new routes: Copenhagen with easyJet; Tenerife with Ryanair; and Nice via Volotea. Corsair's long-haul route to Pointe-à-Pitre in Guadeloupe is also set to resume in December, offering yet another escape to the sun.
Other airlines are expanding their presence, including Turkish Airlines, which will offer five weekly frequencies to Istanbul. Meanwhile, Iberia will up its frequency to Madrid to three flights per day.
So, what next? The airport is currently targeting cities like Munich, Vienna, Tel-Aviv or Turino, which are among the most in-demand destinations for local travellers. A direct route to the USA remains a key target as it would help strengthen the trade links between Bordeaux and North America.
"There are already strong links between the Bordeaux and the United States regions, such as a significant trade balance, a high number of partnerships between universities, and the highly developed technology sector," said the airport.