Bosnia & Herzegovina demand up 19% in June versus 2019; Wizz Air leads way with 39% of seats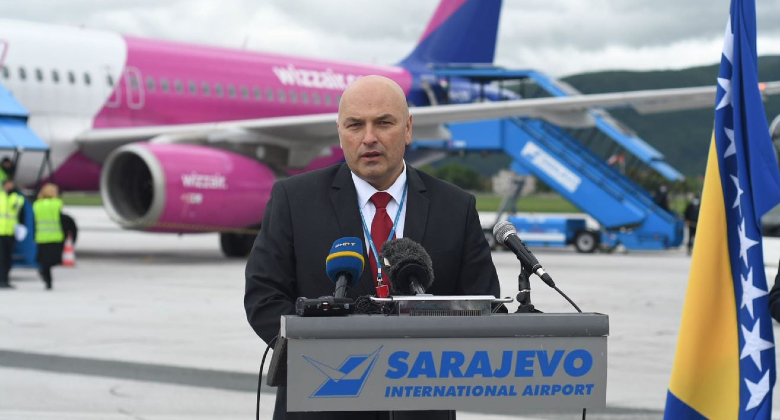 With a population of around 3.5 million people, Bosnia & Herzegovina shares borders with Croatia, Montenegro, and Serbia. A small part of the country is also on the Adriatic Coast. There are currently three airports with international scheduled services. Sarajevo International Airport which serves the capital Sarajevo, is the busiest. In 2019, it handled 1.14 million passengers. In 1984, when Sarajevo was still part of Yugoslavia, it hosted the winter Olympics. Tuzla Airport welcomed almost 600,000 passengers in 2019, while Banja Luka Airport served 150,000 customers.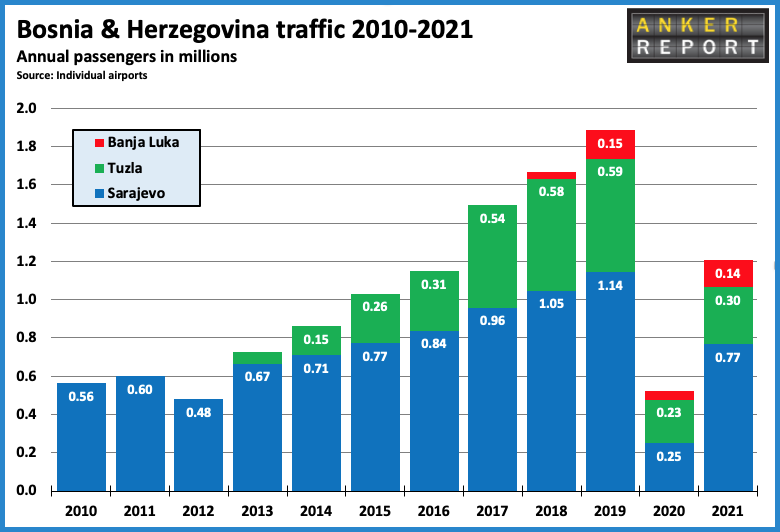 Latest figures for June 2022 show that these three airports welcomed just under 229,000 passengers. That is 18.6% more than in June 2019. Sarajevo traffic was up 30% to 155,000, Tuzla was down 36% to 38,000 and Banja Luka was up 153% to almost 36,000.
Wizz Air is leading carrier
Analysis of Cirium schedule data reveals that Wizz Air is by far the dominant carrier in the country accounting for 35% of flights and 39% of seat capacity in July. Turkish Airlines is a distant second with 12% of both flights and seats. Then comes Ryanair and Austrian Airlines.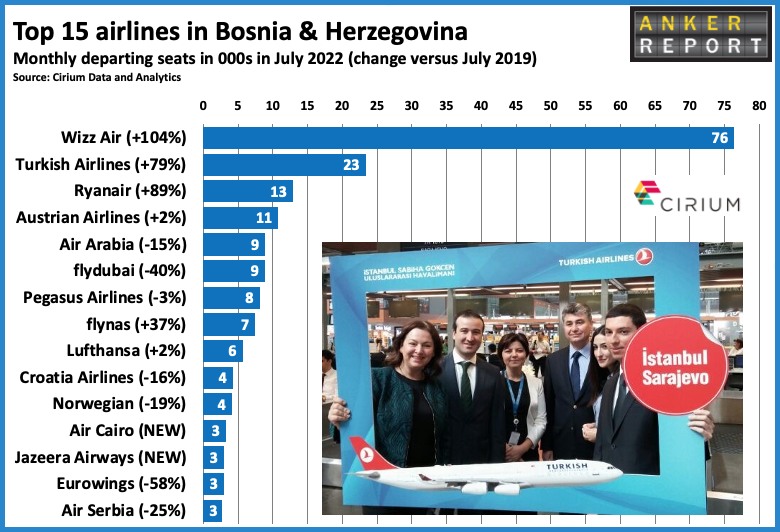 Wizz Air opened a base at Sarajevo in May 2021 and it launched nine new routes in the first couple of months. Abu Dhabi service was added in October, followed by Cologne Bonn, Frankfurt HHN, Hamburg and Malmö in mid-December. The start of the S22 season saw the addition of further new routes to Billund, London LTN, Oslo TRF and Venice TSF. In mid-June, Saarbrücken in Germany was added replacing Frankfurt HHN, which is around 85 kilometres away.
Tuzla is also a base for Wizz Air. This summer it operates flights to 16 destinations, of which eight are in Germany and four in Sweden. The only new route added since last summer is Milan MXP, a 2-weekly service which started at the end of March. This winter, Wizz Air will be joined at the airport by Ryanair. The Irish carrier is launching service in early November from three of its bases; Memmingen in Germany, Stockholm ARN in Sweden and Vienna in Austria. The Vienna route will operate 3-weekly, the other two routes 2-weekly.
At Banja Luka, both Ryanair and Wizz Air are present. Ryanair offers seven routes this summer (Brussels CRL, Gothenburg, Memmingen,  Nuremberg, Milan BGY, Stockholm ARN and Vienna) while Wizz Air offers five routes (Basel/Mulhouse, Dortmund, Hamburg, Malmö and Stockholm NYO). So far, the two ULCCs have avoided direct competition at the airport.
Turkish Airlines is biggest alliance carrier
Turkish Airlines is the biggest flag-carrier in Bosnia & Herzegovina. It offers 2-daily service to Sarajevo from Istanbul IST. Since 2019 it has also added service from Antalya (9-weekly), Istanbul SAW (3-weekly) and Bodrum (2-weekly). Other European flag-carriers serving Sarajevo are Air Serbia, Austrian Airlines, Croatia Airlines, LOT Polish Airlines, Lufthansa and SWISS. The European flag-carriers present are nearly all members of the Star Alliance.
Since 2019, Bosnia & Herzegovina has welcomed several new airlines to its airports. These include Air Cairo, Jazeera Airways from Kuwait, LOT Polish Airlines and SalamAir from Oman. Bosnia's local carrier flyBosnia (IATA code 6W) no longer operates scheduled services. Its website still exists but it is not clear if the airline is still active in any way. It has been reported locally that the airline planned to resume scheduled services this summer, but this does not appear to have happened so far.
Germany is #1 country market
In terms of the leading country markets, Germany is in a clear first place, well ahead of Turkey, the UAE and Sweden. Italy and Egypt, not served in 2019, are new country markets in the top 15. Other new country markets (versus 2019) are Montenegro, Oman, Poland and the UK. Country markets no longer served are Bahrain, Greece, Hungary, Iran and Slovenia. Across all country markets, seat capacity in July 2022 is set to be up over 30% compared with July 2019.