Bratislava gets four new airlines and eight new routes; expects 50+ destinations in S23 as its recovery continues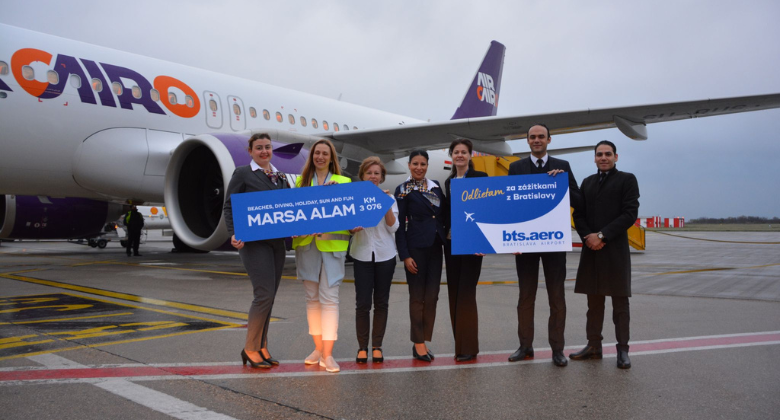 The capital of Slovakia, Bratislava had 1.41 million passengers last year, according to the airport's own statistics. Traffic was down by 38.4% versus 2019. As the following figure indicates, this was its lowest level since 2015 (other than 2020/2021), and it was similar to 2005.
Cirium schedules information data shows that Bratislava is Europe's 174th busiest airport by one-way seats in S23, 12.2% lower than in S19. Its recovery continues, helped by the arrival of four new airlines and eight new routes.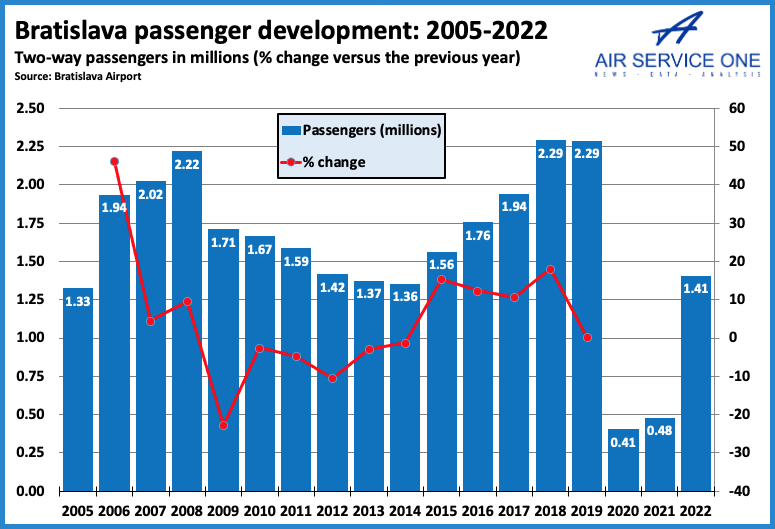 Bratislava to welcome four new airlines
Aegean, Air Montenegro, Air Nostrum and TUS Airways will serve Bratislava this summer. They will introduce five routes, as shown below, with dates and frequencies provided later in the article. Additions include Aegean from Athens, a route last served by Ryanair until 2020. They also include Barcelona, last served by Smartwings in 2018. The Montenegro capital of Podgorica has not had Bratislava flights before, at least not in the past 20 years.
Aegean: Athens
Air Montenegro: Podgorica
Air Nostrum: Barcelona, Palma
TUS Airways: Larnaca
Eight new routes this summer
The coming routes are detailed below. Air Cairo served the Egyptian resort of Marsa Alam until November 2018, while Smartwings flew to the Albanian capital of Tirana until September 2018. Oddly, Aegean's new service to Greece won't begin until mid-September, thereby missing the main tourist season. Ryanair's new link to Kaunas, 895 kilometres away, is the first service between Slovakia and Lithuania, at least since 2004.
27 March 2023: Ryanair, Kaunas (3)
31 March 2023: Air Cairo, Marsa Alam (1)
14 June 2023: TUS Airways, Larnaca (2)
17 June 2023: Air Montenegro, Podgorica (2)
19 June 2023: Smartwings, Tirana (1)
21 June 2023: Air Nostrum, Barcelona (1)
21 June 2023: Air Nostrum, Palma (1)
14 September 2023: Aegean, Athens (2)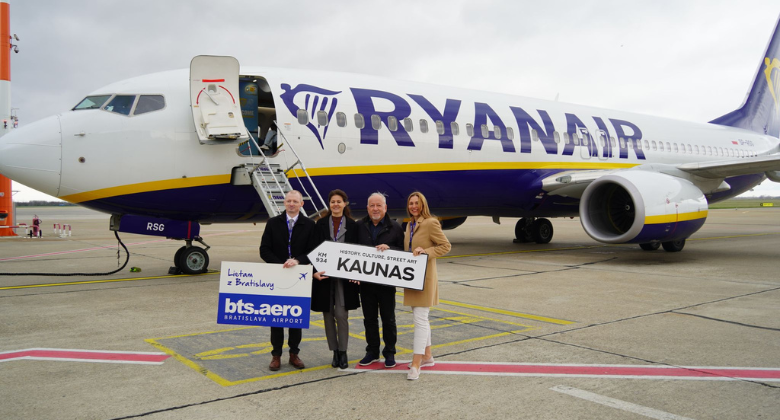 53 destinations in S23; Antalya is the most served
Cirium shows that Bratislava's network encompasses 53 non-stop and one-stop destinations this summer. There is a big emphasis on outbound tourism, with the longest route to Zanzibar, served in both directions via Hurghada. Smartwings, Bratislava's second-biggest airline, uses Boeing 737 MAX 8s on the weekly 6,480-kilometre route. It ends for the season on 20 April.
Of the eight new routes mentioned earlier, only one (Larnaca) makes it on to the top 10 most-served list, as illustrated in the figure below. TUS Airways is the second airline in the market, joining Smartwings (3-weekly). Capacity has risen considerably versus S19 . Yet it is the Turkish resort of Antalya that is the most served.
When combined, Bratislava's top 10 routes account for almost half (46.9%) of the airport's S23 capacity. The dominance is assisted by the 10 growing by almost a quarter (22.7%) versus S19. Yet notice that, unlike almost all the others, seats on the two UK routes – London LTN (served Wizz Air) and London STN (Ryanair) – fell. Nonetheless, if city pairs were examined instead, London would be the Bratislava's leading market (68,000 one-way seats).