Breeze has 115 winter routes, with Provo-Orange County number one; three new airports coming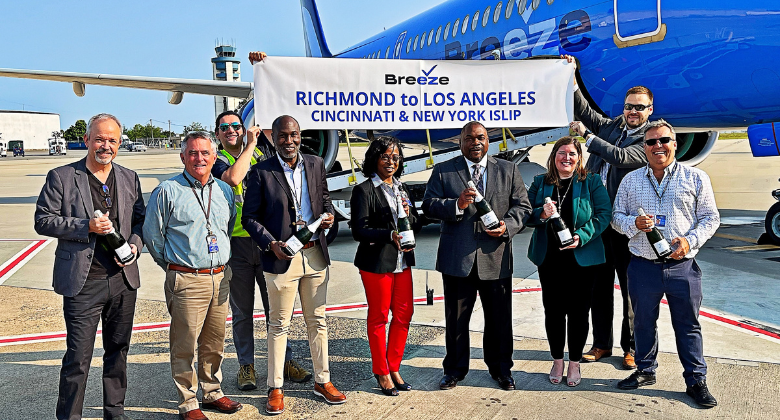 Breeze is the USA's 12th-largest airline by available seats this winter. According to Cirium data, it has 1.85 million on an entirely domestic network. It provides one in 233 domestic seats. While it is fast growing, it remains relatively new and small, and its fleet comprises low-capacity aircraft. Planespotters.net shows that it has 34 aircraft averaging 7.8 years. There are 17 A220-300s, 10 Embraer E190s and seven E195s.
115 winter routes
Breeze's 115-strong network includes routes to 23 states, which now includes Mississippi. It will begin two routes: Gulfport Biloxi to Tampa and Las Vegas. Both begin on 12 January and will have 2-weekly flights. The nature of Breeze's transcon scheduling means aircraft will fly Tampa-Gulfport-Las Vegas and vice-versa, a day's work.
Provo to Orange County leads
Perhaps surprisingly, Provo-Orange County is Breeze's most-served winter route. The 910-kilometre market launched on 16 February 2023. While Breeze's average frequency is just 3-weekly, Provo-Orange County is 12; its only route above 10-weekly. The figure below shows that two Vero Beach routes are on its most-served list, with the Florida airport only joining its network in February 2023.
Cirium schedule analysis tells that 78 of the 115 routes (68%) have no direct competition. Of the 37 that do, it competes with Allegiant, American, Delta, Frontier, Silver, Southwest and Spirit – but to very differing levels. More routes overlap with Southwest (17) than any other operator this season.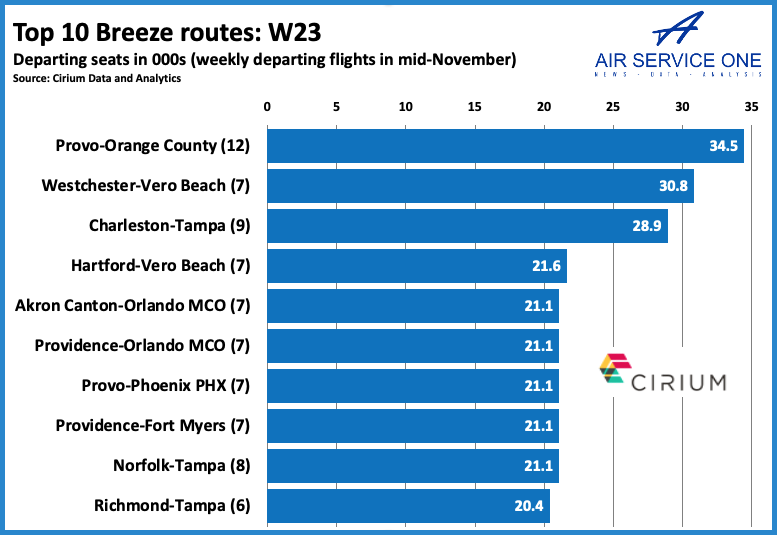 Charleston remains first, but four other airports have entered the top 10
South Carolina's largest city, Charleston, remains Breeze's most-served airport. It was part of the carrier's inaugural route – Tampa to Charleston – in May 2021. In W23, Charleston accounts for just under a fifth of Breeze's available seats on a network spanning 20 routes, with that first route still its most served from the airport. However, while Charleston is still number one, the seat gap between it and the second-placed airport has reduced from 95% in W22 to just 14% now.
Comparing its airport portfolio to W22 indicates that Providence, Fort Myers, Orlando and Vero Beach have all joined the top 10 list. They pushed out Westchester, New Orleans, Norfolk and San Francisco. This is despite New Orleans growing strongly (seats +39% year-on-year), likewise Norfolk (+24%), just not strongly enough.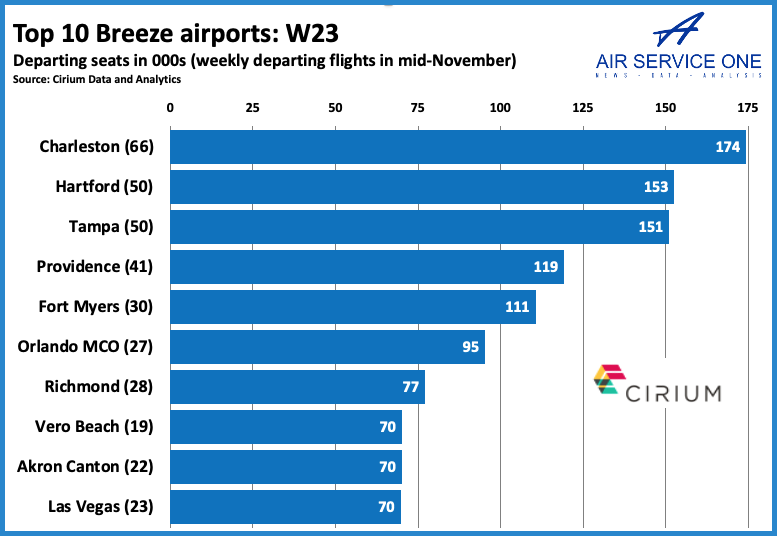 Four airports have been cut, but three start soon
Since Breeze's creation, it has cut Nashville (served from Akron Canton, Hartford, Tulsa and White Plains), Oklahoma City (from New Orleans, San Antonio and Tampa) and San Antonio (from Oklahoma City, Tulsa and Fayetteville, AR). The most recent termination is Tulsa. Its last route – from New Orleans – will stop at the end of November.
It will be introducing three new airports this winter: Gulfport Biloxi (launching on 12 January; see earlier), Plattsburgh, near the Canadian border (28 November from Orlando) and Springfield, IL (1 December from Orlando, 4 December from Tampa).