Brest traffic in 2022 30% below 2019 peak; Air France has half of capacity; Aer Lingus is coming in May
Located in Brittany in the far northwest of France, Brest's recovery continues. Brest welcomed 801,000 passengers in 2022, over a third lower than in 2019, its record year to date. Analysis of Brest's passenger statistics reveals that this was primarily because of the domestic market, which was down by an estimated 293,000 passengers (-28%) versus 2019. International traffic reduced by 114,000 (-65%). Just 8% of last year's passengers were international – the lowest proportion for decades, excluding 2020/2021. Notice how, in the seasonality figure in this article, July 2022 was almost at the 2019 level, while December was lower than even 2021 – mainly due to the absence of Ryanair, which ceased Brest service in early 2022.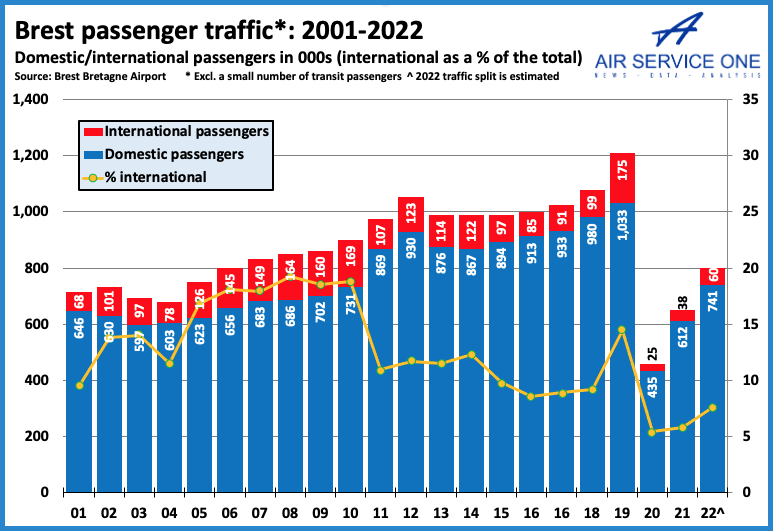 Half of Brest's capacity is by Air France
According to Cirium schedules information data, Brest has 142,000 one-way seats in Q2 (April-June) 2023, 1.4% lower than the same period last year. Of these, almost exactly half are provided by Air France, the airport's biggest operator, both mainline (47,300) and regional unit Air France Hop (22,900). While the high domination is entirely unsurprising, it is despite having just two routes – Paris CDG and Lyon – which take the top two spots in Brest's network, as shown in the figure later in the article.
In December 2020, Brest welcomed Air France KLM Group LCC Transavia France, with routes to Marseille, Montpellier, Nice and Toulouse. It followed permission by a French union for the LCC to operate domestically. In March 2021, Transavia introduced Brest-Paris ORY – historically Brest's top route – replacing Air France. It is this which explains why Air France mainline Q2 capacity has reduced in half versus the pre-pandemic.
When Air France and Transavia are combined, the Group has 65% of Brest's available seats. Transavia is Brest's second biggest airline by capacity. Its Q2 network comprises Marseille, Porto and Toulon. On 8 March 2023, Orly was taken over by Chalair using the ATR-72. This switch – and the route's consequent big capacity fall – explains why Orly is now only Brest's fifth most-served route.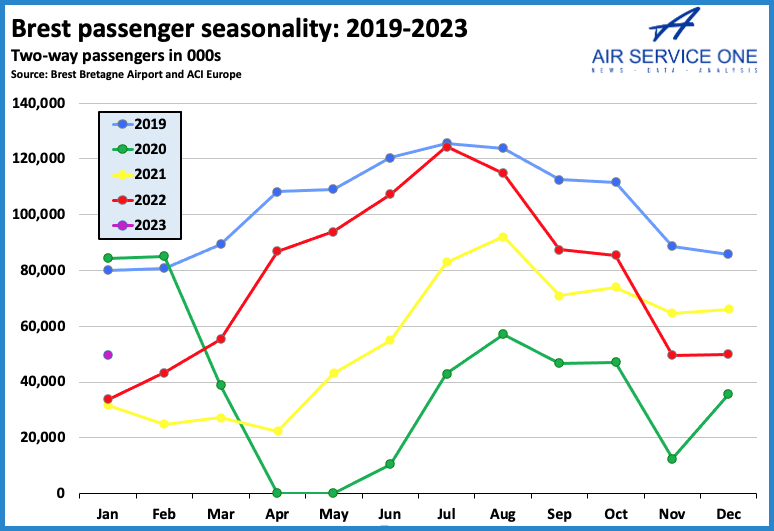 17 domestic routes
Aside from Air France and Transavia, Brest's Q2 2023 airline portfolio also includes Volotea, easyJet, Chalair, Aegean Airlines, Aer Lingus Regional (new, see below) and Finist'air. The latter is the most fascinating. Using the Cessna Caravan, it serves the small Breton islands of Ile En Mer and Ouessant. Some 47 kilometres from Brest, Ouessant has the apt IATA code of OUI (yes in French).
Brest's Q2 network comprises 17 destinations, of which 13 are in France. Aside from Finist'air, mentioned above, they are by Air France/Hop (Paris CDG, Lyon), Chalair (Paris ORY, Bordeaux), easyJet (Lyon, Nice), Transavia France (Marseille, Toulon), Volotea (Ajaccio, Bastia, Figari, Marseille, Montpellier, Nice). At city level, Paris has 45% of seats and – funnily enough – 45 one-way fights in the week starting 8 June; 28 to CDG and 17 to Orly.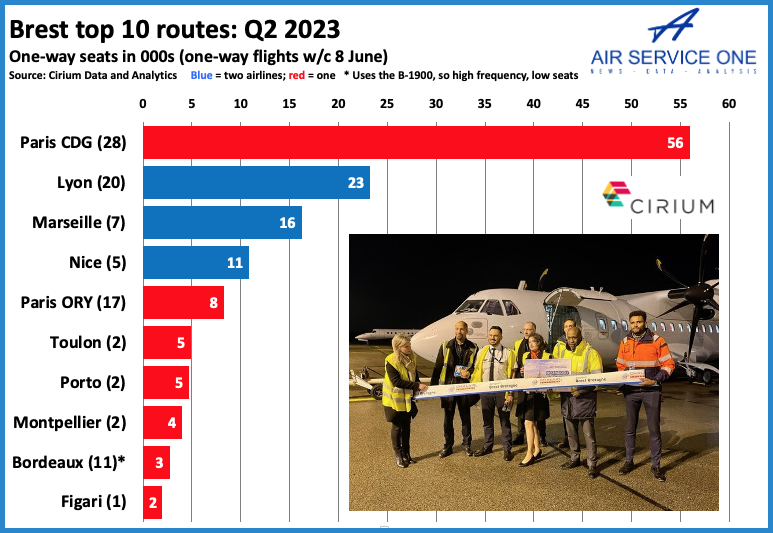 Just four international routes – and no UK
Examination of passenger data in the past two decades shows that international services have never accounted for more than 19% of Brest's traffic (achieved 2008-2010). This Q2, Porto is the most served (Transavia), followed by Palma de Mallorca (Volotea), Heraklion (Aegean) and Dublin (Aer Lingus Regional; see below).
The UK is not currently served. Analysis of Cirium data shows that, of all of Brest's cut routes in the past 20 years with 5,000+ seats, the UK had nine – more than any other country. Birmingham, Exeter, London LCY, London LGW, London LTN, London SEN, London STN, Manchester and Southampton were all served at some point, but not at present.
The last UK services were operated by the 'new' Flybe from Birmingham last summer, with weekly flights using Q400s between July and mid-September.
Three routes are coming
The following will launch this year. They include Dublin, which last had Brest service in 2014, when it was operated by Cityjet. Prior to that, Ryanair operated it between 2008 and 2010.
8 March 2023: Chalair to Paris ORY (12 to 17-weekly)
14 April 2023: Volotea to Marseille (2)
20 May 2023: Aer Lingus Regional to Dublin (2)
Given the volume of passengers in the past from the UK it seems likely that some carrier will reconnect Brest with at least one UK airport at some point in the future. If not in 2023, then maybe in 2024.