Bristol is the UK's best recovered airport; had 120 routes last year; has so far welcomed four carriers in 2023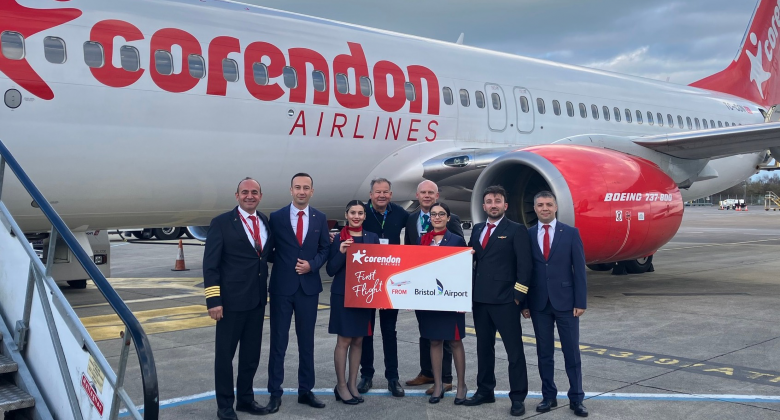 Bristol ended 2022 with 7.95 million passengers, according to the UK Civil Aviation Authority. Traffic was down by 11.3% versus 2019; Bristol performed much better than UK airports generally (-25.2%). As the following figure shows, it was Bristol's lowest passenger volume since 2016 (excluding 2020/2021). Nonetheless, it had the best recovery of all UK airports with more than one million passengers. The next closest was London STN (-17.2%).
The UK's eighth-busiest airport, Bristol's recovery was primarily helped by Jet2's new base, which opened in April 2021. It also benefited from good growth by TUI and the relaunch of Lufthansa (August 2021), having last served the airport 12 years earlier. Bristol has so far welcomed four new airlines in 2023, along with multiple new routes – helping the next stage of its recovery.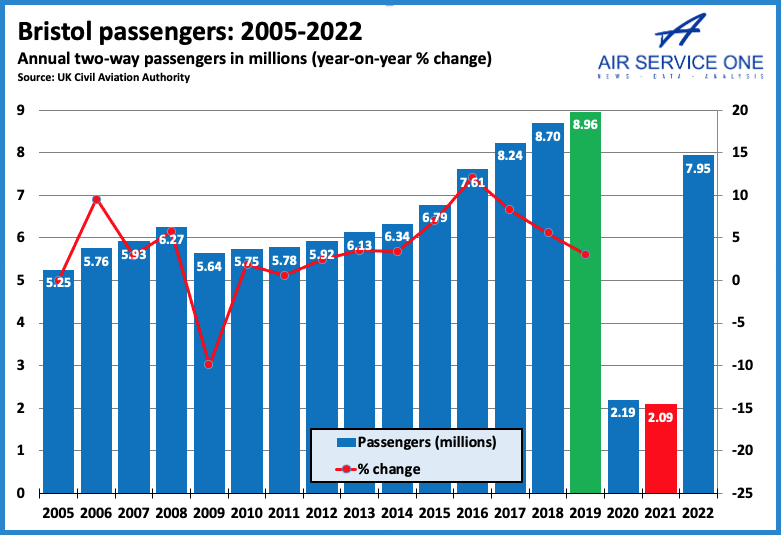 120 routes in 2022; Alicante was the most popular
Analysis of UK CAA data informs that Bristol had 120 routes last year, based on having at least 2,000 passengers. Nine routes were domestic and 111 international. Some 31 countries were served. International accounted for 85.8% of total traffic and domestic 14.2%.
With 2.42 million passengers, Spain was the leading country, followed by the UK (1.12 million), Greece (538,000), France (460,000) and Portugal (455,000). Given the popularity of the four international countries alone, which are mainly driven by outbound tourists, it is not too surprising that Bristol's traffic is comparatively, but not excessively, summer-seasonal (see the figure later in the article).
The top 15 routes are shown below. Between them, they provided half of Bristol's passenger traffic. With 361,000 passengers, Alicante was Bristol's most popular market – it was fourth in 2019 – and one of seven in Spain to make it into the top 15 list. In the week starting 1 August, Alicante had 32 departing flights with easyJet (16), Jet2 (4) and Ryanair (12).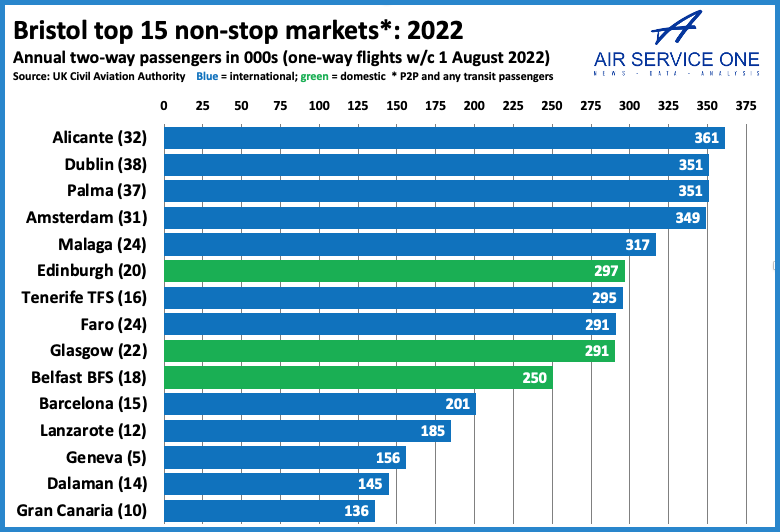 Bristol has so far welcomed four airlines in 2023
Serving the UK's 11th most populous urban area together with the wider Southwest England and South Wales, Bristol welcomed SWISS on 4 February. Served 2-weekly, it rises to 3-weekly from the end of June. It was Bristol's first scheduled Zurich flight since 2014.
On 26 March, SunExpress inaugurated Bristol-Antalya (2-weekly, later 3-weekly), part of the leisure carrier's big UK expansion and diversification away from its primary Germany market. On 1 April, Corendon also began Antalya (2-weekly). According to Cirium schedules data, when incumbents easyJet, Jet2 and TUI are added, the Turkish resort is Bristol's ninth most-served international destination by available seats in S23, up from 30th in S19.
On 31 March, Aegean launched Bristol from Athens (2-weekly). It is the first time that the Greek capital has had more than one airline. Aegean competes head-to-head with easyJet (2-weekly), which has served the route since 2017. While easyJet is P2P, Star Alliance Aegean's passengers can connect over its Athens hub to multiple other destinations.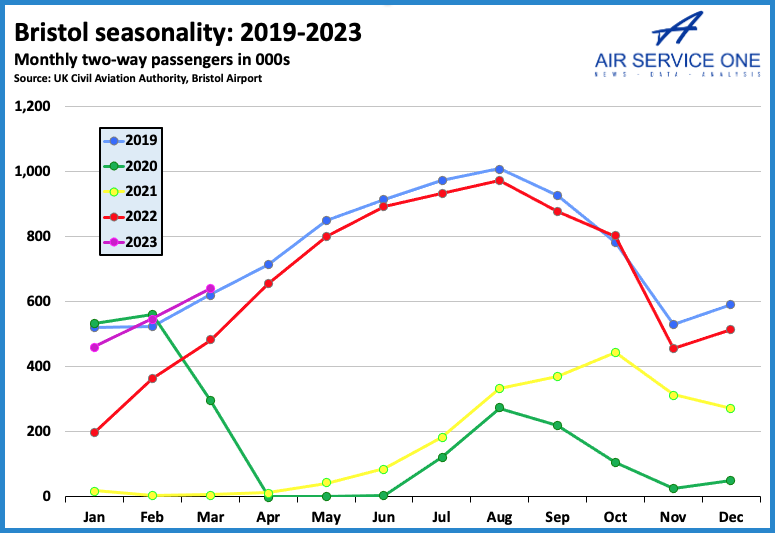 13 new routes in 2023
Bristol has 13 new routes this year, as shown below. 'New' means they have not been served by the stated carrier before, or at least not in the past decade. However, all the destinations have previously had Bristol flights or are also served by other airlines. Details of the most recent previous operator is provided below; where none is stated, it is served by at least one other airline.
4 February: SWISS, Zurich (2 to 3-weekly); last served by Helvetic in 2014
26 March: Ryanair, Porto; last served by the ULCC in 2010 and easyJet in 2022
26 March: SunExpress, Antalya (2 to 3)
27 March: easyJet, Enfidha; last served by Thomas Cook in 2019
30 March: Jet2, Prague (four departures this year)
31 March: Aegean, Athens (2)
1 April: Corendon, Antalya (2)
3 June: Ryanair, Marseille (2)
20 July: Jet2, Malaga
27 June: easyJet, Chania (2); last served by Ryanair/TUI in 2021
24 July: Jet2, Chania (1); last served by Ryanair/TUI in 2021
24 November: Jet2, Vienna (2)
30 November: Jet2, Prague (2)