British Airways adds four short-haul routes from Gatwick; short-haul share at airport is just 9% in Q2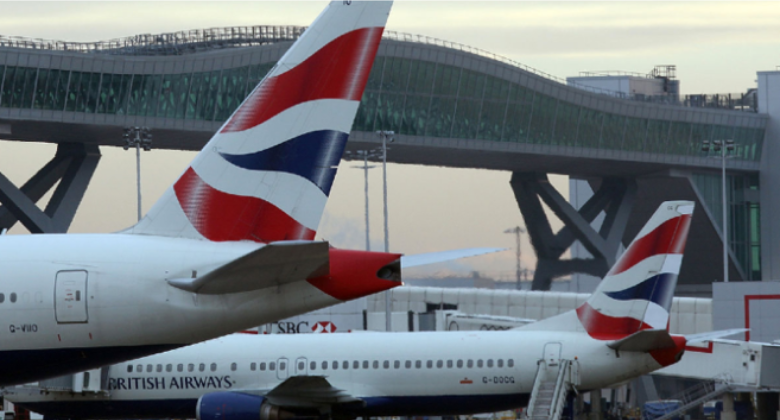 British Airways (BA) has been London LGW's second biggest short-haul operator since 2008, when it was overtaken by primary competitor easyJet. According to Cirium schedules information data, BA had 1.3 million one-way, short-haul seats across Europe and North Africa from Gatwick in 2022, having only resumed short-haul operations from the airport at the start of the S22 season. Its network spanned 42 routes, with all but one in direct competition with easyJet. Remember that BA also operates long-haul flights from Gatwick to over a dozen destinations, mostly in the Americas and Caribbean.
As BA's post-coronavirus return to Gatwick didn't get going until S22, its share of short-haul seats was just 7%, down by nine percentage points compared with 2019. In contrast, easyJet's share jumped to 57%, its highest to date, although it was somewhat artificially high. BA expects a better 2023, aided by its lower-cost Gatwick unit, BA Euroflyer, which late last year received its air operator's certificate and operating license. Analysis for 2023 Q2 indicates that BA's share of short-haul seats is set to rise to 9%, only just ahead of Vueling and Wizz Air (both with 7%). In addition, four additional routes are coming.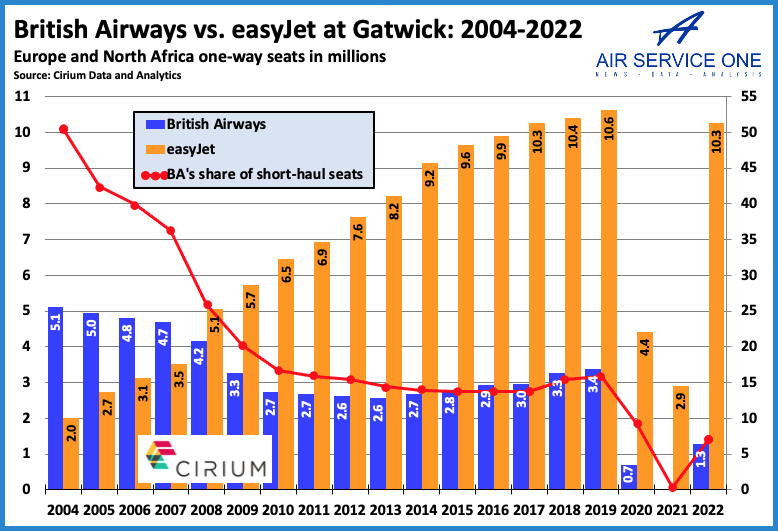 Four routes are coming
None of the routes mentioned below are strictly 'new': BA has served them all from Gatwick before. While Austria's Innsbruck, famous for skiing, was served until March 2020, Corfu, Mykonos and Montpellier last had BA Gatwick flights in 2007. Montpellier re-joins the carrier's whole network after it was ended from Heathrow in October 2019. All will have significant competition, mainly from easyJet, with often much higher frequencies; BA will hope its new unit is sufficiently competitive.
27 May: Montpellier (3-weekly)
30 May: Corfu (3)
10 June: Mykonos (1)
10 December: Innsbruck (8; two on Saturday)
Additionally, an existing winter route – Salzburg – has been converted to year-round, an offering it last had in 2019. It will operate 3-weekly, half as often as in S19. Analysis of Cirium schedules reveals that Montpellier, Corfu and Mykonos also have fewer flights than before; for the first time, BA will serve the two Greek destinations from Heathrow and Gatwick. In comparison, Innsbruck surpasses its previous best of 6-weekly; it is too early to tell if it will return to Heathrow in W23.
Looking at BA's short-haul operations at Gatwick in 2022, Amsterdam had the most seat capacity (and flights), followed by Faro, Malaga and Nice. Five of the airline's top 15 routes were to destinations in Spain.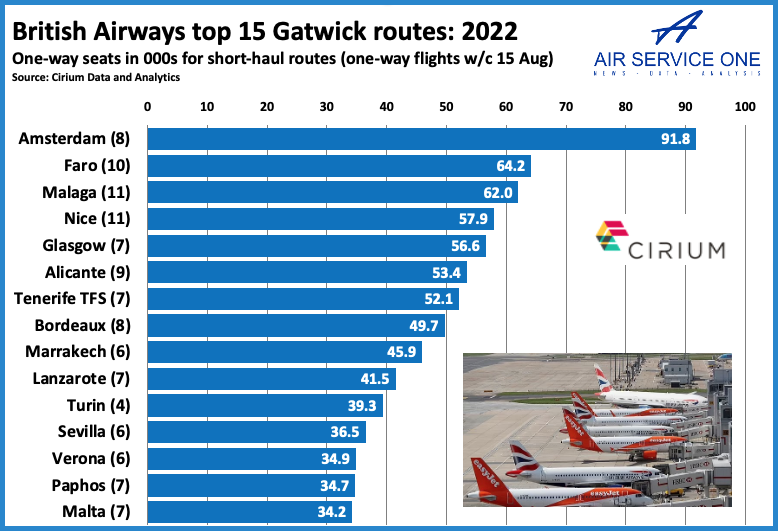 37 short-haul Gatwick routes dropped since 2010
BA no longer serves 37 European and North African destinations from Gatwick, based on examining Cirium data for 2023 versus 2010-2022. They are summarised below. Recent eliminations include Manchester and short-lived Berlin and Milan MXP. However, 30 of the 37 remain served by at least one airline from Gatwick – 28 by easyJet – while BA links 24 of the airports from Heathrow.
Albania: Tirana
Algeria: Algiers
Austria: Vienna
Bulgaria: Varna
Cyprus: Larnaca
Egypt: Sharm El Sheikh
France: Limoges, Marseille
Germany: Berlin, Cologne, Friedrichshafen, Nuremburg
Gibraltar
Greece: Athens
Kosovo: Pristina
Italy: Bologna, Genoa, Milan BGY, Milan MXP, Naples, Pisa, Rome FCO
Luxembourg
Portugal: Funchal, Porto
Spain: Almeria, Barcelona, Bilbao, Fuerteventura, Madrid, Valencia
Tunisia: Tunis
Turkey: Bodrum, Izmir
UK: Edinburgh, Jersey, Manchester