Brussels had 19 million passengers in 2022; has 55+ airlines and 175 destinations in Q3 2023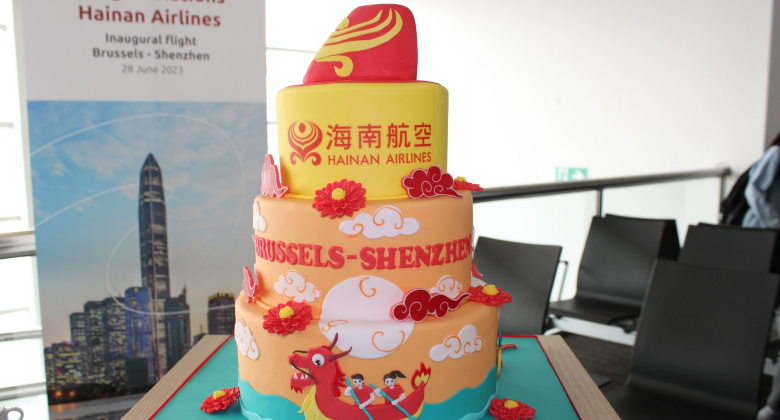 Brussels BRU welcomed almost 19 million passengers in 2022. While traffic was down by 28.2% versus 2019, it was primarily because of the first six months. Indeed, as the figure later in the article shows, data for May 2023 shows that passenger traffic narrowed greatly over 2019: it was down by only 9.1%. As the all-important July-September (Q3) is now here, this is the latest.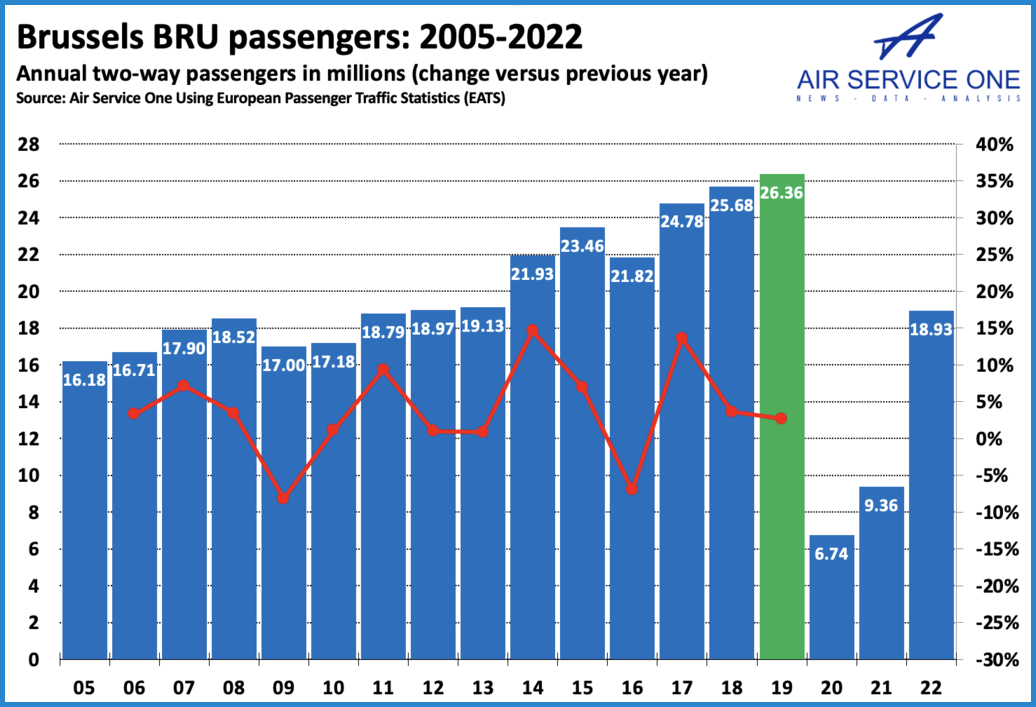 Top 10 airlines have seven in ten seats
Served by more than 55 passenger airlines, the top 10 carriers – shown in the following figure – provide more than seven in ten of Brussels' available capacity. Part of the Lufthansa Group, Brussels Airlines has 1.49 million seats. Its network comprises 91 destinations in Q3, including 17 in sub-Saharan Africa.
New to the primary airline's network are Brindisi (29 April, 2-weekly) and Zurich (27 May, 5-weekly, last served by Sabena mainline in 1996). Others last served in 2019/2020 are back, such as Billund (26 March; 6-weekly), Djerba (1 April; 2-weekly), Warsaw (1 June; 6-weekly, later 12) and Monastir (2 July; 3-weekly).
Notice Transavia, BRU's eighth-largest operator. The Dutch carrier opened a one-aircraft base in June 2022. A year later, it has two aircraft and has nine destinations in Q3. New additions in 2023 include Zakynthos (29 April; weekly), Malaga (29 June; 6-weekly), Seville(30 June; 2-weekly), and Santorini (2 July; weekly). Seville came after Vueling added the city on 1 May (3-weekly).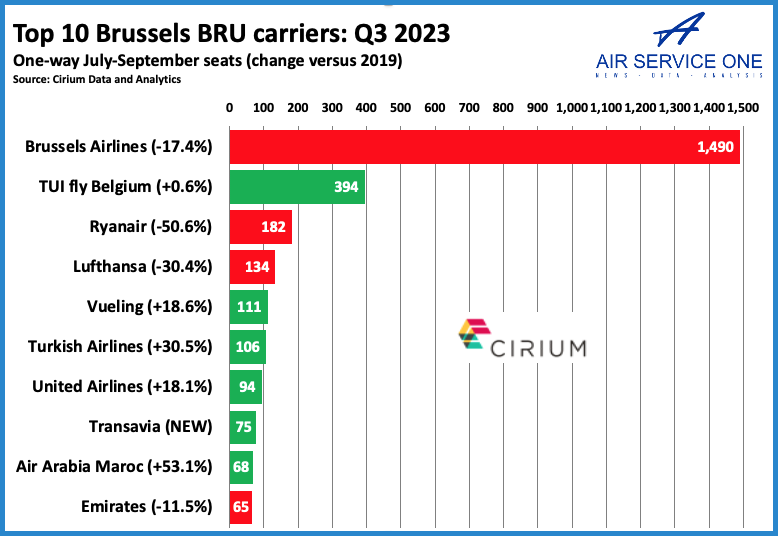 Ryanair's capacity has reduced by half
While the ULCC is BRU's third-largest airline, it has half the capacity of Q3 2019. This is because it has closed its two-aircraft base, seemingly because of the airport's increased fees and charges. Ryanair added BRU to its network in 2014, despite also serving Brussels CRL.
Cirium shows that the ULCC was at times BRU's second-largest operator, and at its peak BRU rose to be its 13th most-served airport network-wide. It continues to serve the airport using non-based aircraft and has 12 routes in Q3: Barcelona, Berlin, Dublin, Girona, Madrid, Malaga, Marrakech, Palma, Pisa, Porto, Rome FCO and Valencia.
Unusually, all except Pisa have direct competition with at least one other airline. Despite no longer having a base, Ryanair's BRU network in Q3 is down by just two routes versus 2019.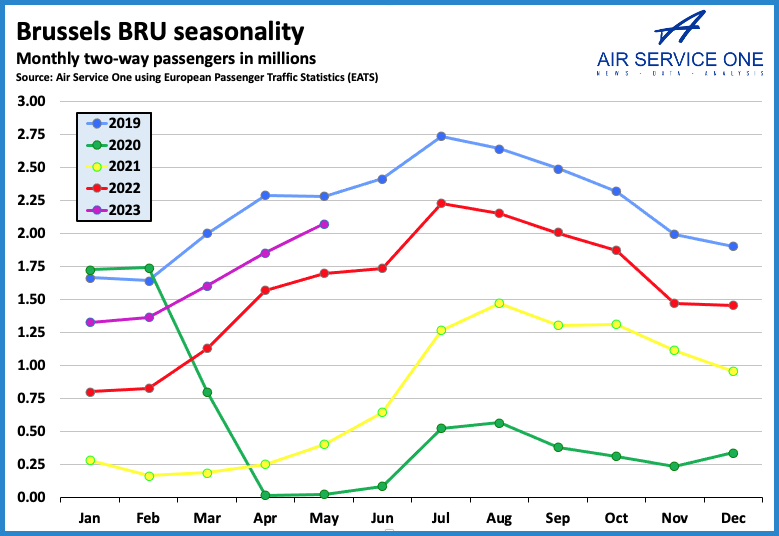 175 destinations in Q3; Madrid is number one
BRU's 175 destinations include the return of Shenzhen, back on 28 June thanks to Hainan Airlines (2-weekly). Some 126 airports are served in Europe and North Africa. Because of the strong diaspora, 19 airports in Morocco, Algeria and Tunisia are linked. Destinations not previously connected to BRU include Tlemcen (15 May; weekly) and Bejaia (May 17; weekly), both in Algeria and now served by TUI fly Belgium.
Madrid has more Brussels capacity this July-September than anywhere else, helped by 3.0% more seats than in 2019. In August, there are 70-weekly flights: Iberia (24-weekly), Brussels Airlines (22), Air Europa (16) and Ryanair (8). Hub flights, especially to Frankfurt and Munich, remain important.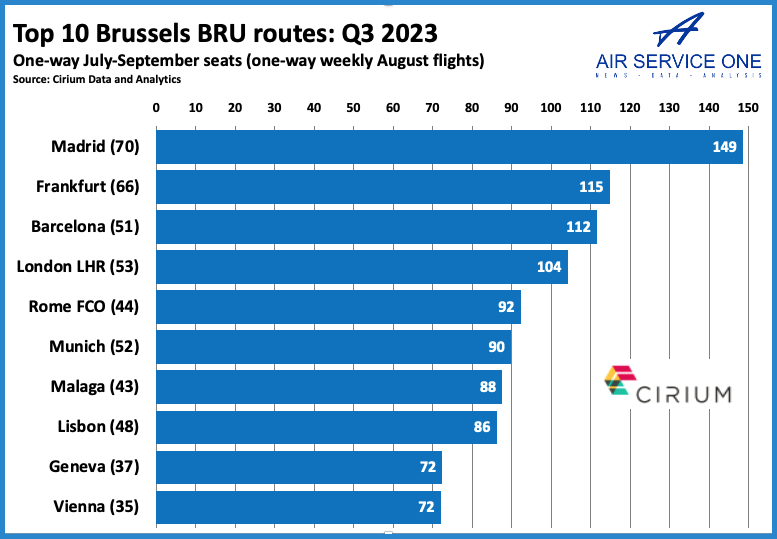 Brussels gains Air Canada to Toronto
On 2 August, Air Canada will begin a 5-weekly service to Toronto, supplementing its daily operation to Montreal. It will be the fourth airline to have served Toronto in the past two decades. The others were Etihad Airways (2005-2007, beginning and ending in Abu Dhabi), Jet Airways (2007-2016, starting and ending in Delhi) and Brussels Airlines (2016-2020). Toronto is one of six US/Canada destinations served non-stop from Brussels in Q3.