Bucharest passes Budapest and Prague; now second only to Warsaw WAW among CE airports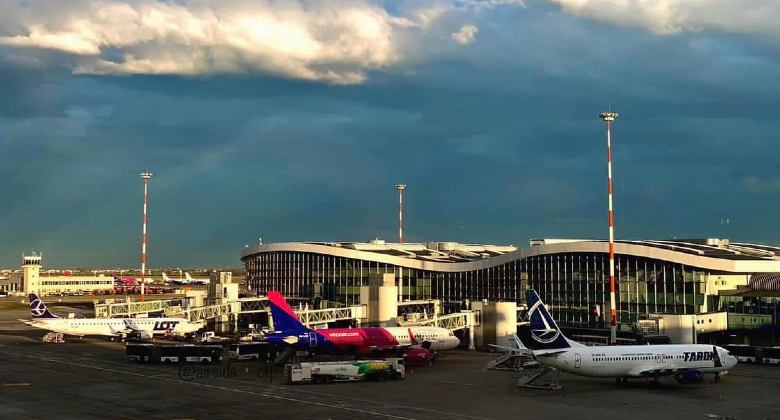 Prior to the pandemic, Central Europe's four busiest airports were Warsaw WAW (18.9 million passengers in 2019), Prague (17.8 million), Budapest (16.2 million) and Bucharest (14.7 million). According to ACI Europe figures they ranked 36th, 39th, 41st and 46th among all European airports. Three of them had grown by around 6% versus 2018, while Budapest had done slightly better with growth of almost 9%.
So how has traffic recovered at these four airports in the two and a half years since the pandemic began? All four airports serve capital cities and (U)LCCs play a key role at all of them, in particular Ryanair and Wizz Air. Plotting the traffic recovery relative to 2019 for each airport from April 2020 to August 2022 shows that Bucharest has consistently led the way followed usually by Warsaw WAW, then Budapest and finally Prague.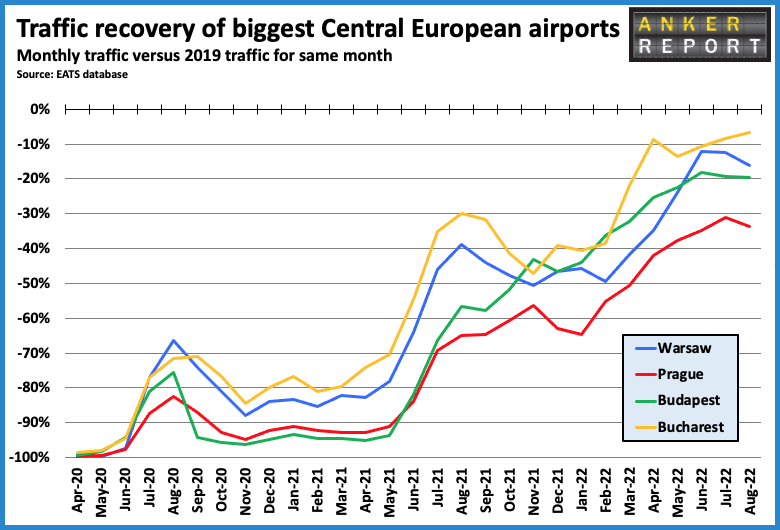 The actual passenger numbers for August 2022 are; Warsaw 1.63m (33rd in Europe), Bucharest 1.40m (38th), Prague 1.33m (42nd) and Budapest 1.30m (43rd). As a result, Bucharest has leap-frogged over Prague and Budapest to now rank second behind Warsaw WAW among these airports.
Capacity and passenger data compared
However, a comparison between the passenger recovery rates in August 2022 (versus August 2019) and the available scheduled airline capacity data as provided by Cirium, reveals some inconsistencies:
Bucharest: passengers down 6.7%, capacity down 5.2%
Warsaw WAW: passengers down 16.2%, capacity down 26.1%
Budapest: passengers down 19.6%, capacity down 18.4%
Prague: passengers down 33.6%, capacity down 43.6%
While the difference between passenger and capacity figures is just a couple of percentage points for Bucharest and Budapest, the difference at Warsaw and Prague is 10 percentage points. The former could easily be explained by a small reduction in average load factor. However, the latter case suggests that Warsaw and Prague must have benefitted from a significant number of charter flights, details of which have not been shared with Cirium. This discrepancy has only really become significant during the peak summer months of July and August.
This is confirmed by estimating the load factors at the airport by combining the known passenger data with the published capacity data. Both Warsaw (103%) and Prague (109%) end up having load factors in excess of 100% which suggests that capacity data for August 2022 was below what was flown. For Budapest (89%) and Bucharest (94%) the estimated load factors are more believable for a peak holiday month.
Leading carriers at each airport compared
Acknowledging that there is some capacity data missing for Warsaw and Prague in August, what does the data tell us regarding airline development at each of the airports between August 2019 and August 2022:
Bucharest: Wizz Air capacity up 4%, Blue Air capacity up 16%, Ryanair capacity up 27%, TAROM capacity down 31%
Warsaw: LOT capacity down 23%, Wizz Air capacity down 5%
Budapest: Ryanair capacity up 56%, Wizz Air capacity down 22%
Prague: SmartWings capacity down 43%, Ryanair capacity down 8%, Eurowings capacity up 161%, Wizz Air capacity up 1000%, Czech Airlines capacity down 95% (operating just three routes to Hurghada, Paris CDG and Reykjavik)
A major issue at Warsaw WAW is the complete lack of schedule data for Enter Air (IATA code E4) a Polish charter carrier with a fleet of over 20 737s. In Prague, we suspect that capacity data for SmartWings (IATA code QS) is significantly understated.
Bucharest's excellent recent performance may take a turn for the worse in September and October as a result of Blue Air suspending all operations. Having originally hoped to restart service on 10 October, the airline has announced a delay in resuming flights while it continues to negotiate with various interested parties.