Bulgaria Air only third biggest carrier at Sofia behind Ryanair and Wizz Air; several aircraft out on loan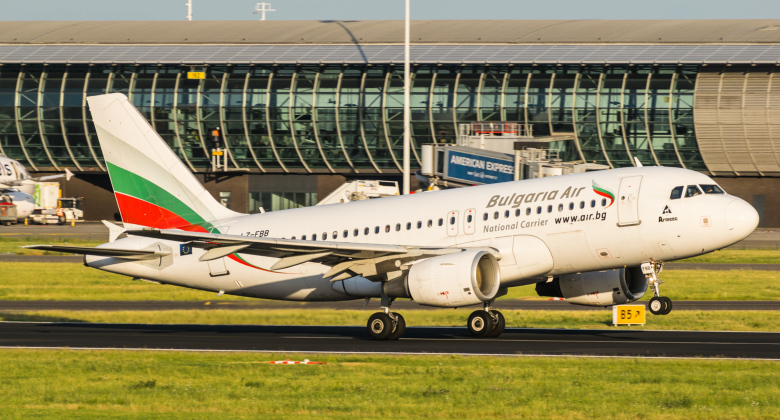 Bulgaria is the 10th largest country in the EU and has a population of just under seven million people. It is about half the size of neighbouring Romania and also shares a border with Greece, North Macedonia, Serbia and Turkey, as well as having a coast on the Black Sea. Its GDP per Capita is estimated to be the lowest of any EU country. It joined the EU in 2007 but continues to use its own currency, the lev.
The airport serving the capital, Sofia, welcomed over 7.1 million passengers in 2019. Along with the two other main airports of Bourgas and Varna, Bulgaria's airports handled just over 12 million passengers annually pre-pandemic. Last year, just over 5.3 million passengers used the three airports. The latest passenger figures for July show that while Sofia's traffic is down only 10% compared with July 2019, both Bourgas and Varna are suffering badly as a result of the ban on flights to/from Russia, a popular source of tourists. As a result, traffic at both of the Black Sea airports is down around 40% in July and August compared with 2019.
Bulgaria Air has Airbus and Embraer aircraft
The national flag-carrier, Bulgaria Air, currently has a fleet of 11 aircraft according to planespotters.net. This comprises five A320s, two 140-seat A319s and four 108-seat E190s. At least a couple of the A320s are currently leased to Condor in Germany (and painted in the airline's new stripy colour scheme), while three of the E190s are leased to TAP Express in Portugal. As a result, Bulgaria Air is currently only operating its schedule with about six aircraft.
Amsterdam is top route for ASKs
According to Cirium data for August 2022, Bulgaria Air was operating scheduled services on 18 routes from Sofia, nine from Bourgas and two from Varna. At Sofia, it is only the third biggest carrier with around 14% of seat capacity. Ryanair and Wizz Air both have more than twice that and account for almost 60% of all seats at the airport. Bulgaria Air's highest frequency routes were those between Sofia and Varna (19-weekly), and Sofia and Bourgas (8-weekly). However, if we take into account sector length and aircraft capacity, as well as frequency, the leading routes for ASKs (Available Seat Kilometres) shows a very different picture.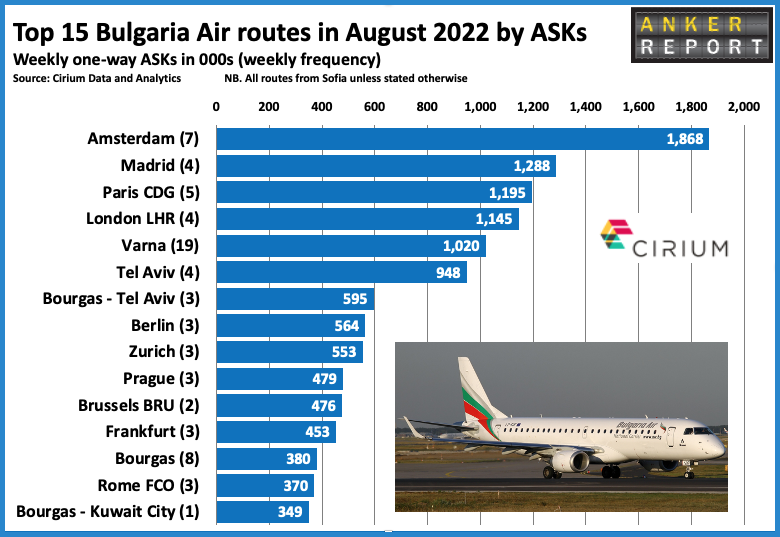 Amsterdam is now the airline's biggest route, significantly ahead of Madrid, Paris CDG, London LHR, Varna and Tel Aviv. Out of the top 15 routes for ASKs, 13 are from Sofia while two are from Bourgas (to Tel Aviv and Kuwait City).
Bulgaria Air is not famous for starting many new routes. In June 2021 the carrier started a 2-weekly service from Sofia to Thessaloniki in Greece. However, this only operated for 10 weeks and did not resume this summer. Bourgas appears to have seen the launch of three new non-stop scheduled routes this summer to Budapest, Ostrava (Czech Republic) and Yerevan (Armenia). None of these routes were celebrated with any fanfare it seems. Analysis of the fleet's recent movements on flightradar24.com shows that at least one of the A320s is being used by BH Air to operate charter flights from various UK airports to Bourgas.
Looking back in time, Bulgaria Air started service to Düsseldorf in 2015 and the following year flights to Lisbon were added. However, neither of these routes have operated in recent times.