Canada-Asia market: Air Canada launches Bangkok service as WestJet plans first Asian route to Tokyo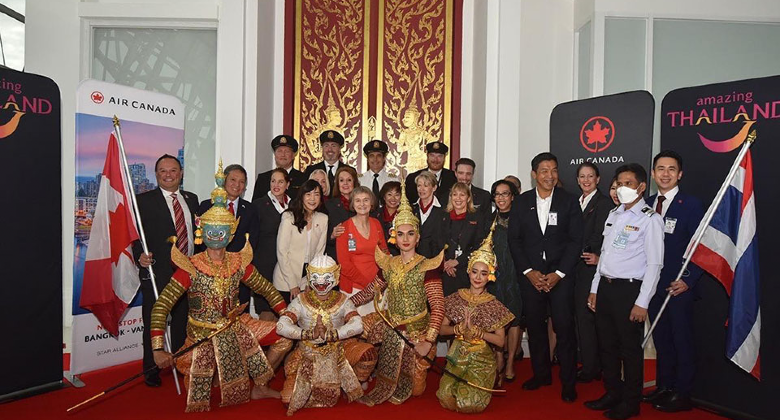 Last week saw Air Canada launch service between Vancouver and Bangkok, making it currently the only non-stop service between anywhere in North America and the Thai capital. The 11,820-kilometre route will be served 4-weekly by the Star Alliance carrier using its 787-9s. A few days later, local rival WestJet revealed that it plans to launch its first ever route to Asia next year, when it will connect Calgary with Tokyo NRT. The first flight is currently set for 30 April and frequency will be 3-weekly, also with 787s.
The Canada-Asia market was fairly static between 2004 and 2009, with no overall growth. However, between 2009 and 2017 capacity more than doubled with growth of around 20% in both 2016 and 2017, driven by impressive growth in the Chinese, Indian, South Korean and Taiwanese markets.
Unlike other markets that have seen 2022 capacity start to return to near 2019 levels, that has not been the case in the Canada-Asia market. This is primarily due to the travel restrictions still in force in China and Hong Kong. In December overall Canada-Asia flights are still down 46% (versus 2019) according to Cirium data. However, if we exclude China (down 95%) and Hong Kong (down 55%) then flights are down just 15%. The Indian market has seen an increase in flights versus 2019, with Thailand (thanks to Air Canada) and Singapore new country markets.
Singapore Airlines resumed service to Vancouver in December 2021 as an intermediate stop on its way to Seattle. Previously the carrier had served Vancouver until April 2009 but via Seoul ICN.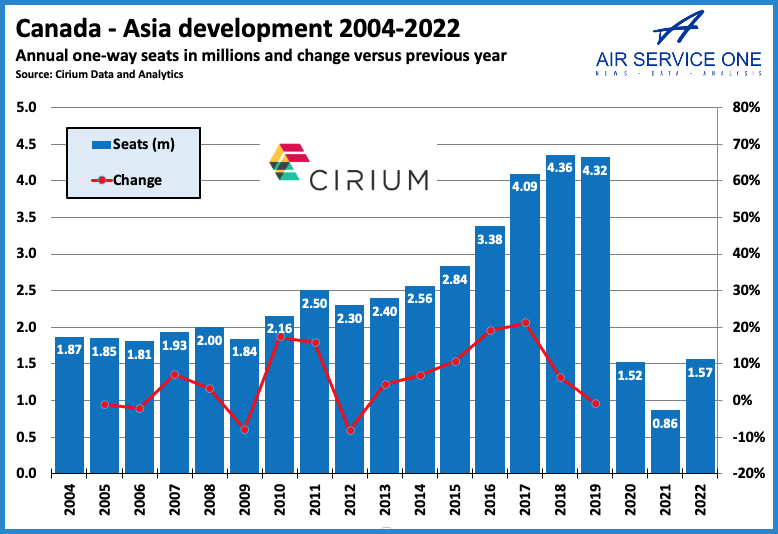 In December 2019, Chinese routes accounted for 37% of all Canada-Asia flights, 418 in total. This December that has fallen to just 4% (23 flights). The leading Canada-Asia markets are now Japan (124 flights), ahead of India (106) and South Korea (105).
Air Canada still has around one-third of all Canada-Asia flights
Looking at the leading airlines in this market, Air Canada currently accounts for 33% of weekly December flights (46 out of 138), down from 37% (95 out of 254) in 2019. Back then Cathay Pacific (24 weekly flights) and China Eastern Airlines (21 weekly flights) had ranked second and third. Now Air India is second with 14 weekly flights ahead of Cathay Pacific and EVA Air with 13 each.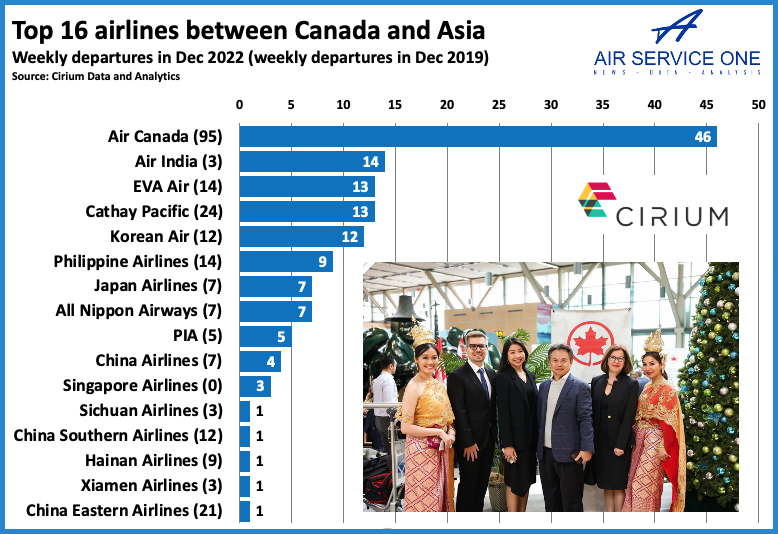 Apart from Air Canada's new Bangkok service there are five other non-stop services between Canada and Asia which were not operating in December 2019 (current weekly frequency in brackets):
Air Canada: Montreal – Delhi (3) [launched 31 October 2021], Toronto – Tokyo NRT (4) [replaces Toronto – Tokyo HND]
Air India: Vancouver – Delhi (7) [launched August 2020]
All Nippon Airways: Vancouver – Tokyo NRT (7) [replaces Vancouver – Tokyo HND]
Singapore Airlines: Vancouver – Singapore (3)