Canada-Cuba flights remain down by 12% this winter; Sunwing, Air Transat and Air Canada operate 90%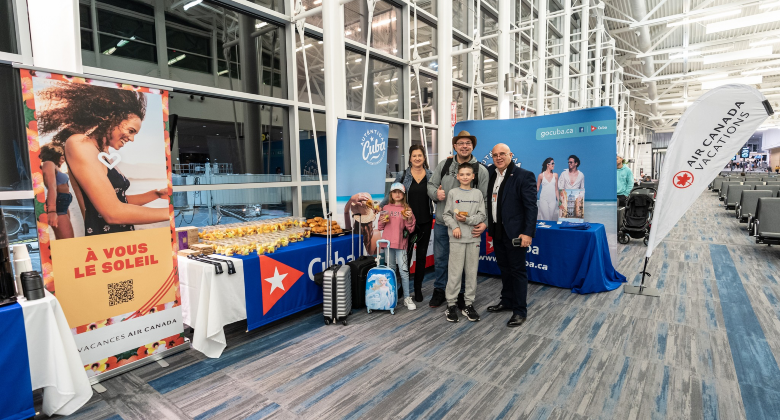 Renowned for winter warmth, Cuba is Canada's second largest winter sun market behind Mexico. With 3,326 non-stop one-way flights in winter 2022, Cuba is only one-third the size of the Mexico market (9,557 flights) but slightly larger than the Dominican Republic (3,058). However, with 12% fewer flights than in winter 2019, Canada-Cuba hasn't fully recovered yet. In comparison, Dominican Republic (+14%) and Mexico (+2%) have surpassed pre-pandemic figures. Cuba's position hasn't been helped by power blackouts, inflation, food shortages and more. Nonetheless, Cuba remains well-served from Canada, with up to 34 daily one-way flights this season.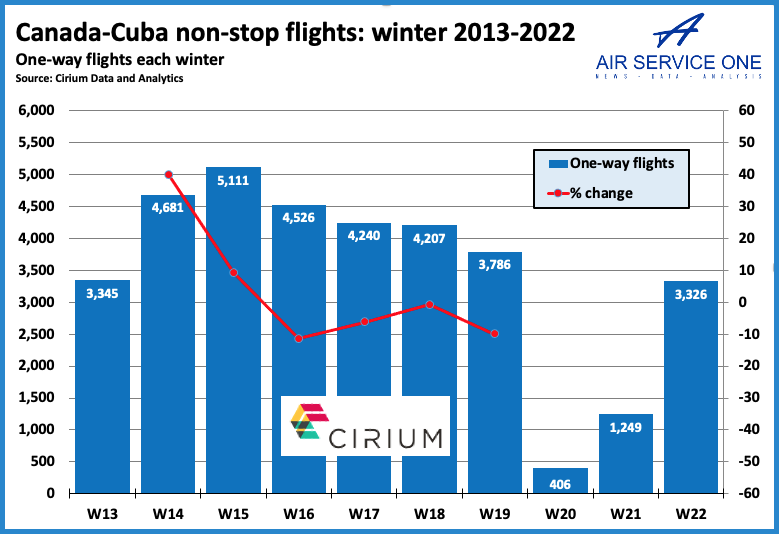 Swoop to start Cuba flights
According to Cirium schedules information data, Canada-Cuba has 93 airline routes and 50 airport pairs this winter. They involve six airlines: Sunwing (56% of flights and 48 routes); Air Transat (21%; 22 routes); Air Canada rouge (13%; 10 routes); WestJet (4%; four routes); Nolinor (4%; eight routes); and Swoop (1%; one route).
Swoop will begin its first Cuba flights in January, introducing one of the seven new routes this winter. Most haven't been served before, while Swoop becomes the sixth airline on Toronto-Varadero, Canada-Cuba's thickest route:
15 December: Sunwing, North Bay via Waterloo-Varadero (1-weekly)
17 December: Sunwing, Ottawa-Cayo Largo (1)
18 December: Sunwing, Hamilton-Holguin (1)
19 December: Air Canada rouge, Quebec City-Varadero (1)
11 January: Swoop, Toronto-Varadero (3)
19 January: Sunwing, Quebec City-Cayo Largo (1)
14 February: Sunwing, Halifax-Cayo Largo (1)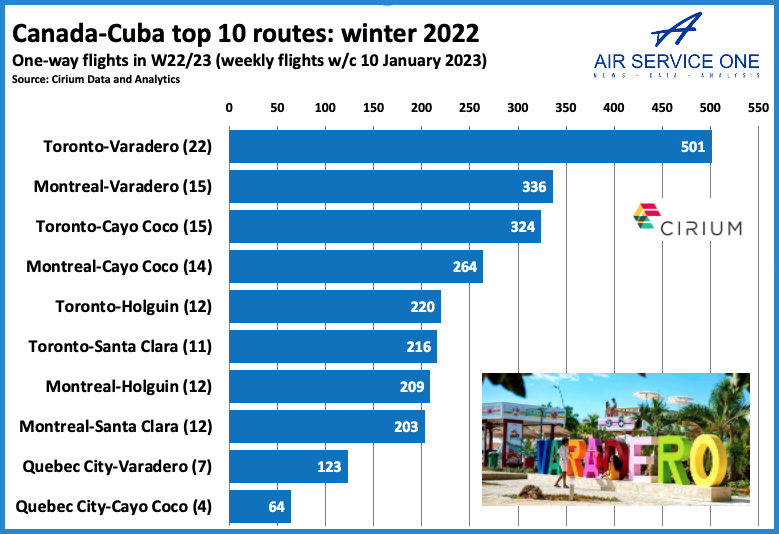 21 Canadian airports and six in Cuba
Some 21 Canadian airports have Cuba flights. These include Deer Lake in Newfoundland, which has just one service to Varadero on 21 March, and St John's, also in Newfoundland, with four flights to the same resort in March. At the other end of the scale are Toronto and Montreal, with seven in 10 flights. Quebec City, Ottawa and Halifax complete the top five list.
While Waterloo and Saskatoon had no Cuba flights in winter 2019, they have gained them. In Waterloo's case, in December 2022, with non-stops back after nearly six years. In contrast, Kelowna, St John and Sault Ste. Marie had Cuba flights in winter 2019, but no longer do. In Sault Ste. Marie's case, Varadero services were via Waterloo; they now originate in North Bay instead.
Some 40% of flights involve Varadero, then Cayo Coco (24%), Santa Clara (17%), Holguin (15%), Havana (3%) and Cayo Largo (2%). However, unlike in winter 2019, Canada no longer has services to Santiago, Camaguey or Manzanillo.