Canada finally sees significant demand recovery in July; capacity set to reach almost 50% in August; Air Transat ready to resume flights
Canada's commercial aviation industry has been slow to recover from the pandemic as the government introduced severe restrictions, even on domestic travel. Last autumn passenger numbers were at around 15% of the level of 2019. Between February and May of this year that figure had fallen to less than 10%, according to passenger data collected by CATSA at Canada's eight busiest airports.
However, things are finally beginning to pick up as travel restrictions are eased. CATSA shows that average weekly passenger numbers reached 15% of 2019 levels on 27 June, 20% just five days later and 25% on 15 July.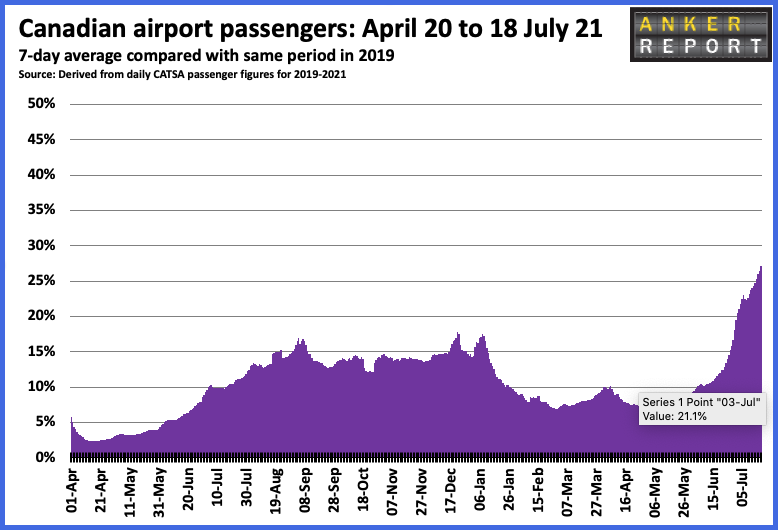 Capacity at 33% of 2019 levels in July
Analysis of Cirium Data and Analytics schedule information for all Canadian airports shows that while June capacity figures were at just 22% of the June 2019 level, in July this had increased to 33%. Nearly all of Canada's top 15 airports (based on 2019 annual passengers) have seen big improvements from June to July, with the exception of the downtown Toronto airport, which has remained closed and looks set to reopen for commercial flights on 8 September according to a message on the Porter Airlines website.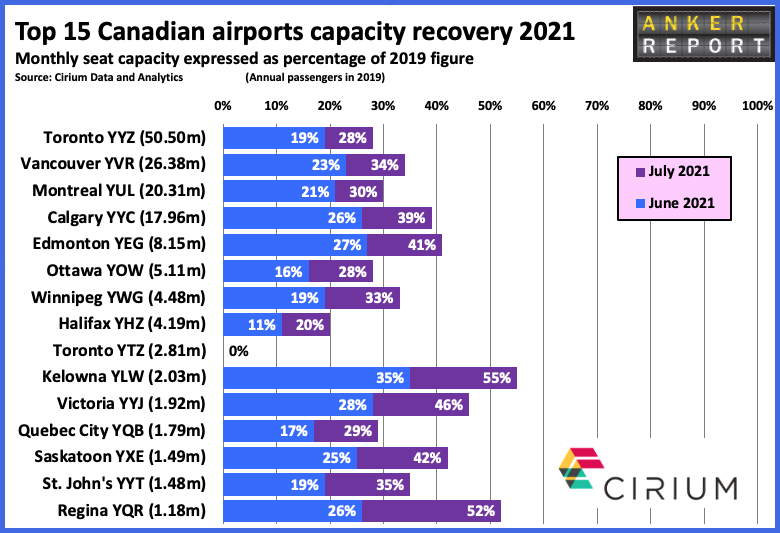 Current schedule data for August indicates that capacity levels could reach 46% of the 2019 figure. While Porter Airlines looks set to stay grounded in August, Air Transat is planning to resume flights on 30 July. Air Canada's proposed acquisition of the carrier was abandoned in April after failing to secure European Commission approval.