Canada Jetlines launches with Toronto to Calgary flight on 22 September; 15 aircraft forecast by 2025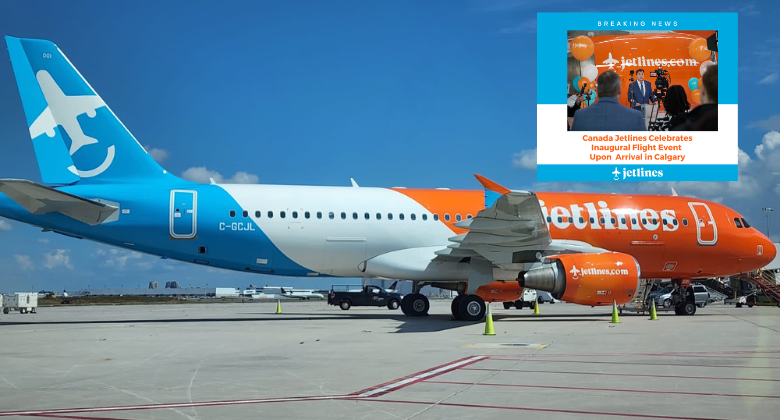 Canada Jetlines (IATA code AU) is the latest airline to launch low-cost, leisure flights in the Canadian domestic market. On Thursday 22 September the carrier launched its inaugural service between Toronto YYZ and Calgary. The 2,700-kilometre route will be flown just 2-weekly initially (Thursdays and Sundays), increasing to 3-weekly in October and November. The airline's on-line booking tool then shows 4-weekly flights (Thursdays, Fridays, Saturdays and Sundays) from December until the end of August 2023. Rather than choose '001' and '002' as the first route flight numbers it used '120' for Toronto to Calgary and '121' for Calgary to Toronto.
Competition on this route is intense, involving the following airlines:
Air Canada: 49-weekly
Air Transat: 3-weekly
Flair Airlines: 11-weekly
Lynx Air: 6-weekly
WestJet: 69-weekly
Initially, Jetlines had announced that its first two routes were going to be from Toronto YYZ to Moncton and Winnipeg, starting in August.
Just one A320 for now
The airline has just one aircraft for now, a 174-seat A320 with registration C-GCJL. According to planespotters.net it appears to have been previously operated by Pegasus Airlines and is almost 13 years old. From 5 July to 23 August, it appears to have been parked at Kitchener Airport (IATA code YKF) before operating a short flight to Toronto YYZ and then returning the next day. It then sat on the ground at Kitchener until 15 September when it again flew to Toronto YYZ. The following day it operated a test flight to Calgary before returning to Toronto YYZ on 17 September.
On the airline's website there is a statement that the airline forecasts to have 15 aircraft by 2025. Among Canada's newer generation LCCs, it is the only one to have chosen Airbus aircraft. Flair, Lynx Air and Swoop all use variants of the 737.
What they said
Eddy Doyle, CEO of Canada Jetlines, said: "Canada Jetlines is proud to launch our initial flights between Toronto and Calgary – two vibrant Canadian cities with numerous tourist destinations including Niagara Falls, Lakes of Ontario, and the CN Tower in the East, and Banff, Kananaskis, Canmore, Lake Louise, Jasper, and the Rocky Mountains in the West. The two cities represent cultural diversity, economic trade, and significant investment opportunities. We are encouraged to continue expanding our reach, with the goal of serving as Toronto's preferred airline"
Bob Sartor, President and CEO of The Calgary Airport Authority, added: "The launch of Canada Jetlines is yet another milestone marking recovery in the travel and tourism sector. YYC is eager to welcome Canada Jetlines' guests by showcasing the effortless and memorable experiences that reflect our region and Calgary's legendary hospitality."