Canada's Swoop ends operations soon; here's a look at its last summer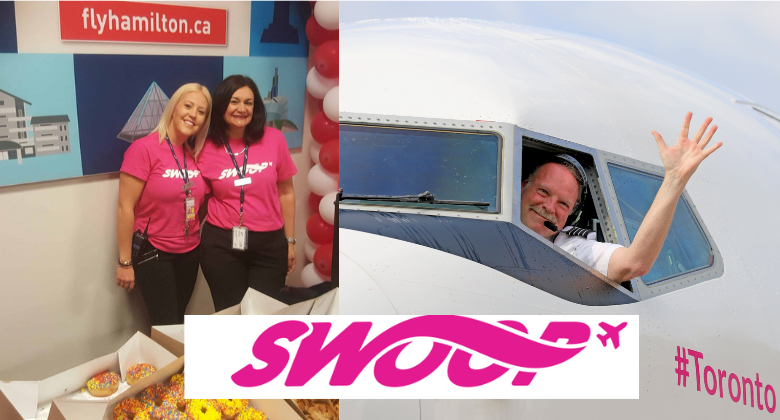 Created by WestJet as a tailormade and brand-new platform to tackle the rise of 'budget carriers' in Canada – which remains a hugely fast-growing segment – Swoop entered service in June 2018. Now with 16 Boeing 737-800s and MAX 8s, it will – unusually – be subsumed into parent WestJet's operations. Swoop's own operations will cease on 28 October, the last day of S23.
Swoop is Canada's sixth-largest carrier this summer
According to Cirium schedules information data, Swoop is Canada's sixth-largest carrier by available capacity in S23, behind Air Canada, WestJet itself, Flair, Porter and Air Transat. It has 1.17 million departing seats, down by a quarter year-on-year. This is entirely due to domestic cuts, partly because of the dismantling and the takeover of particular routes by WestJet.
In S22, when Swoop also ranked sixth overall, it was 41% smaller than Flair, which was the airline that spurred WestJet to create its hard-to-make-work low-cost subsidiary. Despite the subsequent entry and growth of Lynx Air and Canada Jetlines, Flair is by far Canada's largest independent (U)LCC, providing more than a third of the country's budget seats.
Swoop has always revolved around Canada's geographically vast domestic market. In its final summer, 80% of its capacity is deployed domestically, somewhat influenced by the season being the peak time for such demand. However, domestic seats have reduced by eight percentage points year-on-year, as Swoop has grown its international summer offering in S23 to its highest level since the airline's formation.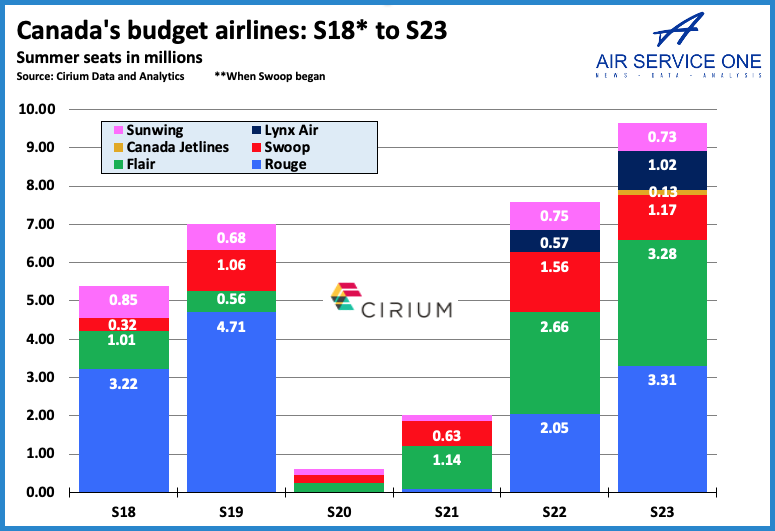 Toronto YYZ is Swoop's busiest airport
Swoop serves 27 airports this summer: 13 in Canada, six in the US, four in Mexico, two in Jamaica and one each in Cuba and the Dominican Republic. It does not serve Calgary – parent WestJet's spiritual home and primary hub – or Vancouver, WestJet's second-busiest airport. To reduce cannibalisation and unnecessary Group-level route duplication, Swoop has not served the two Western Canada airports – vital to WestJet's existence – since its inception.
Served since 2020, Toronto YYZ is Swoop's busiest airport, from which it has 15 routes. Edmonton was first last summer, but its capacity has reduced in half, which has pushed it to fourth place.
Comparing S23 with S22 indicates that Swoop no longer serves Chicago ORD, Comox, Nashville, New York JFK, Ottawa, Palm Springs, Regina, St John, San Diego and Saskatoon. However, Varadero and Orlando MCO have been added, joining Swoop's network in January and May 2023 respectively. Curiously, it serves MCO and Orlando SFB.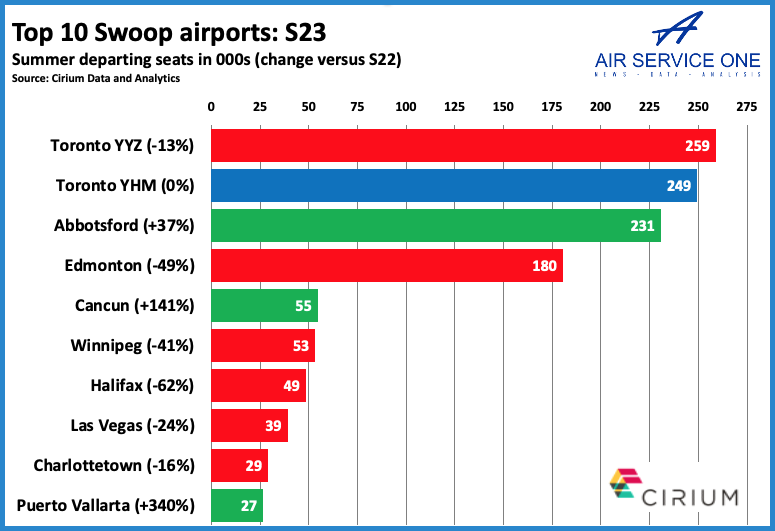 Has 47 routes in final summer; half of the top 10 have no other carrier
Despite predominantly being a domestic operator by capacity, more of its S23 routes (30) are international than domestic (17). Of course, domestic routes are served more frequently, with many more available seats. Edmonton-Abbotsford is its most-served route. Related to flights, it has 16 weekly departures in September and competes directly with Flair (13-weekly).
Nearly a quarter of Swoop's routes (11) are also served by WestJet, with all but one being international; duplication seems to be less relevant outside Western Canada. Meanwhile, 18 routes are served by Air Canada (including Rouge) and 13 by both Flair and Sunwing (now part of the WestJet Group), including a handful with time-limited services. Summer route overlap also exists with other various other carriers, just on a smaller scale.
Despite 55% of Swoop's network seeing at least one other carrier – sometimes multiple – 21 have no direct competition this summer. Many are from Toronto YHM, not all of which are scheduled to see WestJet or another airline going forward.