Canadian carriers now have 67% of US-Canada market; JetBlue and Sun Country newest airlines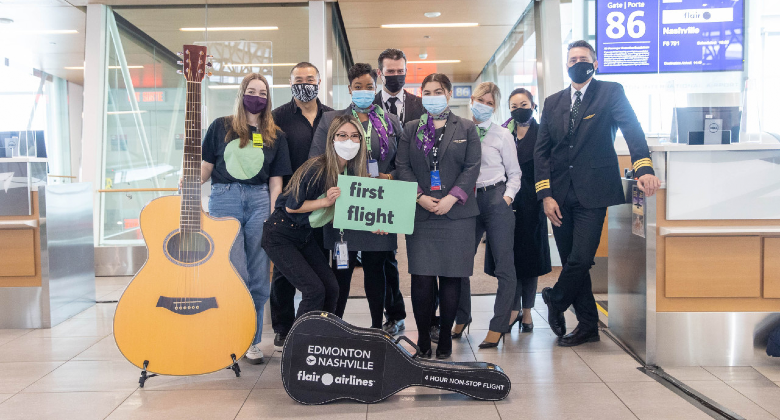 The number of airline seats available on US-Canada routes is still down 20% in August (compared with 2019) according to analysis of Cirium schedule data. The number of weekly flights is down 28%. Air Canada remains the dominant carrier in the market accounting for almost 47% of seats. WestJet, American and United each have between 10% and 13% of the market. While the market may still only be at 80% recovery, Canadian carriers have increased their share of the market from 61% to 67%. All the Canadian carriers have seen their market share grow, and they have been joined by Flair.
Although Flair was operating US route between December 2018 and March 2019, it was not operating flights to the US during the summer of 2019. It resumed US flights in October 2021 with service to Florida and Arizona.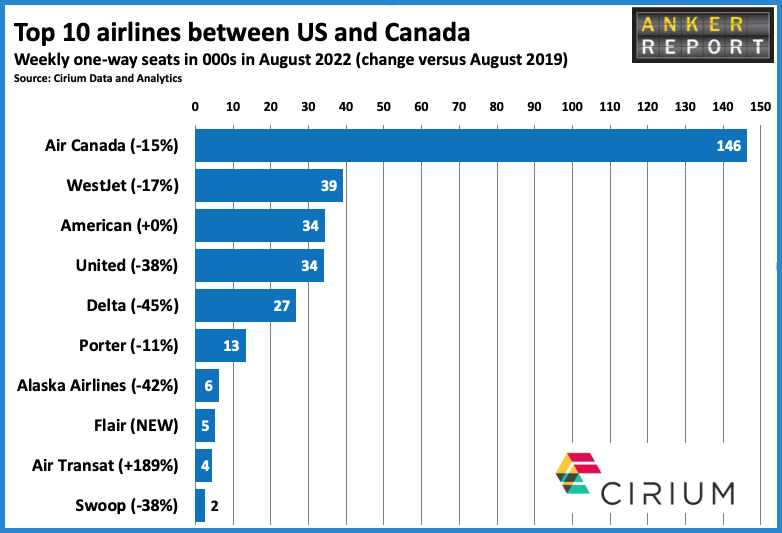 While Alaska Airlines (down 42%), Delta (down 45%) and United (down 38%) have all significantly reduced their Canadian seat capacity, American has kept its capacity almost unchanged. Given the shrinking overall market, this means that American has increased its share of the market from 8.7% to 10.9%.
JetBlue launched first Canadian service in June
On 9 June this year, JetBlue finally launched its first service to Canada when it introduced daily, non-stop flights between New York JFK and Vancouver. Less than a week later, on 15 June, Sun Country also entered the market by starting 2-weekly service between Minneapolis/St. Paul and Vancouver, competing with Delta's daily service.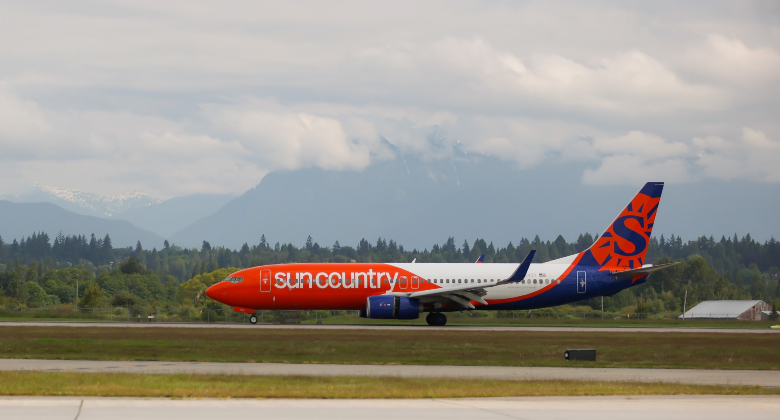 Airlines have launched 42 new US-Canada routes since August 2019
Despite the decline in the total market size, airlines have still been launching new connections between airports in the US and Canada. According to analysis of Cirium schedule data, a total of 42 routes are operating this August that were not being flown three years earlier. Of these Air Canada has 11, Flair has 10, Swoop has five, Air Transat and WestJet both four. American has launched three routes, Delta, Harbour Air, JetBlue, Sun Country and United one each.
The leading US airports for services to Canada are Chicago ORD and Las Vegas, each with 14 services, followed by San Francisco with 12, Los Angeles with 11, and New York EWR and Seattle-Tacoma with 10 each. On the Canadian side, the leading airports are Toronto YYZ with 79, Vancouver with 43, Montreal with 42 and Calgary with 28.