Cancun passes 30 million passengers in 2022; new records for both domestic and international traffic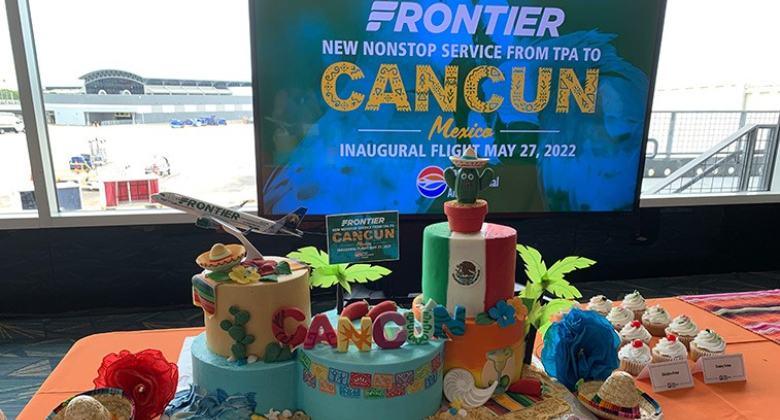 Cancun welcomed 30.3 million passengers in 2022, according to airport operator ASUR. It surpassed the 30 million level for the first time. Total traffic rose by 19% versus 2019, the previous best. While domestic and international passengers both grew by about 19%, the absolute change tells a different story. Although already by far the biggest traffic source, Cancun added 3.1 million additional international passengers versus 2019 against 1.7 million domestic. Cancun has been one of the hottest destinations globally, attracting multiple new international carriers.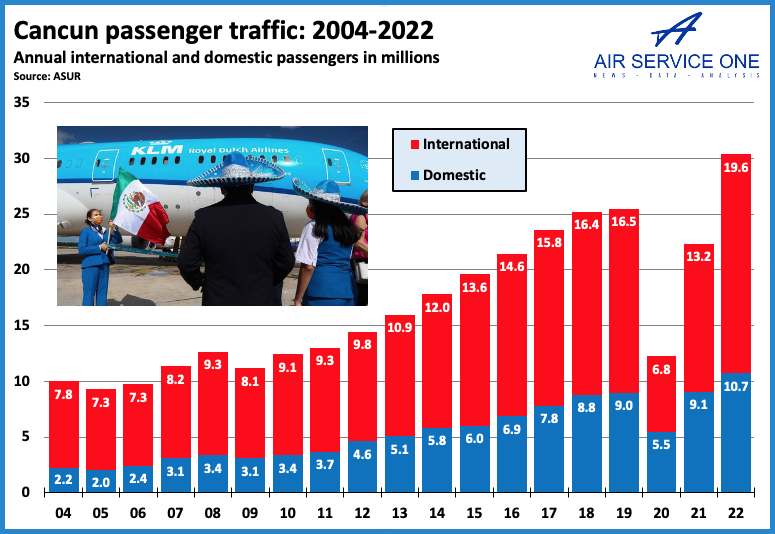 Big changes internationally
Analysis of Cirium schedules reveals that Cancun had non-stop flights from 30 countries in 2022. Assisting the growth of international traffic was the return of flights from Austria, last offered in 2006; from Venezuela, which last had Cancun flights in 2015; and from Dominican Republic, last served in 2008.
Especially noteworthy was Austrian resuming Vienna-Cancun, while Arajet launched Cancun's first ever Santo Domingo flights. Nicaragua had its first Cancun service in 2022; now, Aeromar uses ATR 72s on the 990-kilometre route to Managua.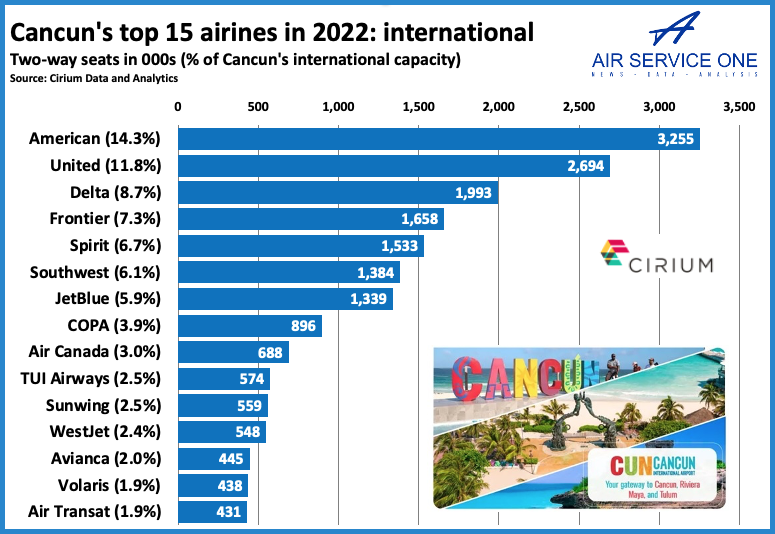 Existing countries grew strongly
Six already-served countries added 1.2 million more non-stop two-way seats in 2022 versus 2019: Colombia (+592k), Turkey (+232k), Portugal (+157k), Guatemala (+139k), Brazil (+54%) and the Netherlands (+53k). Particularly notable recent launches include TAP Air Portugal and World2Fly from Lisbon and KLM from Amsterdam. While Turkish Airlines launched Istanbul-Mexico City-Cancun-Istanbul in August 2019, it rose to daily in 2022 and is now 11-weekly.
But of course, it was mainly because of the US
Obviously, Cancun revolves around US tourists. Last year, the US market had 14.5 million two-way seats, an increase of 4.4 million versus 2019. Almost two-thirds of the resort-serving airport's total international seats concerned the US. The country had more Cancun capacity than all other 29 foreign nations combined.
American, United, Delta, Frontier, Spirit, Southwest, JetBlue, Alaska, Sun Country and Vivaaerobus had US-Cancun flights. Eight of these grew enormously, including Frontier (+1.1m), Spirit (+917k), JetBlue (+774k), American (+815k) and United (+380k). Some, like Frontier, Spirit, JetBlue and Alaska, more than doubled capacity. Of course, not all the routes they introduced have remained.
The ten airlines had 128 US-Cancun routes last year from 48 airports and 29 states. Compared to 2019, 30 routes were added involving eight additional airports: Atlantic City, Buffalo, Harlingen, Memphis, Portland (OR), Providence, Sacramento and San Diego. Of these, only Harlingen, Portland and San Diego remain.