Central London now even closer to London Luton Airport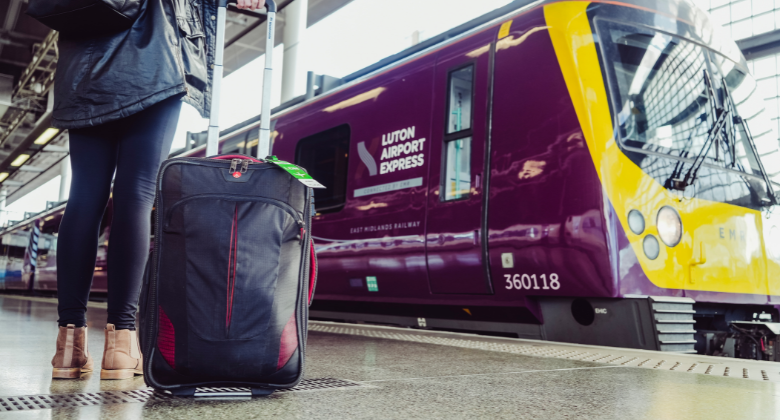 New airport express and people mover transform rail connectivity
Getting from train to plane has never been easier at London Luton Airport, with journey times to Central London now possible in around 30 minutes, with fares from as little as £10.
The Luton Airport Express provides passengers with the fastest, most frequent and most convenient connection from train to plane and positions LLA as one of the capital's best-connected airports.
The service runs from London St Pancras International to Luton Airport Parkway station, where passengers seamlessly hop onto the DART, an automated, electrically powered shuttle that will speed them directly to the airport terminal in less than four minutes.
Alberto Martin, CEO at London Luton Airport:
"Following a strong start to the year, and with a busy summer ahead of us, the continued rise in our passenger numbers that we have seen underlines the demand for air travel in 2023 and the appeal of London Luton Airport. As ever, our teams are focused on providing a simple and friendly end-to-end passenger experience and the launch of the Luton Airport Express, alongside the state-of-the-art DART shuttle, has been simply transformational for the airport. With a door-to-door journey of around 30 minutes, the service brings LLA even closer to the capital and provides passengers travelling by rail from London, the South East and the Midlands with the fastest and most sustainable way to reach the airport."
Operated by East Midlands Railway (EMR), Luton Airport Express trains depart St Pancras International every 30 minutes, from early morning to late at night Monday to Saturday, and with regular services on Sundays.
The DART runs 24 hours a day, seven days a week, and facilitates faster, more convenient rail journeys to LLA from over 60 stations across the Thameslink and East Midlands Railway network, from Brighton through to Corby. 
As one of the UK's busiest airports, LLA offers business and leisure passengers a choice of over 140 destinations across Europe, the Middle East and North Africa. For passengers travelling to LLA by rail from central London, getting to the airport has never been simpler or quicker.