Charleston has 50 summer routes; four airlines have started in less than two years; route network +61.1% versus S19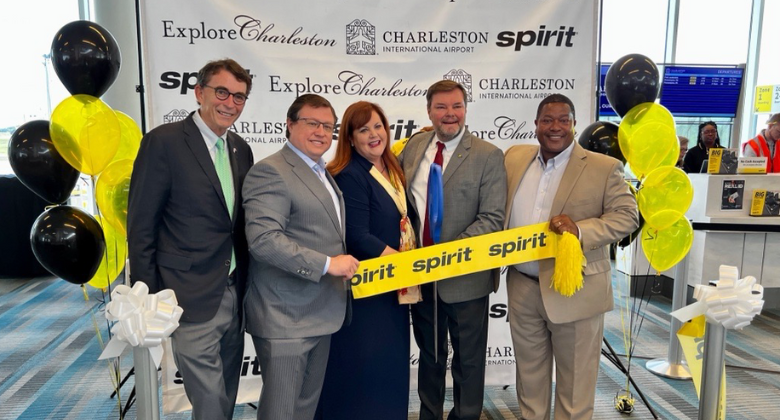 Charleston, the largest city in South Carolina, welcomed 5.32 million passengers in 2022, according to the airport's own figures. It far outperformed pre-pandemic 2019, with traffic up by a strong +9.3% from 4.87 million, as shown in the figure below. It was partly thanks to securing new entrants Breeze (June 2021), Sun Country (April 2022) and Avelo (May 2022). And on 5 April 2023, it welcomed its next carrier: Spirit. The new entrant contributes to Charleston's S23 seat capacity being a significant 38.8% above S19.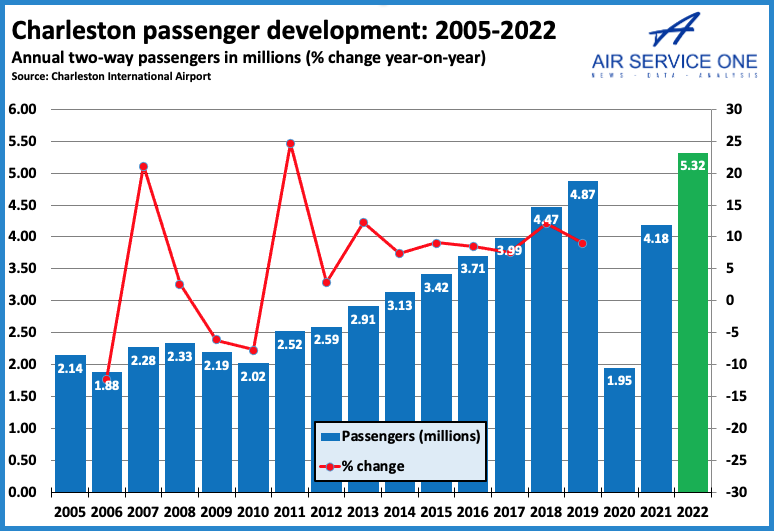 New entrant Spirit ranks seventh
Charleston's fourth new airline in less than two years, Cirium schedules information data informs that Spirit has 121,000 one-way seats in S23. As the following figure shows, Spirit is immediately airport's seventh-largest airline and has a 4.8% share of the airport's capacity. It is notable how much bigger it is than fellow ULCC Frontier (ranking 11th), whose capacity and network has shrunk considerably versus its entry in 2018. It used to rank sixth.
Spirit has four routes: Fort Lauderdale (started 5 April, daily); Philadelphia (5 April, daily), Newark (6 April, daily); and Las Vegas (starts 7 September; 5-weekly, later daily). Spirit's entry means that it is the third airline to Fort Lauderdale and Philadelphia, and the second to Newark. Never have these three had so many carriers. It is the sole airline to Las Vegas, a route very briefly served by Breeze.
Despite Spirit, Breeze, Avelo and Sun Country, more than half of Charleston's S23 capacity (56.7%) remains in the hands of American, Delta and United. However, their share and, therefore, dominance has fallen by ten percentage points versus S19. That is despite the trio growing well: United (+36.7% versus S19), American (+20.7%) and Delta (+6.9%). Delta's much smaller growth meant that American overtook it for the top spot.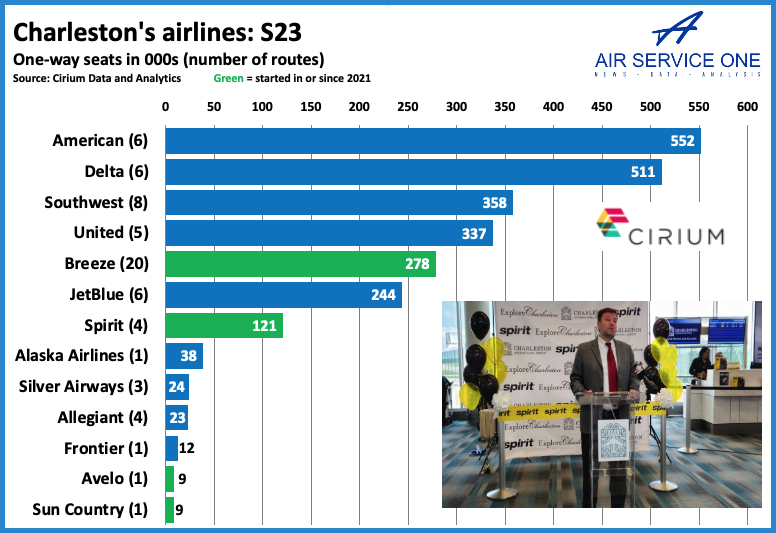 50 summer routes; hubs remain vital
Analysis of schedules using Cirium information tells that Charleston has 50 routes in S23. Entirely predictably, hub-driven Atlanta and Charlotte remain the leading two by simple non-stop capacity. Not helped by being so close to Charleston, Atlanta is only served by Delta and Charleston by American, as the following figure shows. These two routes have more than one in five of Charleston's seats (20.9%).
In contrast, 12 of the 50 markets have two airlines: Boston, Chicago ORD, Cincinnati, Denver, Minneapolis, Newark, New York JFK, New York LGA, Orlando MCO, Pittsburgh, Tampa and White Plains. And entirely because of Spirit, two – Fort Lauderdale and Philadelphia – now have three carriers, more than any other from Charleston.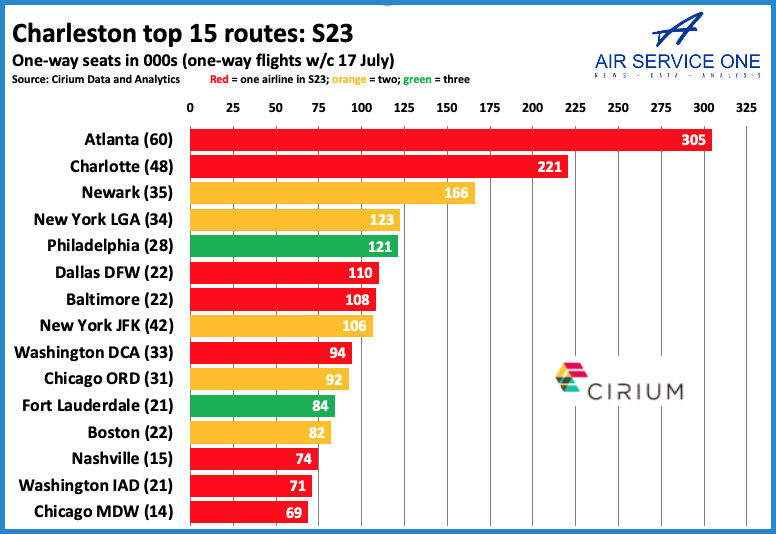 19 more routes than in S19
As with other hubs, Atlanta and Charlotte play a key role in increasing Charleston's connectivity by enabling access to the wider world. However, overwhelmingly thanks to Breeze, Charleston's non-stop routes have risen by 61.1% versus S19: from 31 to 50.
Using Cirium to compare networks, some 22 routes been introduced or start soon. In comparison, three that operated in S19 no longer do. They are Cleveland, Trenton and London LHR, which was Charleston's only international route. They additions are summarised below. If 'X ended it' is mentioned, the pair operated simultaneously, even if briefly.
Akron Canton: 8 July 2021, Breeze
Austin: 10 March 2022, Southwest (replaced Frontier)
Charleston: 31 May 2023, Breeze; Charleston to Charleston
Columbus: 28 May 2021, United; 8 July 2021, Breeze (United ended it)
Fort Myers: 11 June 2022, Breeze
Hartford: 31 May 2021, Breeze
Islip: 18 February 2022, Breeze
Las Vegas: 7 September 2022, Breeze; Spirit begins 7 September 2023 (replaces Breeze)
Los Angeles: 18 December 2022, JetBlue; 18 November 2022, Breeze (Breeze ended it)
Louisville: 28 May 2021, Allegiant; 31 May 2021, Breeze (Allegiant ended it)
New Haven: 5 May 2022, Avelo
New Orleans: 8 July 2021, Breeze
Norfolk: 10 July 2021, Breeze
Orlando MCO: 23 November 2020, Silver; 23 June 2021, Breeze
Phoenix: 19 November 2022, Breeze
Portland (Maine): 19 May 2022, Breeze
Providence: 22 July 2021, Breeze
Richmond: 8 July 2021, Breeze
Syracuse: 10 June 2021, Breeze
Tampa: 23 November 2020, Silver; 31 May 2021, Breeze
West Palm Beach: 19 February 2022, Breeze
White Plains: 28 June 2022, Breeze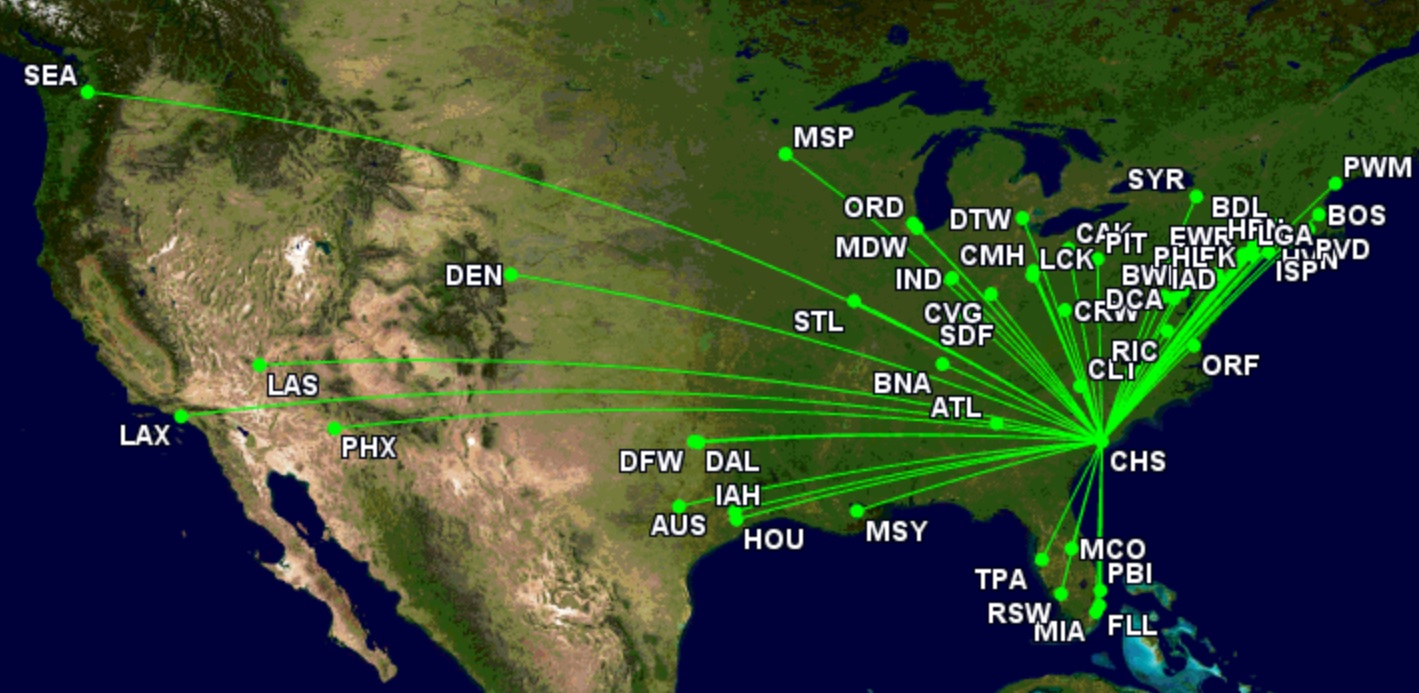 In addition to the end of Cleveland, London LHR and Trenton, seven more routes started since S19 but ended before S23. They were therefore not included above. They are Belleville, Huntsville, Kansas City, Milwaukee, Punta Gorda, Raleigh Durham and San Francisco.