Chicago Midway welcomed Avelo and Frontier in 2022; Southwest's capacity share now just under 90%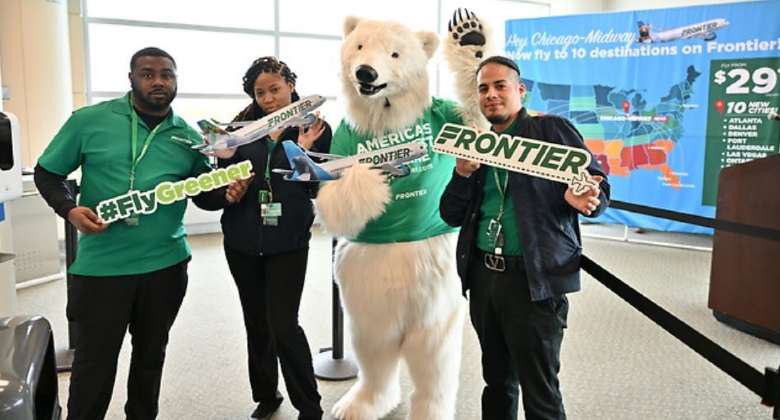 The USA's third-largest metropolitan area of almost 10 million people, Midway is one of two main airports serving Chicagoland. Located about 18 kilometres from the Chicago Loop, Chicago MDW ranked as the USA's 30th busiest airport by seat capacity last year, according to Cirium schedules information data. It had 12.6 million one-way seats. In Q1 2023, it has 3.2 million available, its highest volume in the first three months of any year since 2007. The trend continues: 3.7 million is expected in Q2 2023, the highest in that quarter in nearly 20 years.
Southwest has 90% of Midway capacity
Obviously, Midway revolves around Southwest. In 2022, that one carrier had 90% of the airport's capacity, although that was three percentage points lower than in 2019, thanks to the arrival of Avelo, Frontier and big growth by incumbent Volaris. They built on the entry of Allegiant in 2020.
While still extremely high, Cirium data shows that Southwest's 90% share was its lowest since 2014 (88%). Coupled with Midway welcoming other operators, it was because Southwest's recovery at the airport was relatively slow. Southwest's share has fallen to 89% in Q1 2023 and is anticipated to remain at that level in the second quarter.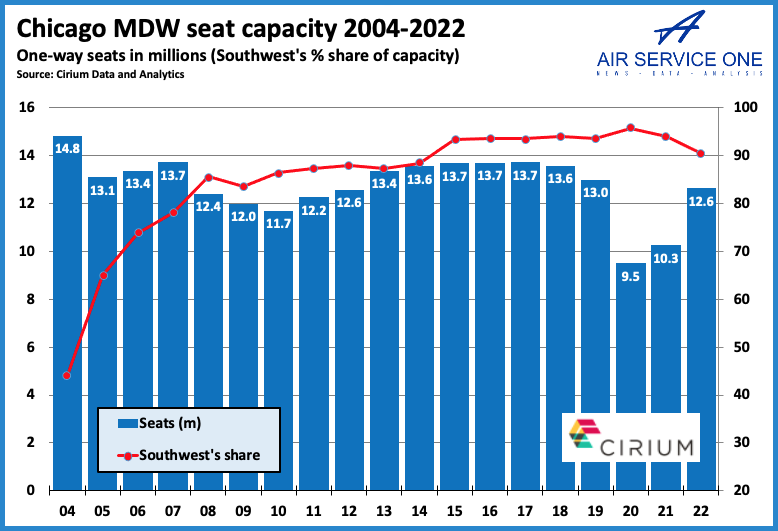 Welcome, Frontier and Avelo
Having served Chicago MDW until April 2015, ULCC Frontier returned seven years later in April 2022. Atlanta, Denver, Dallas DFW, Las Vegas, Ontario, Phoenix, Tampa and Trenton started in April, followed by Philadelphia in May. It was the airport's second largest operator by seats and network within a month. While Trenton ended in August, Orlando MCO came in September and Miami and Fort Lauderdale in November. In 2023, Frontier has 12 routes – a far cry from Southwest's 76, none introduced since 2021 – with only three overlapping with its Chicago ORD network.
Avelo launched service from Chicago MDW in May 2022 with just one route: Tweed New Haven (3-weekly). Still served, the introduction was important because it linked Chicago to the Connecticut airport for the first time in over a quarter of a century. United connected it to Chicago ORD until 1996.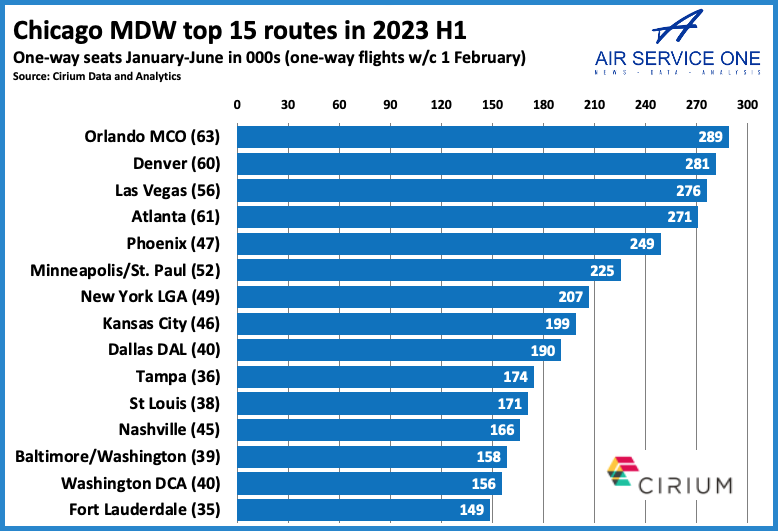 Midway has 89 routes
In the first half of 2023, Chicago MDW is anticipated to have 89 routes. Some 78 are domestic involving 34 states and territories. Inevitably, Florida is the most served by capacity and network, with 12 airports linked. Orlando has more seats and flights than any other route.
There are also 11 international routes: eight to Mexico and one each to Canada, Dominican Republic and Jamaica. On 25 February, Frontier will commence Montego Bay (weekly), the ULCC's first international route from the airport. It will compete head-to-head with Southwest (max 4-weekly).