City of Derry Airport welcomes return of Ryanair to complement existing UK services with Loganair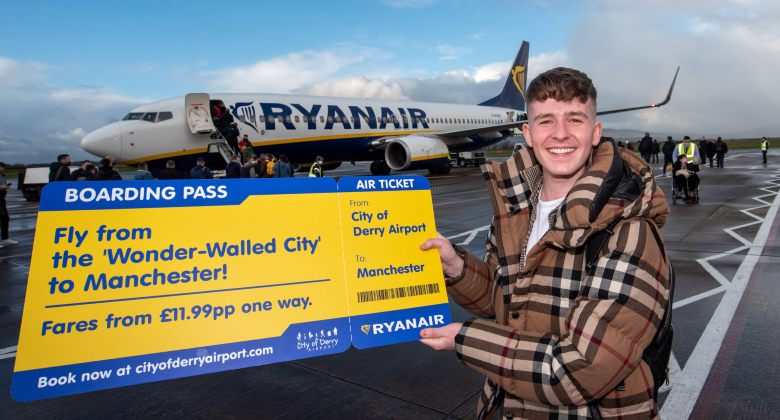 Located in the northwest corner of Northern Ireland, City of Derry serves the city of Derry/Londonderry. Traffic at the airport peaked in 2008 at almost 450,000 passengers, with Ryanair operating flights to seven UK destinations; Birmingham, Bristol, East Midlands, Glasgow PIK, Liverpool, London LTN and London STN. British Airways served Glasgow and Dublin thanks to its then partnership with Loganair, while Flybe operated to Glasgow and Aer Arann served Dublin.
Since then, passenger numbers have more than halved to just over 200,000 in 2019. During that year, Ryanair was only serving Edinburgh and Liverpool, while Loganair was operating to Glasgow, Manchester (launched in May 2019), London SEN (launched in October 2019) and London STN (launched in February 2019). Another carrier serving Stansted, at least in the first two months of 2019, was bmi regional, before the carrier ceased flying at the end of February.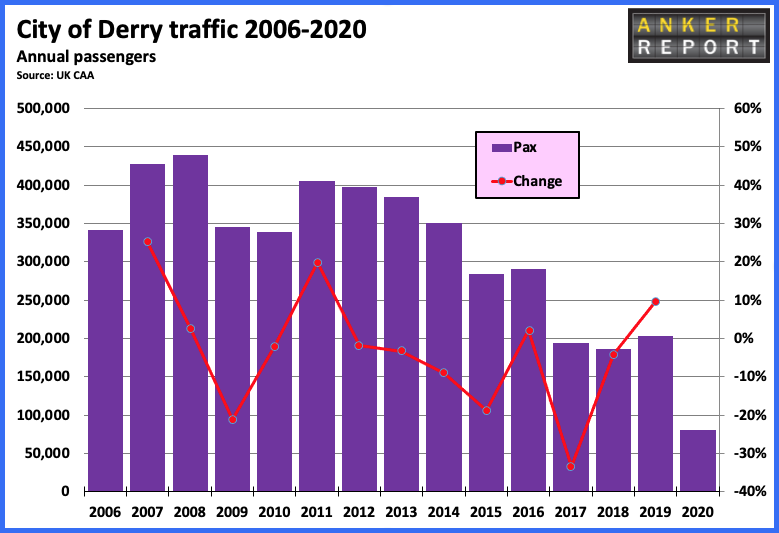 Although Ryanair resumed their Edinburgh and Liverpool services last summer, both routes were suspended at the end of 2020. Loganair's Manchester route basically ended in December 2019 after just eight months. However, the Scottish carrier then began 4-weekly service to Liverpool on 24 May 2021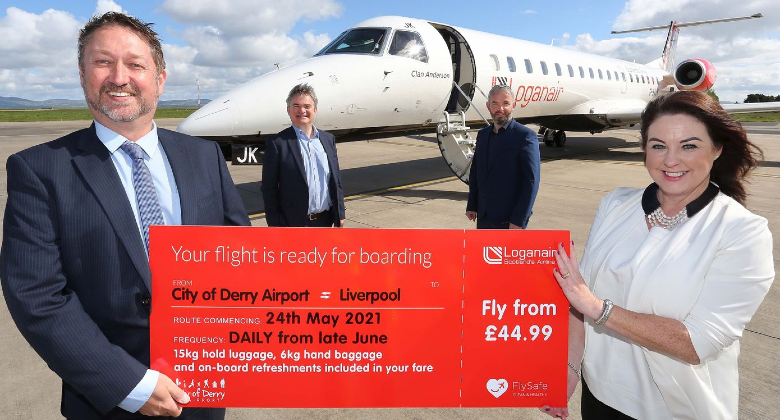 Ryanair returns – on Manchester route
On 1 December, Ryanair returned to Derry with a 3-weekly service from Manchester, operating on Wednesdays, Fridays and Sundays. The remaining routes are all operated by Loganair; 13-weekly to Stansted, daily to Liverpool and 4-weekly to Glasgow.
Welcoming the return of Manchester flights, Steve Frazer, MD of Derry Airport said: "A Manchester flight has been in demand for some time and we are proud to now provide this vital connectivity for corporate passengers and students who commute regularly and reuniting family and friends. Not to mention the offering of convenient leisure breaks to this action-packed destination; from football, shopping, nightlife, culture, history to family fun – Manchester has something to offer for everyone."