Cleveland regains service to Europe with Aer Lingus; 10m pax in 2019 across more than 30 routes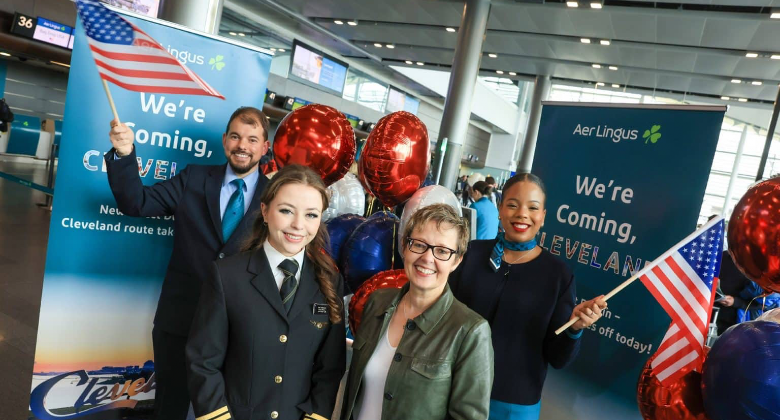 Cleveland Hopkins Airport in Ohio has just celebrated the return of non-stop flights to Europe, with the introduction of Aer Lingus's new 4-weekly service to Dublin utilising the airline's A321neoLRs. The airport's last flights to Europe were back in the summer of 2018, when, somewhat bizarrely, both Icelandair and local rival WOW air launched seasonal services from Reykjavik operating between May and October. Prior to that, Continental had served London LGW (until 2008), Paris CDG (in 2008) and then London LHR (in 2009).
At the turn of the century, Cleveland's passenger traffic had reached 13.3 million. Back then, Continental was the dominant carrier accounting for around 70% of all flights and almost 60% of seats according to Cirium schedules data. When the airline merged with United, the carrier began to reduce flights and services at the airport. Between 2007 and 2014 demand fell by 34% to just 7.6 million annual passengers. In 2014 alone United cut its Cleveland capacity by 35% compared with 2013. At that point it still accounted for 50% of the airport's available seats.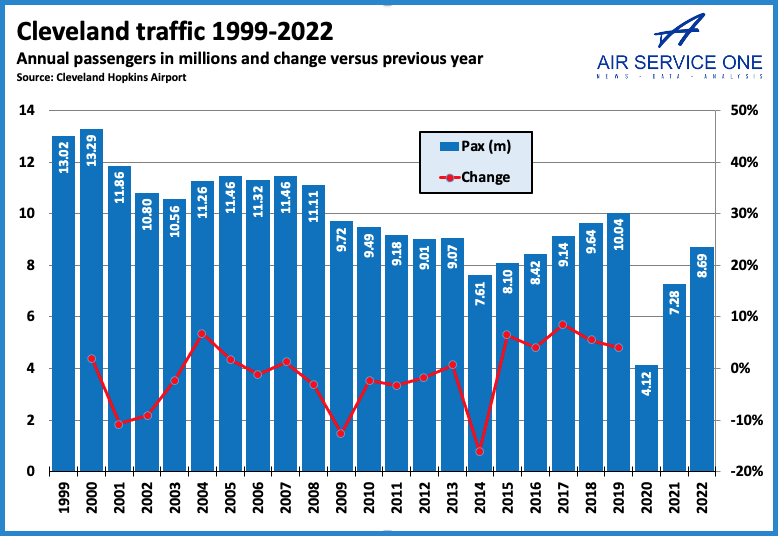 Despite United cutting capacity by a further 39% between 2014 and 2019, Cleveland traffic recovered to just over 10 million passengers thanks to the arrival of Allegiant, JetBlue and Spirit as well as significant expansion by Delta, Frontier, Southwest and American. In 2022, demand reached 8.7 million passengers, 13% down on the pre-pandemic performance at the airport.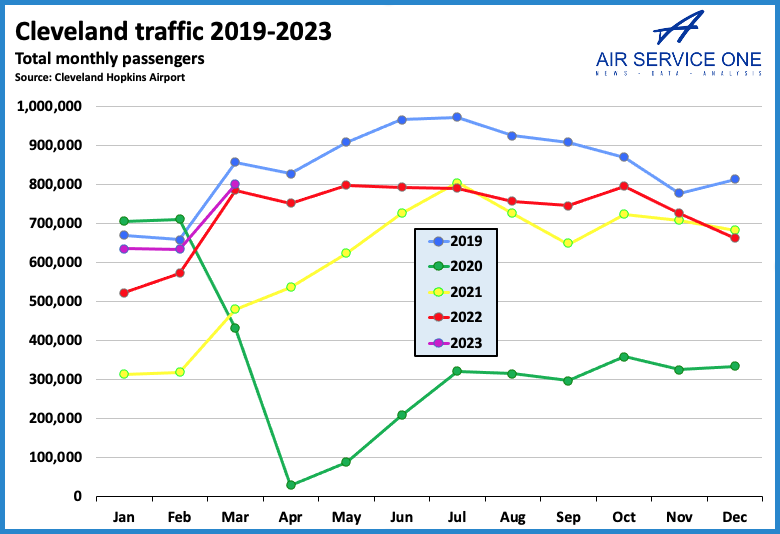 Demand at the airport is reasonably stable and consistent between March and December, with a small peak in June and July. In the first quarter of 2023 the airport has welcomed just over two million passengers, 5.3% fewer than in the same period in 2019.
United still #1 but American and Frontier closing fast
Analysis of Cirium schedule data for Q2 shows that United is still Cleveland's busiest carrier by seats, but American and Frontier are getting closer. In terms of flights, American is now level with United. Although Frontier ranks only third for seats it offers more non-stop routes (17) than either United (10) or American (eight). Since 2019 Q2 both United and American have seen a massive increase in seats per flight at the airport; United from 104 to 146 and American from 78 to 119. As a result, although seat capacity in 2023 Q2 is down just 4% versus the same period in 2019, the number of flights operated is down more than 20%.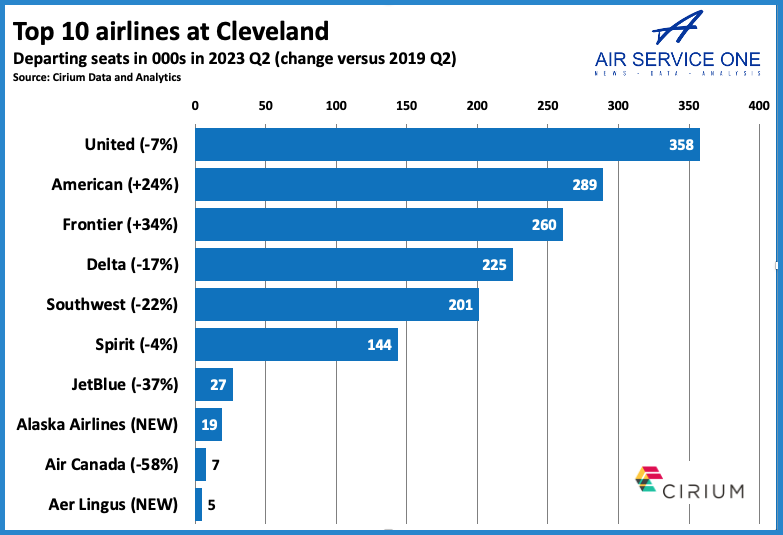 This summer Cleveland will be home to 10 airlines, one more than in 2019. While it has welcomed Alaska Airlines (daily flights from Seattle began in mid-June 2022) and Aer Lingus, it has said goodbye to Allegiant. The ULCC operated its last flights from Cleveland to Punta Gorda and Sarasota/Bradenton in Florida in January 2022. As recently as July 2021 it was offering non-stop service to 11 destinations, six of which were in Florida.
Over 30 destinations served non-stop
Atlanta is Cleveland's busiest route with 152k seats in Q2. Delta offers up to seven daily flights to its Georgian hub, Spirit has two daily flights, while Frontier and Southwest each have a daily service. However, when airports serving the same city are combined Cleveland offers more seats to Chicago (170k) and New York (152.5k) than to Atlanta.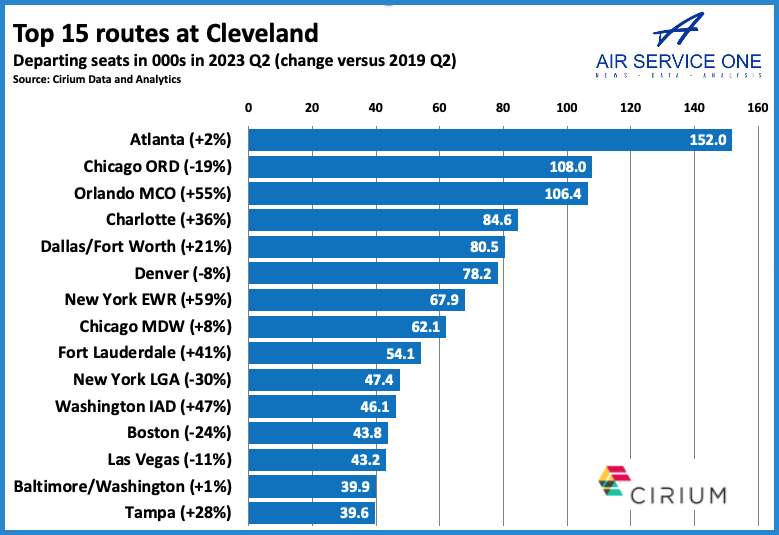 The fastest-growing routes in the top 15 (versus 2019 Q2) are Newark (+59%), Orlando (+55%), Washington IAD (+47%) and Fort Lauderdale (+41%). Apart from Dublin, other destinations added to Cleveland's network since 2019 are San Juan in Puerto Rico (launched by Frontier on 4 May) and Nassau in the Bahamas. The latter was launched by United in December 2021 and operates just weekly in March and April of 2023.
Also worth noting is the resumption in June of Frontier flights to San Diego (3-weekly) and San Francisco (4-weekly). These were last operated by the airline in the summer of 2019. San Diego is not served by any other carrier. However, the San Francisco route is already flown 2-daily by United.