Colorado Springs has best year since 2000; Southwest now #1, Sun Country coming soon, Frontier gone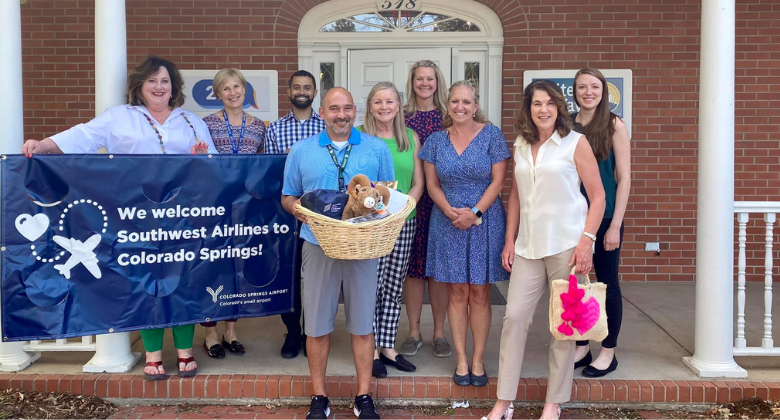 Situated about 100 kilometres south of Denver, Colorado Springs welcomed over 2.1 million passengers in 2022, according to the airport's statistics. Its best year since 2001, traffic exceeded 2019 figures by 27%. It is primarily due to one key development: the arrival of Southwest. The airline, which launched Colorado Springs almost two years ago in March 2021, immediately became the airport's largest operator because of an ambitious network of multi-daily flights. Southwest usurped previously dominant United, a position it has maintained ever since.
Southwest has half of Colorado Springs passengers
Last year, Southwest had virtually half (49%) of Colorado Springs passengers, according to the airport, thanks to its eight-route network. It had about twice as much traffic as United (25%; four routes). Then there were American (17%; one route), Delta (5%; one) and Frontier (5%; three). Yet, Southwest's 76% load factor at the airport was below all carriers except Frontier, which has now left. Indeed, Southwest's LF was lower than its own network average of 83% that year.
Some 14 airports in Colorado are served by airlines. Coincidentally, Colorado Springs had non-stop passenger flights to 14 airports last year across eight states, according to Cirium schedules information data. Thanks to five routes – Dallas DFW, Dallas DAL, Houston IAH, Houston HOU and San Antonio – Texas had more available capacity than any other state. However, Colorado itself had the most flights solely because of the 120-kilometre Denver hub-feeder: typically 11 daily by Southwest and United.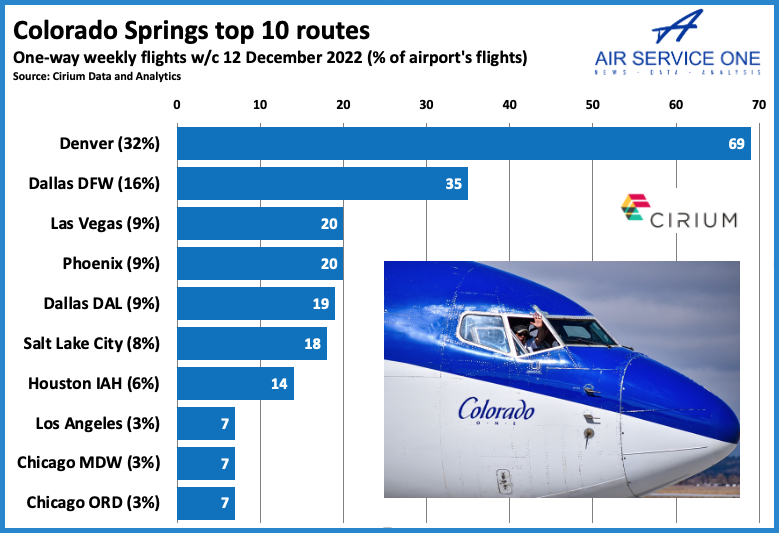 New routes and a new airline
On 22 November, Colorado Springs welcomed Southwest to San Diego (2-weekly), although it only existed for the peak period to January. It was the fourth airline on it in nearly three decades: Western Pacific (1995-1997), ExpressJet (2007-2008) and Frontier (2012-2013, 2017-2018). It is unclear if it is returning next winter. Elsewhere, Sun Country will launch Minneapolis on 8 June (2-weekly), the airline's first time serving the airport. This prompted the return of Delta, which returns on 5 June (daily) after 11 years.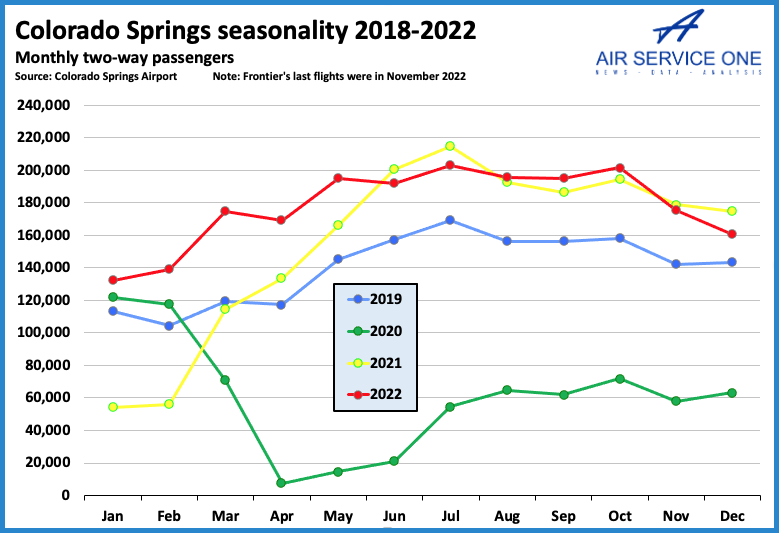 Frontier no longer serves Colorado Springs
Frontier initially served Colorado Springs between 2008 and 2013, before returning in 2016. At its peak in 2018 – which explains the increase in traffic in the figure earlier – it had over half a million two-way passengers, according to the airport. It was the second biggest operator. By 2022, traffic had reduced to barely 100,000 passengers, and it exited at the end of the year; this explains December traffic being lower last year than in 2021.
Over the years, Frontier had 17 routes: Atlanta, Chicago ORD, Denver, Fort Myers, Las Vegas, Los Angeles, Minneapolis, Orlando, Portland (OR), Phoenix, San Antonio, San Diego, Seattle, Seattle, San Francisco, Tampa, Tulsa and Washington IAD. Of these, just six continue with another carrier.