Condor planning expansion in US and South Africa; 19 flights per day to Palma de Mallorca in S22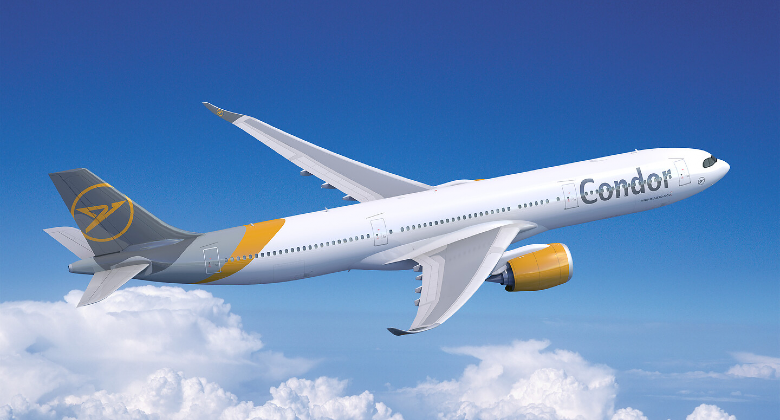 German leisure airline Condor was Europe's 34
th
biggest in 2019, based on departing seats from European airports. According to Cirium data, the airline offered over 8.6 million seats from European airports, as well as 1.6 million seats from non-European airports. In Germany, it ranked fifth with just over five million departing seats, behind Lufthansa (56.6m), Eurowings (22.5m), Ryanair (10.9m) and easyJet (10.0m). Condor survived the collapse in 2019 of its parent company Thomas Cook Group, thanks to a loan from the German government. Plans by the Polish flag-carrier LOT to acquire the carrier fell through and the airline is currently majority owned by Attestor Ltd, a wealth management company, with the German state indirectly holding the remaining 49% stake. Last July the airline announced plans to acquire
16 brand new A330-900neos
.
Frankfurt is still #1 airport
Since at least 2010 Frankfurt has been Condor's main airport for annual seat capacity. Along with Düsseldorf, Munich and Hamburg, these four airports have consistently accounted for between 70% and 80% of the airline's total annual seat capacity from its passenger generating airports. The airline increased its presence at Düsseldorf significantly in 2018 after the collapse of airberlin at the end of 2017.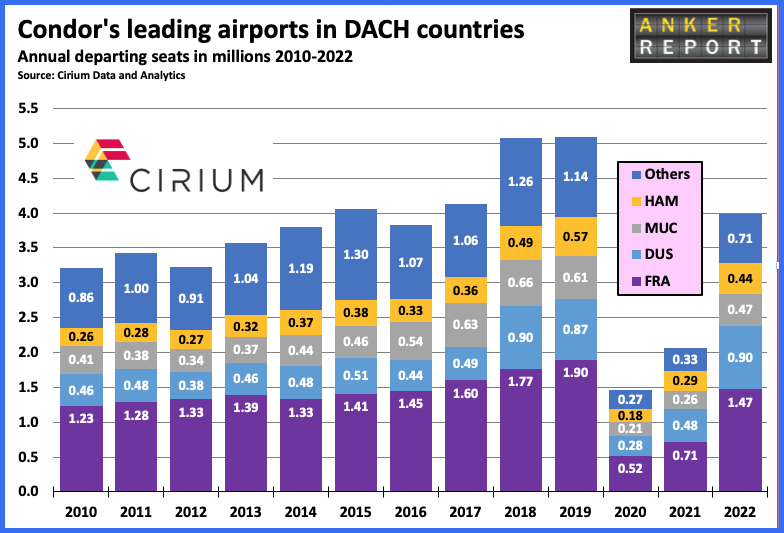 Apart from these top four airports, Condor is also planning to operate international leisure flights this summer from several other German-speaking airports. In order of capacity, these are Leipzig, Stuttgart, Zurich, Berlin, Vienna, Nuremberg and Friedrichshafen.
Palma de Mallorca is top German holiday destination
The leading destination for Condor's fleet this summer (a peak week in August) is Palma de Mallorca with 135 flights (almost 20 per day) from eight German airports plus Vienna and Zurich. There are five flights per day every day of the week from both Düsseldorf and Frankfurt, and two daily flights from both Hamburg and Munich.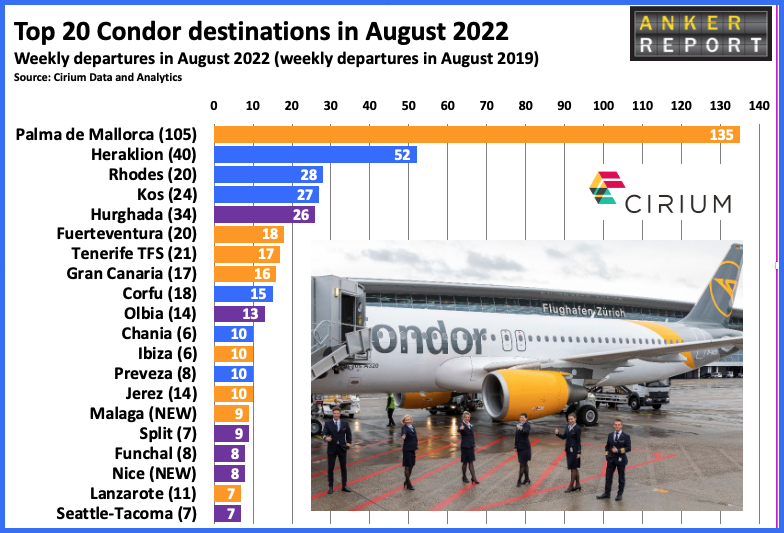 Among the top 20 destinations, eight are in Spain (shown in orange) and six are in Greece (shown in blue). The remaining six destinations are in six different countries; Croatia, Egypt, France, Italy, Portugal and the US. One country notably absent is Turkey. Back in S19, Condor served Antalya with 68 weekly flights spread across seven airports. This represented around 12% of the Germany to Antalya market three years ago. Now, Condor does not fly to Turkey at all. However, the Frankfurt to Antalya market is still well served this summer by Corendon, Eurowings Discover, Pegasus and SunExpress.
Flights at around 90% of 2019 level this summer
Based on current schedule data, the number of weekly flights planned for August 2022 is down around 9% compared with August 2019. While Antalya is the most notable destination which is no longer served in August, other airports where non-stop service has been suspended include Agadir, Catania, Naples, Windhoek and Zadar. However, several new destinations have been added since 2019. These include Athens, Beirut, Malaga, Nice,
Tbilisi
and Yerevan. In terms of routes, Condor appears to be launching well over 20 new services this summer.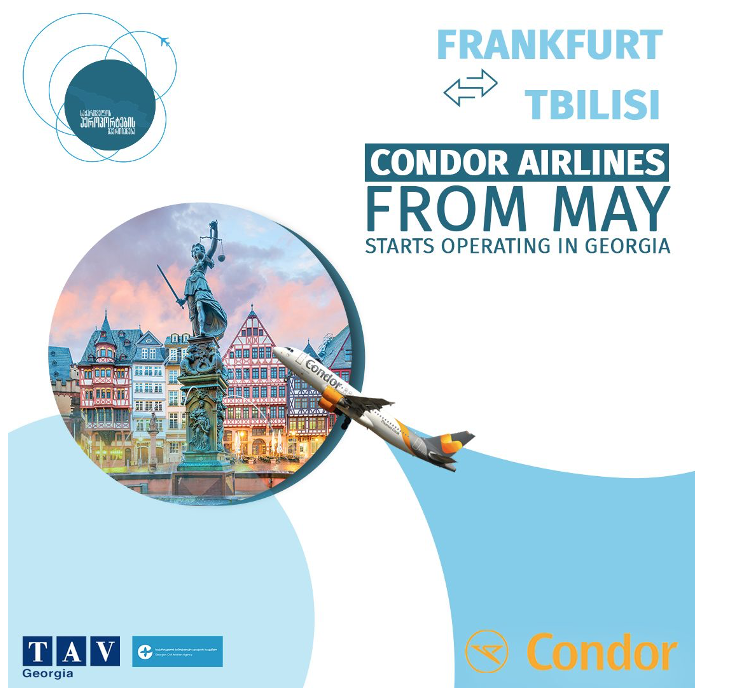 At present, Condor plans to serve
16 destinations in Canada and the US in 2022
, 12 in the US (Anchorage, Baltimore/Washington, Boston, Fairbanks, Las Vegas, Los Angeles, Minneapolis-St. Paul, New York JFK, Phoenix, Portland, San Francisco and Seattle-Tacoma) and four in Canada (Halifax, Toronto, Vancouver and Whitehorse). Among these Boston, Los Angeles and San Francisco are new for this summer. Of note is the fact that Condor is the only European carrier to serve Erik Nielsen Whitehorse International Airport in the Yukon Territory of Canada. Three US destinations served in 2019 remain suspended from the airline's network; New Orleans, Pittsburgh and San Juan in Puerto Rico. Looking ahead to winter, Condor recently announced that it would be growing its South African network. Apart from resuming its long-standing service to Cape Town, it will also be adding service from Frankfurt to
Johannesburg from 1 November
.
Fleet of almost 50 aircraft
Planespotters.net shows that Condor currently has 14 767s, 13 757s, 10 A321s and 11 A320s. The average age of the Boeings is well over 20 years. Condor has also just acquired
the first of several A330-200s
it plans to operate while it waits for delivery of its -900s. The initial aircraft previously flew with Etihad. The first of the -900s is due in autumn and the replacement of the whole long-haul fleet is scheduled for completion by mid-2024.