Confidence soars in buoyant Bordeaux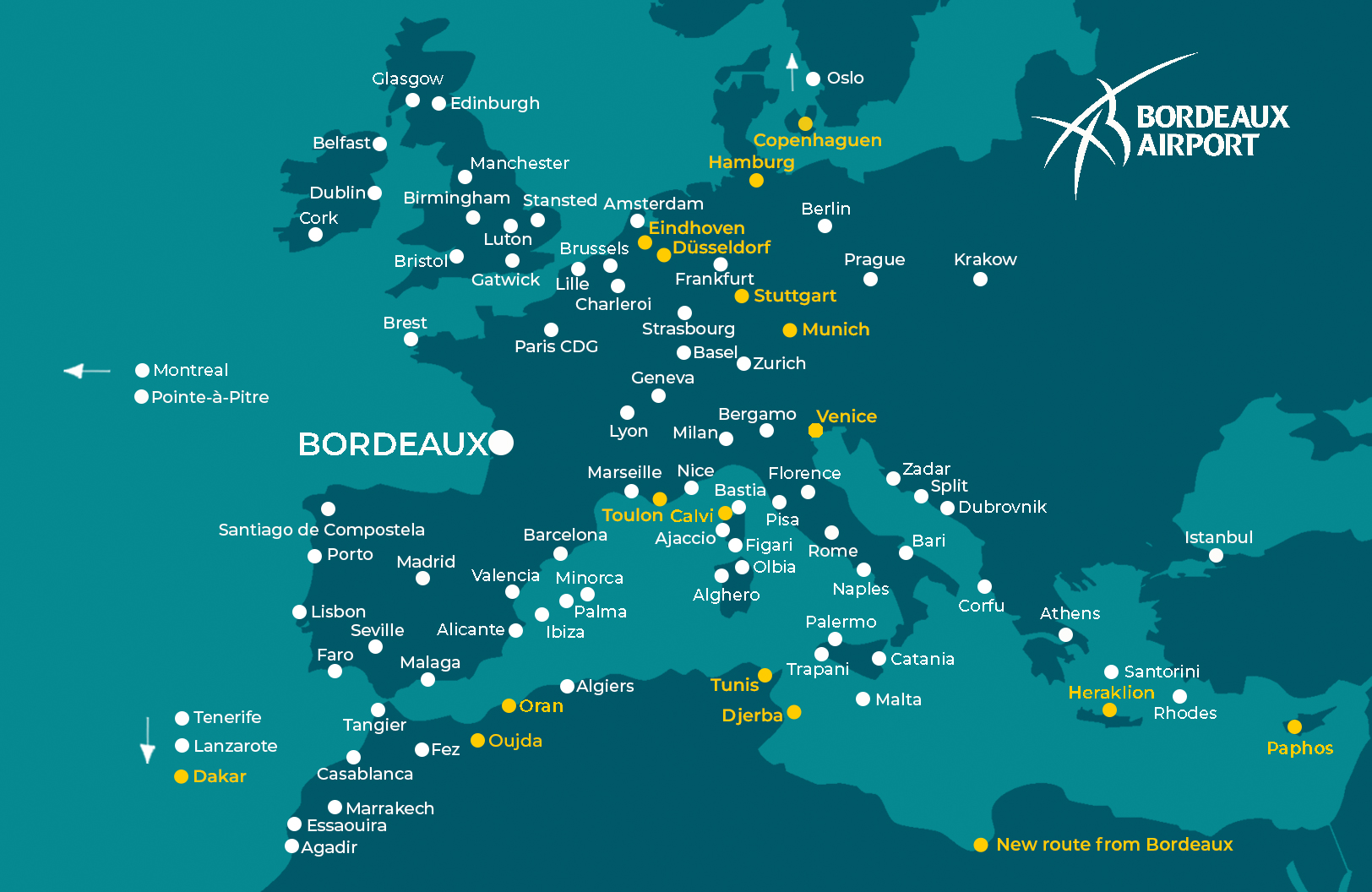 Bordeaux has had a strong start to the year. The airport continues to rebuild its route network, developing quality markets to support tourism and the economy in the New Aquitaine region.
With 134 direct connections to 94 destinations, including 19 new routes, the airport's 27 partner airlines have renewed their confidence in Bordeaux.
Indeed, the major hub airlines continue to strengthen their programme. IAG Group, AFKL Group, and Lufthansa Group have all increased capacity on existing or new routes. The airport is also delighted to see Nouvelair and TUIfly return to their platform, and to welcome the long-awaited arrival of Transavia.
Among the new destinations offered, passengers will have the pleasure of discovering Copenhagen, Dakar, Djerba, Düsseldorf, Eindhoven, Hamburg, Munich, Oujda, Paphos, Stuttgart, Toulon... and we're not even halfway through the year.
Moreover, with six German destinations now available from Bordeaux, including three new cities, the airport is taking a big step towards boosting tourism and facilitating business travel.
Lufthansa adds Munich and increases its flights to Frankfurt this year. Meanwhile, Volotea, thanks to a new agreement signed with Eurowings, will operate three new routes: Stuttgart, Düsseldorf, and Hamburg. And easyJet has rescheduled its connection with Berlin for this summer.
Looking ahead the airport continues to pursue opportunities for growth, and the route development team is actively seeking out new destinations. Top of the list is the trio: Stockholm, Vienna, and Warsaw, which record large numbers of connecting passengers and high volumes of online searches.
For passengers wishing to escape the winter cold, Bordeaux Airport would love a direct connection to Martinique, Funchal, and Gran Canaria.
"After the tremendous successes of Guadeloupe and the other Canaries Islands, there is no doubt that these islands will encounter a strong demand," said Cyrielle Clément, head of route development.
For the VFR segmentation, Bordeaux wants to see Tel-Aviv, Budapest, and Bucharest back on their map. "And to complete the Italian offer, Torino and Bologna would be welcome," added Clément.
With its strong regional economy, growing tourism industry, and strategic location, Bordeaux is well-positioned to continue its upward trajectory in the years to come.
Mélanie Grellety, Bordeaux's airline business development analyst, said: "If you would like to discuss more about our region, its hidden gems, its flourishing economy, our infrastructures or the numerous network development opportunities from Bordeaux, we will be delighted to have a chat with you."